Nazarbayev offers to help Medvedev to turn the tides to Asia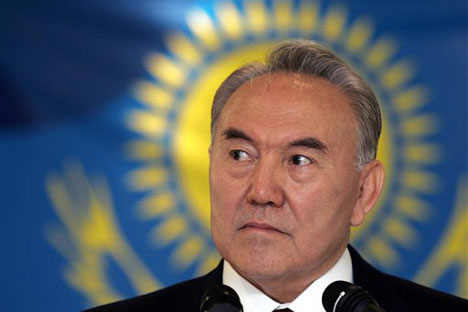 Russian President Dmitry Medvedev finished his visit to Kazahkhstan for the International cooperation forum, where he was reminded of a long-forgotten Soviet mega-project.

"We discussed today and yesterday that we need to recall the project to divert the waters of Siberian rivers in the southern regions of Russia and Kazakhstan," Kazakh President Nursultan Nazarbayev said, adding that it may be "necessary for providing all of the Central Asian region with drinking water," Komsomolskaya Pravda reported.

Medvedev supported his colleague, saying that irrigation programme in the USSR worked, but has degraded since then.

besides turning the rivers, the two presidents agreed to create a common defense system against technological catastrophes in Caspian sea, signed several agreements on trade, economic, social and cultural cooperation and concluded that "there is no alternative to close integration" between Russia and Kazakhstan.

The idea to turn the waters of several Siberian rivers was widely discussed in the Soviet Union in the 70s until it became clear in mid 80s that the country would be unable to finance it. In 2000s Moscow Mayor Yuri Luzhkov repeatedly expressed his support of the idea. Experts estimate the cost of the project at more than $40 billion.
All rights reserved by Rossiyskaya Gazeta.