NYSE makes pitch for Russian business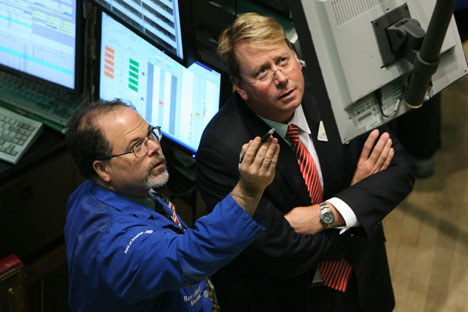 Russian companies have raised billions of dollars in IPOs on foreign exchanges, but since steel company Mechel floated on the New York Stock Exchange (NYSE) in 2004, most have listed in London or, more recently, Hong Kong. But with Russian IPOs worth tens of billions of dollars in the starting gates waiting for market conditions to improve, the NYSE is maneuvering to grab a piece of the action.
Following a merger with leading European exchange Euronext, the NYSE says it is now in a strong position to grab a bigger share of the Russian business when it resumes. "No one expected that Russia would develop so fast following the crisis of 1998 to become a BRIC country that is now leading global growth," said Ronald Kent, executive vice president of NYSE-Euronext responsible for Russian business, who previously worked with the Shanghai Stock Exchange. "China and Russia both have domestic financial systems that are smaller than the needs of their economies. They are developing as fast as possible and the main danger is that they will go too fast."

In April 2008, Russian President Dmitry Medvedev set a goal of transforming Moscow into an International Finance Center and launched a raft of reforms to improve the workings of the domestic capital markets. This process was interrupted when the collapse of Lehman Brothers in autumn of that year caused the Russian stock market to crash, but the Kremlin has stuck to its guns and continued to pass new laws, such as August's ban on insider trading. Creating an effective domestic capital market will take years of work, though. And in the meantime, the NYSE says it can effectively help Russian companies to raise the billions of dollars they need for their investment programmes.

The new New York

New York lost much of its appeal after the introduction of the Sarbanes-Oxley Act in 2002, which put onerous reporting requirements on foreign companies that wanted to list. But following the merger between the NYSE and the European-based Euronext, Kent says the new exchange is hoping to attract back much of this lost business.

The exchange has invested over $500 million in building an integrated system that allows traders to buy and sell shares on any of the countries covered by the exchange - including Paris, Madrid, London and New York - creating what Kent describes as a "cloud exchange." The system's main appeal is that it spans the Atlantic and allows companies to tap the deep pools of investment capital in both Europe and the US simultaneously. Kent says listing on an international exchange like this also means the cost of capital is lower, because "the amounts you can raise are higher and the depth and breadth of investors is wider than anywhere else."

Russian companies are eyeing NYSE-Euronext with interest, as listing there would also avoid the main complaint they have with the London Stock Exchange (LSE) - that they are treated effectively as second-class citizens. Trading on the LSE is split into two tiers, with companies effectively registered in the UK in one tier and everyone else in the other. Given that domestic retail and pension funds are precluded from investing in the second tier, which is deemed too risky and reserved for professional investors only, the pool of capital is limited and Kent claims the trading is distorted as a result.

Currently, talk of a surge in Russian IPOs remains just that: talk. Russia has seen only four IPOs since the crisis started at the end of 2008 and only one of those, RusAl, was on an international exchange. Indeed, Russia's Alfa Bank has scaled back its prediction for the total volume of IPOs expected this year to $8 billion from $10 billion at the start of the year. However, pressure is building. Analysts estimate the pent-up demand for IPOs forced to wait because of the crisis could run as high as $60 billion.
All rights reserved by Rossiyskaya Gazeta.