Three-star general Zelin lobbies Russian fighter jet in Indian tender (+multimedia)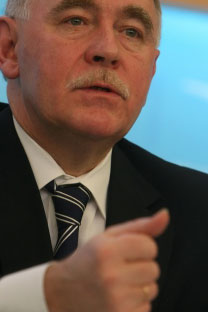 Commander-in-chief of the Russian Air Force Alexander Zelin.Photo by Iliya Pitalev, STF
An official visit to India by a delegation of the Russian air force's high command led by three-star general Alexander Zelin kicked off on 7 September.
Lieutenant Colonel Vladimir Drik, the official representative of the Ministry of Defence's press service and information administration, reported that the visit was organised at the invitation of Pradeep Vasant Naik, chief marshal of the Indian air force. Besides the high command of the Russian air force, the delegation also includes Vladimir Gradusov, commander of the air force's 185th Astrakhan centre for military training and deployment. During the four-day visit Russian pilots will visit Palam, Jodhpur, Bidar and Bigumpet aviation bases, hold a number of meetings with India's military leadership, and have a look at chief and prospective areas in the Indian air force's development.

Lieutenant Colonel Drik also made clear: "These events are being held to enhance and strengthen bilateral relations in military aviation between the Russian and Indian militaries." He did not say a word, however, about what either side would bring to the table during discussions, which is important, because there is something to be said here.

Readers are aware that military aviation has a special place in Russia and India's military technical cooperation. Military aviation accounts for probably 60% of Russian military equipment and weaponry deliveries to Indostan. Moreover, included in this number, in addition to deliveries, is the joint production of military airplanes. French, Israeli and Indian specialists worked alongside Sukhoi, a major Russian aircraft manufacturer, in producing the versatile Sukhoi Su-30 fighter jet. More than 250 of these fighter jets, going for a grand total of $8.5 billion, have been churned out at the Irkutsk Aviation Enterprise and sent to India's air force. Furthermore, Hindustan Aeronautics Ltd (HAL), an Indian aerospace corporation, was sold the rights to produce the Su-30, while Russia continues to supply parts for it. Information has it that Delhi is willing to buy another 250 of the fighter jets, which are considered to be the best in class.

India bought 16 Mikoyan MiG-29K/KUB naval fighter jets for its Vikramaditya aircraft carrier from Russia for more than a billion dollars. The Vikramaditya is currently being retooled at Sevmash, a Russian shipbuilding company based in Severodvinsk, a port city on Russia's White Sea, although Indian pilots are already getting a feel for the new fighter jets, whether in flight simulators, factory slipways or in the cockpits of the first freshly delivered fighter jets. Delhi has also announced that, in addition to the aforementioned set of aircraft, it plans on purchasing two dozen more of the same model. HAL, in cooperation with Sukhoi, is currently working on a 5th-generation fighter jet that is almost a carbon copy of the Russian T-50, granted, India's will have a dual cockpit, as opposed to Russia's single-cockpit model. It is reported that India is prepared to acquire more than 250 of these airplanes for its own needs, while it will then switch over to manufacturing them for itself and for third-party countries. The joint production of this new fighter jet is estimated to run $8-10 billion, while those putting in orders will shovel out at least 85-100m greenbacks.

A lot can be said about past and future projects that Russia and India have and will participate together in, and Zelin will obviously bring them up with his Indian colleagues. But it looks like that is not all that he will touch on with them.

India's air force is currently holding a tender for supplying it with 126 Medium Multi-Role Combat Aircraft (MMRCA). Russia is taking part in the tender with its versatile MiG-35, complete with a variable thrust vector and other worthy features. Competing alongside Russia in the tender are America's Boeing-manufactured F/A-18E/F Super Hornet and Lockheed Martin-produced F-16 Fighting Falcon, France's Dassault Aviation-produced Rafale and JAS-39 Gripen manufactured at Sweden's SAAB, while the Eurofighter Typhoon EF-200 is being put forward together by an all-European squad of Great Britain, Germany, Italy and Spain. Tests on the competing models are already being carried out at local air bases in some of the toughest air-combat simulations around, created with the help of remote-control equipment and other mock enemy aircraft. Local media are following the tests closely and at times leak news to the public that really make Indian experts scratch their heads.

For instance, the media reported that the French and European models made it to the final round, while Russia's MiG-35 was cut because the Indian air force leadership regarded its engine as being insufficient. Although India's air force commander has denied these reports as being inaccurate, three-star general Zelin and his subordinate, commander Gradusov, will almost certainly have to invest a lot of time and effort to convince their Indian counterparts that Russia's MiG-35 is still the best in show. Will they be able to pull it off? Only time will tell. But whatever the case, the $11 billion promised to the winner of the tender is enough case in point for Russia's high command to, from time to time, take on the role of door-to-door salesman.

Click on the picture to see more


All rights reserved by Rossiyskaya Gazeta.