Is Russia's bid for Europe "without borders" just wishful thinking?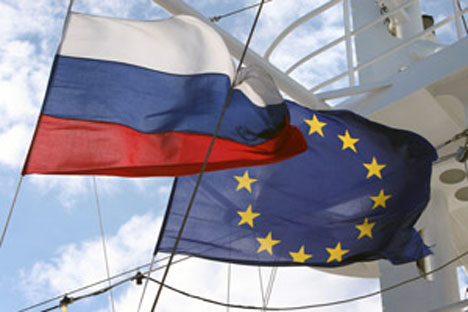 Russia has been increasingly proactive in its efforts to have visa requirements with the EU lifted, but the prospects of that happening are now less clear than ever.
Senior European politicians are sending mixed signals as to whether they will be ready to scrap the visas any time soon, at least for members of the Russian business community. Brussels seems to favor the idea in principle, but it has its reservations and is trying to put off the final decision indefinitely.

German Chancellor Angela Merkel has said during her current visit to Lithuania and Latvia that the EU could lift its visa requirements for Russian nationals, but, at this point, only for those living in the Kaliningrad Region, Russia's western exclave on the Baltic coast.

Misunderstanding seems to be one thing that makes it so hard for the sides to make progress on the issue. The most recent example is Warsaw's reaction to Russian blueprints for the lifting of visa requirements. Foreign Minister Sergei Lavrov told his Polish counterpart, Radek Sikorski, during their latest meeting in Warsaw that Russia hoped it had already secured Poland's support for the draft and that Brussels would also give a positive response to it before long.

As it has turned out, however, Poland is not so sure it wants the EU visas for Russian nationals scrapped altogether. At this point, it only wants to see the entry rules relaxed somewhat. And only for residents of the Kaliningrad Region, or some of it, to be precise. Thus, Warsaw and Vilnius propose establishing special visa-free zones on both sides of the border, extending, respectively, 50 km or 30 km into the heartland. But this visa-on-a-leash arrangement is a far cry from what Russia has in mind.

In all related discussions, though, Sikorski says that Poland is in favor of the Russian proposal on visas. Yet, as one high-ranking EU official has pointed out, such statements rarely go beyond diplomatic rhetoric. "Sikorski knows very well he can make promises on this to Russia if he wants to, because there is plenty of resistance to it in the EU," a source in the EU institutions was quoted as saying.

A closer look at Poland's position on the issue of making the Schengen zone freely accessible to Russia reveals that the sheer number of conditions and reservations the Polish side has set forth makes it unrealistic for Moscow to comply. Also, those conditions are often incompatible with one another.

It seems like Russia and the EU view the situation from different perspectives and from political contexts that do not have much in common. In non-diplomatic quarters, such stances are commonly described as "hypocritical." Indeed, Poland's favorable attitude to the Russian draft could translate into real action only in case the EU pledges the same for Armenia, Azerbaijan, Belarus, Moldova and Ukraine. According to Sikorski, lifting the visa requirements solely for Russia would send a wrong signal to other ex-Soviet neighbors of the European Union.

It is no secret that France, Italy, Germany, Denmark and Belgium are now tightening their policies vis-a-vis illegal immigrants. They are sending Roma re-settlers back to their countries of origin. Even the idea of EU newcomers, such as Bulgaria and Romania, becoming part of the Schengen zone encounters strong opposition in many European capitals, primarily in Paris. So the prospect of scrapping entry visas for several former Soviet nations just does not seem realistic at this point.

Officials in Brussels admit off-the-record that lifting visa requirements for Russia would deprive the EU of a major bargaining chip in future talks on the new strategic partnership agreement and on issues such as Europe's energy security and its access to Russian energy markets.

Moscow's ambition to scrap the visa requirements manifested itself most graphically at the latest EU-Russia summit in Rostov-on-Don in late May, when the draft agreement was presented to officials from Brussels for the first time.

Unfortunately, the bid comes amid a new wave of anti-immigrant sentiment across Europe. Western Europeans now tend to be more suspicious of "aliens" from what was known as the Eastern bloc than of immigrants from their former colonies in Asia and Africa.

Moscow, meanwhile, continues to harbor the illusion that Brussels will enthusiastically embrace its ideas of the Greater Europe. It prefers to ignore EU officials' skepticism over Russian legislation on readmission of illegal immigrants, biometric passports and border control, as well as their criticism of this country's economic achievements and its efforts to combat corruption and crime, to uphold democratic values and to guarantee individual freedoms.
All rights reserved by Rossiyskaya Gazeta.