Yaroslavl celebrates its Millennium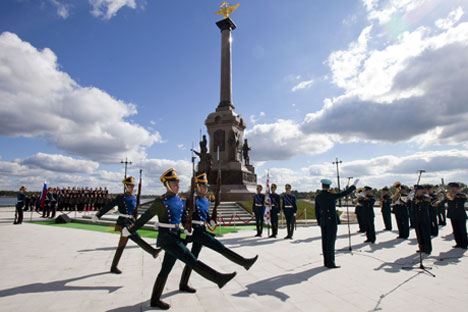 One thousand years ago, at the place where two rivers meet, Prince Yaroslav the Wise killed a local sacred bear with his battleaxe and founded the town of Yaroslavl.
Enlarged by 17th century merchants and 20th century industry, it became the biggest city in Russia's "golden ring" of ancient and beautiful towns. With just four days to go until the city's huge, millennial celebrations this month, marking its birth in 1010, Yaroslavl was abuzz with preparation. An army of turf-layers, petunia-planters, sand-shovelers, window-cleaners and whitewashers had invaded every corner, dug up every street and repainted every surface.

The early 16th century Transfiguration Cathedral, Yaroslavl's oldest surviving church, is freshly painted white and gold, in great contrast with the faded crimsons and mellow ochres of the frescoes inside. There are a bewildering variety of exhibitions on offer inside the fortified walls of the Transfiguration Monastery. Besides gold-backed icons and colorful ceramic tiles, visitors can see a live bear called Masha in a cage, or a room full of chain mail and stone images, representing a 12th century epic poem.

The treasury is crammed with gold and silver, gems, pearls, satin and enamel, all engraved, embroidered, embossed and molded in various intricate ways. A new museum of town history and archeology is being added for the celebrations. Best of all, you can climb the towering belfry and enjoy the view across the city and its two rivers.

The peninsula at the confluence of the Kotorosl and Volga rivers has turned into a "Thousand Year Anniversary Park," complete with various appropriate monuments and bear-shaped flowerbeds. On the cliffs above, the legendary site of the city's founding, Yaroslavl's newest cathedral, named for the Assumption, is a reconstruction of a previous church in supersized splendor. The building plans had to be carefully discussed with UNESCO, which granted the old town center World Heritage status in 2005. The cathedral is just one of several large-scale projects planned or completed specifically for the millennium, including new cultural centers, zoos, golf courses and hotels.

"A lot of our visitors are involved in building projects," said Paulina Chernobaeva, manager of the Ring Premier Hotel. She said business has been fairly steady since the hotel was built in 2004, and it was fully booked for this month's Global Political Forum, attended by President Dmitry Medvedev. Chernobaeva herself was born on remote Sakhalin Island and always dreamed of "life on the mainland." For her, Yaroslavl is perfect: "Big, but not too crowded with a lot of very beautiful, old churches."


Photos by: Kirill Lagutko, ITAR-TASS, Russian Look, Legion Media; Alamy/Photas

Not everyone is excited about the millennium preparations, however. "We've heard they're paying people to stand holding flags while local residents aren't even supposed to look out of their windows in case they're taken for snipers," said one resident. In addition, hundreds of local university students pressed into service for a citywide clean up in the days before the anniversary were also less than impressed. "We don't like having to do this," said student Ekaterina Popovich, "we want to study."

Yaroslavl has always been a place of learning. The first school in northwestern Russia was housed in the monastery, and the unique "Song of Igor's Campaign" was discovered in its library. The actor Fyodor Volkov founded Russia's first public theater in Yaroslavl in 1750. The current Volkov Theater, a bright yellow building in the heart of the old town, opens its new season this month with Chekhov's "Three Sisters." Other famous inhabitants include the first woman in space, Valentina Tereshkova.

On the bank of the vast Volga River, the Historical Museum is opening a new exhibition, reviewing 1,000 years of history through materials from the national archives, while the Art Museum, in the nearby Governor's Mansion, celebrates Yarolsavl's "golden age" with yet more icons. John Mostoslavsky's private museum "Music and Time" adds an unusual charm to this row of galleries. His extensive collection of antiques includes hundreds of old clocks, gramophones, music boxes, flat irons and more than 1,000 bells. The atmospheric clock room, full of ticking and chiming, is an appropriate image for Yaroslavl's variegated past.

In between the museums on the Volga embankment are some of the town's beautiful churches. The Church of St Nicholas, with its rich, blue frescoes and gilded iconostasis, was the first stone church built by the wealthy merchants who funded the city's 17th century heyday. Fur traders commissioned the Church of Elijah, whose walls are even brighter, decorated inside with glowing murals and outside with ceramic tiles. Opposite this church, on the far side of a festival stage, the Yaroslavl Region administrative center is bedecked, like almost every other building, with anniversary banners. Even the 10 ruble bus tickets have turned silver with "Yaroslavl 1,000 years" printed on them in red. There is a new dynamism to the city. Mayor Viktor Volunchunas describes Yaroslavl as both "ancient and forever young."

Yaroslavl's 2008 promotional video hyped the city in movie-star tones as "the heart of Russia… the place where history is made." The millennium correspondingly became "a unique chance for lucrative investment." Whether or not such efforts succeed in these recessionary times, Yaroslavl will remain popular with tourists. "You can feel the history," said Chernobaeva, "when you walk in the city streets, you can feel it."

How to get there:
The journey from Moscow to Yaroslavl on a spacious, comfortable express train takes four hours and costs around 600 rubles ($20) each way. The city's public transportation network is excellent. The number six trolleybus goes from directly outside the main station to the Transfiguration Monastery. During the summer months, of course, you can also arrive by boat.

Where to stay:
Yaroslavl is too far for a day trip from Moscow. The 4-star, modern Ring Premier Hotel is between the main station and the town centre. Standard rooms cost around 4,000 ($125) rubles per night.

For something with more atmosphere (but similar prices), you might want to check out the Volga Pearl hotel , which is actually built over the water like a boat.

Where to eat:
Yaroslavl has no shortage of restaurants, but the quality is variable. The Vanilla Sky, right next to the River Station at 2 Volzhskaya Naberezhnaya (4852/333776) is a good choice if you want to push the boat out a bit. Main dishes like fried pikeperch with wild mushrooms cost around 400 rubles ($12). By Moscow standards, it's quite reasonable, but if you need something cheap and filling, the cozy Tai Tai café, just across the embankment does a three-course-plus-tea business lunch for 100 rubles ($3.50).
All rights reserved by Rossiyskaya Gazeta.