Filling up on a different kind of gas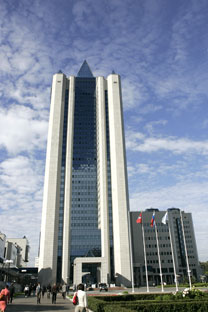 Not everyone will remember that in the Soviet Union in the 1980s, natural gas was a popular fuel. In 1981, a program was started that developed gas for cars. Now, however, these vehicles are a rarity.
Today only about 3 percent of Russia's road transport runs on natural gas, and for the most part this percentage is not made up of cars that have come off the conveyer belt as gas-powered vehicles, but cars designed for gasoline that have been retrofitted. This modification costs between 120,000 and 200,000 rubles, and while the equipment sellers list the many wonders of gas, the system does not have many fans. The tank takes up half the trunk and finding a place to fill it up is fairly difficult.

But soon it may get easier. At Gazprom's general meeting in June, company CEO Alexei Miller, spoke for an unexpectedly long time about cars, more specifically, how in Europe gas is being used more and more frequently as vehicular fuel. European civil servants and municipal governments argue that buses running on gas pollute less. And now gas transport is also being discussed in Russia. The government is creating a working party dedicated to switching Russian transport to gas fuel. The process will start with either municipal transport or with the vehicles intended for the Sochi Olympics.

Gazprom's interest in creating vehicles that run on natural gas, however, is not an outgrowth of an interest in the environment; the company needs new markets. Gazprom's interest in gas fuel is to augment its business. Its hold on the monopoly of gas in Europe is weakening, and Ivan Bonchev, an analyst from Ernst and Young, believes vehicular fuel could help the gas giant return to its previous position in the European market.

"In Europe, the market for vehicular fuel is growing more dynamically than in Russia. The European Union is drafting laws to introduce gas engines on a big scale, and so Gazprom's interest in the market is fully comprehensible," Bonchev said.

But even so, Gazprom's biggest hope is for the Russian market. Gas refuelling facilities are not widely available in all regions of Russia and Akoil, one of the main players in the market went out of business. The main argument in favor of gas is its low price; natural gas is almost half the price of gasoline

However, since few drivers are interested in switching to want to use gas, moving public transportation onto natural gas is an easier proposition. Such a proposal is especially appealing in the far north of Russia, where gasoline is particularly expensive.

"Developing a market for vehicular gas is a question of social responsibility, like the gasification of the regions. In the Soviet times this branch of the energy industry developed because it was regulated in a directive way," said Evgeny Pronin, the head of Gazprom's department responsible for developing gas as a vehicular fuel. "And today we also need the government to push us in the right direction. Why, for example, shouldn't an owner of a fleet of 100 cars be required to convert 50 of them to gas? This would provide immediate financial benefits."

The Ministry of Energy has been supportive of these proposals. In June, Sergei Kudryashov, the deputy minister of energy, announced to the Duma that the state was going to stimulate the demand for vehicular gas fuel. "We want to breathe new life into the market, and we are currently looking at every possible administrative and financial means by which to do this", said Kudryashov.

The ministry is planning to revise the use of alternative fuels before 2020, and this will also affect natural gas. Candidates are now already being selected for the special government commission, which will be headed by Igor Sechin. The Ministry of Energy is proposing to begin running municipal transport on gas fuel in cities with a population of more than a million, and then in remote regions.

In addition to these proposals, Gazprom is counting on the Sochi Olympics. They even have a slogan for the program; "White Olympics – Blue Fuel."

"The essence of this is simple: We want all municipal transport, trains, and vessels to switch to gas. After the 2014 Olympics, all these wonderful vehicles will remain in Sochi. And a successful ecological resort will be formed," explained a Newsweek correspondent.

In September 2009, the company started building a gas pipeline connecting Dzhubga, Lazerevskoye and Sochi and it is very interested in how the gas from this pipeline is used. The Ministry of Energy supports this idea. "We have several demands for gas from the Caucasus, they want to be the ones to test the new programme", says a senior employee of the Ministry of Energy.

If Gazprom achieves its goals in moving Russian transport towards natural gas, it won't just increase sales within Russia, but will also receive a certain freedom when it comes to setting prices. At meeting in June, Alexei Miller reiterated: "The price of gas in Russia will remain below its market value, subsidized and fixed by the state." It could be possible to boost sales in Russia by increasing the supply of gas to industrial buyers, mainly energy companies (which make up 31 percent of Gazprom's sales in Russia), but also to the public. The cost of gas for these consumers is regulated by the state, but the federal service is not setting the price of refueling. "On account of operations with gas we are creating an additional cost. Therefore there is also a commercial gain to be had from these projects," said Evgeny Pronin.
All rights reserved by Rossiyskaya Gazeta.