The shame of Mother Russia's children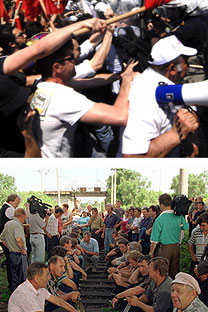 More than one in four Russians feels more shame than pride in their country according to a recent survey. And with other polls highlighting large numbers who want to leave and try their luck elsewhere it suggests a deep-seated malaise in Russian society.
Frequently ashamed

Almost one in three – 29 per cent – frequently feel ashamed of Russia, according to the Public Opinion Foundation. And 64 per cent admit they feel no pride in their motherland, despite repeated government campaigns to re-assess Russia's turbulent past in a more positive light.

Strangely, Russia's economic growth over the past decade has had little impact on public opinion: in 2002 84 per cent said there were times when they were proud of their country, but by 2006 it was down to 65 per cent and remains at 60 per cent today.

Little quality and no compassion


The main reason for the shameful situation is the low level of the quality of living and the government's lack of concern for the people, a quarter of Russia's inhabitants say. The second reason is failure in sport, although it would make blush only 6 per cent.

"The gap between the first and the second position shows how serious and painful the situation is for the public," said Yekaterina Sedykh, the project director with the Public Opinion Foundation. "People are fully ashamed," she added.

"The Russian society feels tired because there have been no changes lately," Sergei Mitrokhin, leader of the opposition Yabloko party, told the Moscow News. "The country needs to feel some changes," he added.

Reasons to be cheerful

Sport is one area where many Russians are happy to raise the flag, with 21 per cent citing it as a source of pride. But that figure varies with results: "There was a lot of information on Russian success at the Youth Olympics that finished recently," Sedykh said.

The next most common source of satisfaction was the people of Russia, who are kind, optimistic, helpful and "carry the country on their own shoulders" according to responses to this open question.

The rest of the proud-list includes the Russian army and the military power, peaceful life and friendliness to other countries, the victory in the Great Patriotic War, progress in science, medicine and education as well as many others that got no more than 3 per cent.

Who cares?

29 per cent couldn't answer the question about whether they feel pride or shame about the country. Sedykh believes this figure is very important to paint the whole picture.

"The number of apathetic people is rather high, and it hasn't changed much over the past four years", she told the Moscow News. These people show "little interest and don't analyse what is happening around," she added.


The remarkable thing about this research is the number of answers the sociologists heard. "Normally there are 30 per cent who cannot reply either because of they haven't made up their mind or just are not interested in the problem," Sedykh said.

"This poll seems to come across some important problems. People have something to talk about, something to say out. The public sentiments are clearly to be seen here," she concluded.

United in pride
However, some people don't need any reasons to be proud of their country just like Svetlana Vinnikova, the vice director of press-service of the Moscow regional department of United Russia:
"I haven't seen the survey and its results. But as a Russian citizen I can say I'm proud of my country."

Photos by Anisia
All rights reserved by Rossiyskaya Gazeta.