Best-paid Expats Live in Russia, but It's Not Easy to Get a Job There (+Video)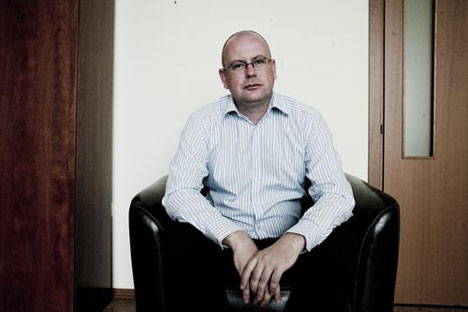 Bill Finn, a native of Ireland, has been working in Russia since 2005.Photo by Kirill Lagutko
While Moscow offers some of the best benefits for highly qualified foreign managers, finding a job has become more difficult in recent years.
Is your job going nowhere in London or Washington, D.C.? Move to Moscow and make a mint. A new survey by the bank HSBC has found that expatriates living in Russia are the wealthiest in the world, with 36 percent earning more than a quarter of a million dollars. But trying to join their ranks will be harder than you might think.

Fifteen years ago, young expats with a good head on their shoulders who landed in Moscow speaking reasonable Russian could take their pick of jobs. With the Russian economy growing much faster than those in the West, they could find themselves managing a company at a time when they might still be making coffee and doing photocopies in an office back home. No longer: companies in Russia, whether local or foreign, are increasingly hiring Russian managers to run their businesses and only recruiting expats for specialist roles.

The opportunity at the junior and middle level of management has been all but eliminated, and foreigners are now largely only hired for these jobs if they know how to live and work in Russia and speak the language, according to businessmen in Moscow.

"I am a skeptic about hiring expats in Russia," said Bernard Sucher, a senior banker and until recently CEO of Merrill Lynch. "It used to be that you could more reliably depend on expats to understand what the end experience was supposed to be like."

That is no longer the case. As Russian consumers have become more sophisticated, they now understand what customers want, leaving headhunters seeking talent from a growing cadre of Russian managers who have either worked abroad or for foreign companies operating in Russia.

Igor Klimov, general director of executive search firm Acuris, which finds managers for international companies in the consumer goods sector, said that it is much easier for Russians to build trust with both other employees and other companies. "Expats are still needed in the investment field, but in the real economy we get almost no requests for expat managers," he noted.

Sucher said that the most sought-after employees are those Russians who have worked abroad; they understand the demands of the international market but are also adept at negotiating the cultural tides of business.

However, companies have to pay a sizeable premium to attract such Russians back to the country, and there are not enough of them to meet the demand for experienced managers across the economy. This leaves openings for expats in key areas. "For instance, a small company wanting to transition to a medium-sized business will often find value in an expat manager who has walked that walk before and has the skills to make it happen again." said Sucher.

For Russian firms looking for the stamp of respectability in international markets, expat hires are still key to reassuring foreign investors that the company is not mired in corruption.

Before 2008, Russian companies looking to raise money through an IPO or a bond deal needed lawyers trained in English law, said Nikita Prokofiev, partner at Odgers Berndtson.

Though such deals have slowed to a trickle, any company in Russia wanting to meet international compliance standards still needs to hire foreign lawyers, although with fewer Russian companies raising money overseas, it is less important right now than it used to be. "The real demand now is for Russian lawyers with international experience," Prokofiev said.

As capital markets bounce back, the demand for foreign-trained lawyers will pick back up, and for those lawyers who do find work in Moscow, promotion is much faster than at home. "Many lawyers I know have told me [that] at home I would be one of a hundred people and all the top seats would be occupied, but here I am a star," Prokofiev added.



Another area where expatriate professionals can command good salaries and attractive packages is project management in the software sector. Russia has a wealth of highly trained software programmers, but project and business managers with more than 10 years experience are few and far between. "The Russians that exist in those arenas can have their pick of jobs anywhere," Esther Dyson, chairman of EDventure Holdings and an active investor in IT start-ups in the United States and Europe, said. Companies in Russia wanting to attract such staff from abroad have to pay more, offer interesting projects and have a good reputation, Dyson added.

There is another reason why expats working in Russia, and especially in Moscow, receive higher salaries than anywhere else in the world. Bill Finn, chief financial officer at one of the largest vodka companies in Russia, pointed out that lots of money is spent on rent, international schooling for children and other expenses. "Moscow is one of the most expensive cities in the world, and naturally this is why expats here get the most money. While they receive the biggest financial packages in the world, it doesn't mean they walk away with the most disposable income," he added.

So while Russia may indeed have the best-paid expat jobs, those filling those posts tend to know the country well, speak the language or offer some unusual skill. Once Russian companies start to expand more overseas, there will be more demand for foreign managers, Klimov, from Acuris, said. Until then, however, Russia will not offer an easy opportunity for professionals looking to escape the drudgery of a job in London or New York.


All rights reserved by Rossiyskaya Gazeta.