'We are not in opposing trenches… we face the same challenges'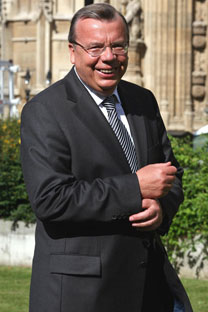 Yuri Fedotov recently left thepost of UK ambassador tobecome the UN's anti-drug tsarSource: Andrew Parsons, AP
Russia has reopened the debate over rebuilding relations with the UK. Can the long overdue reset 
finally put to rest the 
recent diplomatic spats?
While counting down the days to starting his new role as the UN's drug tsar, Yury Fedotov, Russia's former ambassador to the UK, spent early September speaking widely to the British media. He said that Moscow is "prepared to do everything" to repair relations with the UK, and suggested the pair adopt a more positive agenda.

However, even as Fedotov was packing his bags, he was given a reminder of the challenge, as a London court adjourned, for a second time, an extradition hearing for Yevgeny Chichvarkin, former boss of the Evroset retail chain, who fled to the UK in 2008 pending charges of, among other things, kidnapping.

Still, Fedotov was keen to repeat an offer to involve British investigators in a trial of Andrei Lugovoi (whom UK security services accuse of the murder of Alexander Litvinenko in 2006) in Russia, adding that the ball is now in London's court.

Moscow has been on fence-mending duties with the West since the global crisis convinced it that it needs help with modernization. A concerted foreign policy drive has seen President Dmitry Medvedev munch burgers with US President Barack Obama and cement closer ties with the EU.

However, a fish-and-chips supper with UK Prime Minister David Cameron still looks some way off.

New partners

Moscow has made no secret of its hopes that relations can improve now that the a coalition government made up of Conservatives and Liberal Democrats has taken over from the Labour government that was in power during Russia's 2008 war with Georgia, the Litvinenko case and the tussle over control of oil firm TNK-BP.

Cameron visited Moscow in May, with Foreign Secretary William Hague – who has said the UK wants to "open a new page" in relations – due to follow soon. However, as Lilit Gevorgyan, a London-based analyst for IHS Global Insight puts it: "All the right words were said, but there is no real improvement in ties."

The difficult political relationship is in contrast to commercial ties between the two countries. The UK is the largest foreign investor in Russia, while prominent Russian businessmen and officials flock to London to buy property and put their children in schools.

This apparent gulf between commercial and cultural ties on the one hand, and political relations on the other, 
appears unbridgeable as long as the pair fail to shift their focus from the diplomatic spats.

Top of the agenda is extradition. Russia currently has over 40 requests lodged with the UK for the return of anti-Kremlin oligarchs accused of economic crimes, Chechen terror suspects, and "common criminals wanted for drug dealing, hijacking and money laundering," according to Fedotov.


In his own words


Yury Fedotov
''I believe the political dialogue between our countries is gathering pace… this testifies that the general background of 
Russian-British relations is gradually improving"
Voice of Russia; September 13, 2010

However, the UK insists it can't legally extradite these figures because it doesn't believe in the independence of Russia's judicial system. The same objection inspires its rejection of Moscow's offer over Lugovoi.

Gevorgyan suggests there are additional antagonisms that help prevent a refocusing of relations. On the one hand, she sees the virulent British media playing a role, its negative take on Russia not helped by "rather limited press coverage from Russia or the CIS compared to other parts of the world." On the other, Russia appears to sideline the UK due to its closeness to Washington. "Russia tends to regard Britain as an auxiliary to the US, and leaves issues of strategic importance to US-Russia dialogue."

In a similar fashion, it's probably no coincidence that Germany and France enjoy the strongest ties to Moscow among EU states.

The challenge for both London and Moscow is to move relations into other areas, as a solution to the outstanding issues between the two is highly unlikely without a political agenda mapped out in advance.

Fedotov hints that Moscow now holds the same view. "We should not overblow the importance of such [diplomatic] incidents," he suggested to the BBC. "We need to think strategically… We are not in opposing trenches. We face the same challenges and threats."

Referring to the likes of Boris Berezovsky and Akhmed Zakayev who have claimed asylum in London, he claims that Moscow is ready to look past the "irritants" that have helped interrupt the reset thus far.

"They are kind of put into mental square brackets. We know they are there, but they are not irritating us as much as they did."

However, unlike Brussels, London insists it won't allow focus to shift overwhelmingly to commercial ties.

In late September, Anne Pringle, UK's ambassador to Russia, backed up a commitment from The Hague that human rights are at the core of foreign policy, stating in an interview with RT that when it comes to extradition, Britain will not "… water down our issues for political or commercial expediency."
All rights reserved by Rossiyskaya Gazeta.