Pharma market lures global giants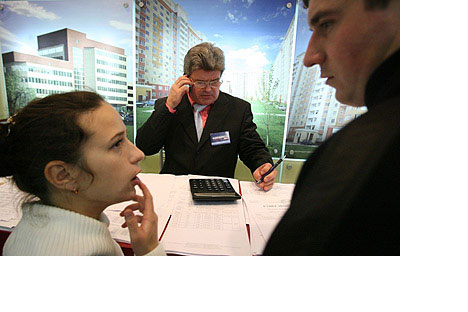 The Russian market is one of the most attractive destinations for pharmaceuticals.LAIF/VOSTOK-PHOTO
The outlook for the Russian pharmaceutical industry never looked better, with experts predicting the market to exceed $60 billion by 2020. Spurred by Pharma 2020 vision, a government strategy aimed at developing an innovative Russian pharmaceuticals industry using foreign experience in research and production, foreign drug-makers are planning to pump in $4 billion to set up a base as local producers.
Top Indian pharma companies are also avidly eyeing the Russian market. India's pharmaceutical exports to Russia scaled upto $532 million in 2008 and are expected to go up substantially this year. Although the Indian pharma companies have been in business since the Soviet times, their share of the Russian market remains a little more than 5 per cent. But with the new Russian policy, the picture is going to change dramatically. Dr. Reddy's Laboratories Ltd managed to notch up $130 mn sales in Russia in 2009, a sharp jump of 27 per cent from previous year. Ranbaxy, too, has cornered a sizeable chunk of the Russian market. Indian drugs fare well in the Russian market on account of its quality and cost competiveness. "During the financial crisis, it was especially important that Indian medicines in the Russian market are inexpensive," says Sergey Shulyak, Director General, DSM Group, a research company. Prices were often 20-30 per cent lower than for imported medicines because of being produced locally.

Both Russian President Dmitry Medvedev and Prime Minister Vladimir Putin have pitched for Indian investment in this crucial sector. "We are ready to discuss these projects and create new enterprises to create medicines," said Medvedev last year. "The pharmacological market is developing in Russia. It's a growing market. Indian producers are fairly well represented here and have recommended brands. The development of the pharmacological industry in our country is a national priority, which is being personally coordinated by the president of Russia." Deputy Prime Minister Sergei Sobyanin has invited Indian pharmacists to create joint enterprises and build factories to produce medicines in Russia.

India has responded enthusiastically. "They are ready to invest in the Russian pharmaceutical industry, including India-Russia joint ventures. Russia is preparing the list of medicines that it needs," Commerce Minister Anand Sharma said during his visit to Moscow in June. The two sides are working on a protocol on joint production.

Russia, on its part, has prioritised the modernisation of the health system and the development of pharmacology as twin strategic goals necessary for national renaissance. "The Russian market is one of the most promising and attractive for pharmaceuticals. In terms of economic growth, Russia is on a par with other countries in BRIC-MT [Brazil, India, China, Mexico and Turkey]," said Zdravko Culibrk, head of the Moscow branch of Hemofarm, part of the German group STADA. The pharmaceutical sales in Russia in 2009 totaled $17 billion. The sales are expected to go upto $22 billion in 2011 and to $24 billion in 2012.

A year ago, Medvedev set the goal of increasing the sales of medicine to 1.5 trillion rubles by 2020. Recently, Putin announced that 460 billion rubles in state budget funds had been earmarked for modernisation of the healthcare system in Russia's regions. Two signal events — the drafting of a law on medical insurance and the coming into force on 1 September 2010 of a new law on medicines — have allowed Russian healthcare to reach a qualitatively new level. "The attractiveness of the domestic market as an investment for foreign companies has increased," says Chulibrk. He recalled that in 2006 when his company was building its own factory in Russia, it took 27 months to register his medicines in Russia. "Now, with the new law in place, the timeframe for receiving permission to register medicines are strictly regulated and substantially reduced," he said. The burgeoning market has attracted global giants like Polpharma, Actavis, Stada, and Sanofi-Aventis, who are now building their own factories in Russia. Teva, Novartis, Pfizer, Novo Nordisk, AEC PARTNERS, Wyeth Pharmaceuticals, and AstraZeneka have all announced their intention to localise production in Russia.

$6.2 billion pharma investment target for 2020

The strategy of Pharma 2020 is to raise the competitiveness of the industry, stimulate the production of innovative medicines, modernise factories' equipment, remove administrative barriers for drug registration and launch educational programmes. The goal is an ambitious one: to raise the share of domestically produced medicines from the current 23 per cent to 50 per cent over the coming 10 years. Doing so will reduce the country's dependence on imports, as well as make medicines more affordable for consumers and the government.

The strategy calls for 188 billion rubles ($6.2 billion) of investment in the pharmaceutical sector over the next decade in three key areas: research and development, training and infrastructure development, and introducing good manufacturing practices at all Russian facilities. Much of that investment figure will be state funds, funneled through either regular budget allocations or one of the federal target programmes — state funding vehicles created to accomplish certain development goals. The government was ready to appropriate as much as 120 billion rubles ($4 billion) of state funds for supporting the pharmaceutical industry.



Minister of Industry and Trade Viktor Khristenko: Russia wants a strong Indian presence in the pharmaceutical sector. Photo by www.minprom.gov.ru
All rights reserved by Rossiyskaya Gazeta.