Shaping the New Russian for the 21st century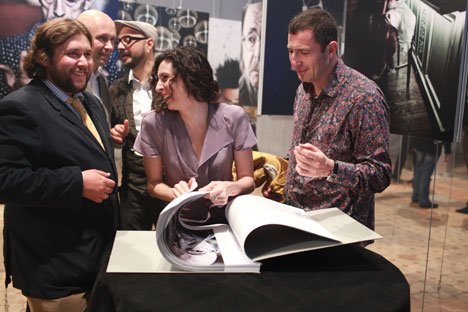 In the Russian media landscape, the new multimedia project Snob isn't easily pigeonholed.
This costly project, with its suggestive name, targets a vague audience. For its editor-in-chief, Vladimir Yakovlev, they are the "global Russians," or the "Russians who see themselves as citizens of the world," explained Masha Gessen, deputy editor-in-chief.
They are "a community of accomplished professionals who live all over the world, but who think in Russian, unified by common interests, the openness to new ideas and the desire to discuss them," at least according to the magazine's website. These are above all people who are ready to pay 12 euros ($16) per issue and 330 euros ($450) per year to be guests at exclusive club events. By natural selection, this snob is one with intellectual ambitions and the financial means to satisfy them.
The designers of the project accept this selection method, arguing that the price is appropriate for a quality product. "We speak to the readers as if they were educated better than they are in reality. It's the only way to raise their level. In other words, the Snob reader must show some snobbism, for his or her own good. Admittedly, the title isn't very cheery," said Gessen, "but we hope that people understand the irony: The snob is proud of his or her accomplishments and scorns those who do not achieve their goals, while recognizing that the condescension is a little ridiculous."
Snob is an attempt to fill a void in the Russian media: It's goal is to create a space for high-level debate on different aspects of life, art, culture, a little science, and politics. Snob provides the "educated small-talk" that characterizes, in the West, the urbane and sophisticated classes. "In Russia, we don't have this culture, we lack even the vocabulary," said Gessen.
Snob launched in 2008 and was designed as a multi-faceted and thoroughly modern product. The website Snob.ru is central to the project. It is a platform of information and debate structured like a sprawling blog run by "moderators," who replace the outdated editors, and followed by "participants," instead of passive readers. Then there is the journal Snob, which has the feeling of a coffee table book: It consists of more than 200 pages of stylish writing embellished by elegant advertising. On expensive paper, sharp writers publish acrobatic essay-articles on topics of concern ("In what ways was Hitler worse than Stalin?", "Is memory eternal?") and exclusive interviews with foreign personalities (John Malkovich, Orlando Figes). Popular writers (Andrei Gelasimov or Zakhar Prilepin) compose original pieces, and news is provided by columnists from Paris, New York and London. Every month, four new personalities, "the most brilliant representatives of our target audience," are invited to join the club (the former president of the Soviet Union, Mikhail Gorbachev, or the film director Pavel Lungin) and lend themselves to a photo session and a questionnaire.
Snob appears to be a cross between Vanity Fair and the New Yorker. With its social network, an exclusive and closed club, private parties, premieres, and "snob-talks" (celebrity meetings) reserved for members, Snob seems to have taken a page from the Vanity Fair playbook.
While no ideological position is displayed, Snob's democratic, liberal sensibility differs markedly from that of the major Russian media outlets. The site and the journal are characterized by a far greater freedom of tone, yet it doesn't stake its reputation for all that on a slippery slope. You won't read any analysis on the foundations of Putin's power or any investigation into the origins of the fortunes of the oligarchs (the project is financed by billionaire Mikhail Prokhorov). Snob nonetheless draws a great deal of attention to opposition demonstrations, covered in real time.
The April 2010 journal paid tribute to the grand lady of the Russian opposition, Lyudmila Alekseyeva, and the movement of "blue buckets" – protesters wearing blue buckets on their heads to condemn official cars with blue lights that ignore traffic rules – has grown in part thanks to the this coverage.
"We will not organise a protest, but we do not exclude that after a debate is held on our website, a civil action could come about," said Gessen.
All rights reserved by Rossiyskaya Gazeta.