Luzhkov's abnormal projects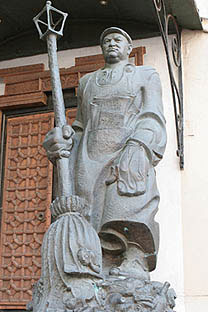 Source: ITAR-TASS / Alexey Zotov
Yury Luzhkov, recently stripped of his duties as mayor of Moscow, will be remembered not just as the business-driven city head in the felt cap, but as the author of challenging projects that will never see the light of day. Take a look back at Luzhkov's most incredible promises and initiatives.
Among Luzhkov's more memorable quotes: "Many people feel like I am a bone in their throat. Or maybe not in their throat, but up their butt, which is even worse, because it itches more." Apart from his make-no-bones-about-it expressions, the former Mayor is also known for the bizarre projects he proposed during his term.

Luzhkov takes on snow, icicles and bad weather in general

One fine day in 2009, Luzhkov came up with a miraculous idea: If rain clouds can be dispersed for Moscow Day celebrations, then why not do the same to prevent heavy snowfall during the winter. The idea was to spray silver iodine and dry ice on snow clouds from airplanes. If implemented last winter, the project would have run the Moscow budget 180 million rubles, while 300 million rubles would have been saved on snowplowing. Yet, there was a mishap: Winter came unexpectedly as meteorologists failed to correctly forecast the first snowfall, which paralyzed the city. In the end, the meteorologists had to even apologize to the mayor.

It seems Luzhkov had been fighting nature as soon as he became mayor. Back in 2001, he promised that lasers would be used to remove icicles from building roofs. By the time that the public found out that it took an hour to remove just one icicle with a laser, the authorities had already spent some $500,000 on the project. In the wake of this failure, Luzhkov tactfully forgot about the whole thing.


In 2004, Luzhkov decided that Moscow's locals and guests should not be prevented from enjoying the city's attractions by bad weather and proposed encasing some of the city's streets in glass. Alas, we were not meant to walk under glass roofs: There were no investors for the project in sight.

A year later, Luzhkov suddenly expressed the desire to blanket the Arbat, the city's main pedestrian street, in greenery during the winter months. To make this idea a reality, hot-water pipes were to be installed beneath the street surface to preserve the grass and trees' lustrous appearance year round. The project, however, never got off the ground. The idea for a heated walkway was made a reality, however; in 2005, the walking area next to the Kremlin walls began to be heated.

Blimps and underwater garages called on to mitigate traffic jams

Traffic jams are a big problem in Moscow, and people usually point their fingers at Luzhkov. Meanwhile, the former mayor proposed many projects to ease congestion.

Just recently, he proposed the creation of a parking police force in Moscow. Luzhkov's intention was to have the police force enforce stopping and parking rules. Now, however, some experts believe that it is impossible to follow Moscow's parking guidelines.

In 2004, Luzhkov said, "whether we like it or not, building not only underground garages, but even underwater garages is unavoidable." Over the next few years, the mayor's administration worked out a plan to build several underwater garages. The first proposed aqua parking garage was meant to have space for 800 cars and 38 buses. The project fell through, though, due to the sky-high price tag, which anyone could have guessed.

In 2002, Luzhkov took on the traffic problem from the air. The Avgur Aeronautic Center was commissioned to build five blimps that the city's traffic police could use to survey traffic jams. The endeavor cost Moscow $2.5 million. When the first blimp took flight in August 2004, it could not fly higher than one meter. It was only once, when the city celebrated its 860th anniversary, that the blimp managed to go higher. Luzhkov was forced to admit that he had failed.

Yet, he would not give in so easily, and so turned back to water. In 2006, the mayoral administration submitted a proposal involving river trams and taxis, promising to launch 20 of the former over a three-year period. The project was expanded towards the end of the year, to 78 trams and the need for additional coastal infrastructure. Alas, Muscovites never even got a glimpse of the promised river transport.

A few years ago, Ronald Lipp, president of German company Strassen Haus approached Luzhkov with a proposal to raise Moscow's roads in the air, filling the space below with industrial facilities, cheap offices and even residential buildings. The idea caught the mayor's fancy, and he announced that a pilot project would get underway in 2007. We can only guess why Lipp's plans did not translate into action.


Disneyland and the Orange

In 2008, Luzhkov's wife, Yelena Baturina, presented an ambitious project by Norman Foster, called Orange. The modern hotel and exhibition centre was supposed to replace the Central House of Artist on the Moscow River embankment. The concept envisioned five 15-story glass buildings positioned at an angle to each other. The building's shape and color would have made it resemble an orange divided into segments, and it would have been lit up in orange at night. There was little enthusiasm about it in Moscow, however. David Sarkisyan, director of the Shchusev State Architecture Museum, said, "you can't roll a gigantic apple into the big old city" since then "everything else would turn into dog kennels."

Another questionable project was the concept of Disneyland in the city. Rumors of Moscow Disney became a reality in 1992, when sculptor Zurab Tsereteli won a tender to build a children's theme park on Moscow's west side. Yet, this did not happen, and instead of having a children's wonderland, the land was taken up by car service centers, gas stations, markets and dumps. Rumors recently emerged that Luzhkov allowed his wife to build a golf club in the area.

Chlorine free water, diverted rivers and healthy fast food

In 2008, Luzhkov announced that Moscow was shifting to ozone-treated drinking water instead of chlorine-treated water. This was a good idea in itself, but the mayor did not keep in mind that most of the city's pipes were rusty, meaning that ozone water passing through such pipes would be unsafe to drink. Today, just several of the city's water treatment plants are equipped with ozone purifiers.

Another one of Luzhkov's bold idea was to establish a chain of Russian fast food restaurants called Russian Bistro. The first Russian Bistro cafes opened in 1995, and developers were forced to provide space for them. The project was initially launched with $15.6 million in the bank, and millions of dollars later on. Meanwhile, the business went from bad to worse, and a criminal case was opened in 2001 over the theft of $1.3 million from the Moscow city budget.

In 2002, the mayor approached then-President Vladimir Putin with an idea to divert the Ob River in Siberia to the Aral Sea in Central Asia – a project rejected some 15 years before. Putin was not impressed, but Luzhkov did not give up and published his book Water and Peace in 2008, which covered, among other things, the advantages of diverting northern rivers to Central Asia.


Let's talk about bees

During his last days in office, Luzhkov's name was constantly being associated with bees: Some media reports said that he was more concerned about these insects than veterans and the disabled. Luzhkov seems to have loved bees all his life. In 2003, he proposed mobile bee houses in the city's parks. The first of them was opened in one park, and then later turned into the Honey Museum. This was followed by another bee project to launch a bee car (painted in yellow and black stripes) to promote beekeeping. Sponsors, however, were nowhere to be found. Finally, Luzhkov displayed a rare generosity this past summer by spending tens of millions of rubles to save his bees, which were suffering from the abnormal heat.

Cast in bronze

Luzkov was dismissed without any honorary certificates and medals, but he has already been cast in bronze. The mayor himself has been immortalised in two sculptures, one with a tennis racket and one with a broom, showing him as a street cleaner complete with a bare toe peep.
All rights reserved by Rossiyskaya Gazeta.