Russia criticizes NATO approach to Afghan poppies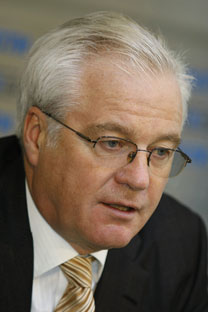 NATO's international coalition force in Afghanistan is not doing enough to combat the production and distribution of drugs in the country, Vitaly Churkin, Russia's Permanent Representative to the United Nations (UN), said during a UN Security Council session on Wednesday.
Churkin called on NATO, which commands an international force in Afghanistan, to respond to the Collective Security Treaty Organisation's (CSTO) proposal to cooperate in fighting the Afghan drug threat.

UN statistics show that 90 percent of the world's opium comes from Afghanistan. The biggest consumer of heroin is Russia, which consumes 21 percent of global production. Afghanistan also leads in terms of hashish, supplying 1.5 to 3.5 thousand tons of the cannabis-based drug to black markets worldwide. Russian drug addicts consume 75 to 80 tons of Afghan hash a year. Drugs take an estimated 30,000-40,000 lives in Russia annually.

"Drug trafficking and terrorism have become a real threat to peace and stability. It is clear that anti-drug measures are not producing the desired result. NATO's passiveness in the fight with the drug threat is strange. For several years already, the organisation has not responded to CSTO's logical proposal to establish cooperation in this area," Churkin said.

The CSTO has just completed another stage of the Channel anti-drug operation, in cooperation with the Organization for Stabilization in south Kyrgyzstan, Churkin said. The CSTO includes Armenia, Belarus, Kazakhstan, Kyrgyzstan, Russia, Tajikistan and Uzbekistan.

Churkin also criticized NATO's approach to the problem of illicit drug production in Afghanistan. NATO does not destroy poppy plantations in Afghanistan because they are the only source of income for local populations. Instead, NATO's anti-drug strategy in Afghanistan relies on crop replacement, in which local farmers are persuaded to grow other crops instead of poppies. Moscow insists that this approach does not work, while the refusal to destroy drug plantations is in itself immoral.

"Crop replacement is an important program, but illegal businesses will always be more lucrative than legal ones. It is immoral to say Afghan peasants will be left without their livelihood. They are nothing more than a money-making machine for drug dealers," Churkin said.

Churkin is convinced that comprehensive measures are needed to fight Afghanistan's drug industry, from destroying drug crops and drug infrastructure to marking precursors and putting drug lords on the UN sanctions list.
All rights reserved by Rossiyskaya Gazeta.