Russia's Federal Service for Veterinary and Phytosanitary Surveillance, Rosselkhoznadzor, banned meat and pork imports from Europe in September, in the latest round of the periodic meat wars.
Rosselkhoznadzor imposed restrictions on meat imports from seven Brazilian, U.S., Argentinean and Polish plants on Sept. 8 citing tougher food safety rules that came into force at the start of this year banning the widespread use of chlorine and setting moisture content limits. Several more companies were put on notice that they could also face import bans.

The moves by Rosselkhoznadzor come as the Russian state puts agriculture on the top of its agenda. After food prices around the world soared in summer 2008, agriculture has become a strategic commodity.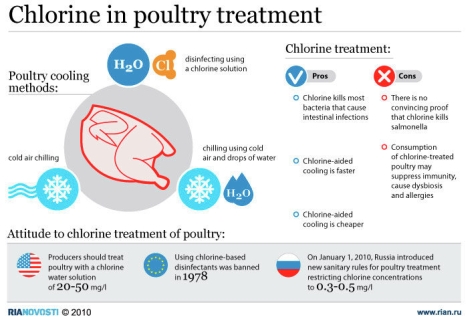 Chlorine in poultry treatment. Click on the image to enlarge. Source: RIA Novosti


Despite being home to some of the most fertile land in the world – the so-called black earth regions – Russia continues to import 40 percent of its food products, and this year may have to import grain after summer fires destroyed about a quarter of the crop.

Russia has been developing its meat production, but after nearly two decades since the end of communism and collective farms, the country is still heavily dependent on chicken, pork and beef imports from around the world. With a population of 142 million people, Russia's food market is easily the biggest in Europe.

In September, Russian President Dmitry Medvedev outlined the state's development plan for the sector for the years 2013-2017. The president listed modernization of food and processing facilities among the measures to be taken as well as the creation of modern storage, transportation, logistics and delivery systems.

"More attention should be paid to the development of meat and milk production," Medvedev said. "It is necessary not only to create agricultural holdings, but also stimulate the creation of small processing facilities."

Russian producers have already made a lot of progress with poultry, much of which is imported from the United States. Russians wryly refer to frozen chicken legs as "Bush's legs" in reference to former U.S. President George H.W. Bush who signed the first agreement to export them to Russia, and the chicken trade has periodically been used as a weapon in the war of words with Washington.

In August, Russia lifted a ban on poultry imports from 72 U.S. plants whose production processes met Russian requirements, leaving a ban in place for just five companies.

Chicken imports to Russia were one of the many sticking points in talks between Moscow and Washington preventing Russia's accession to the World Trade Organization (WTO), which have dragged on for almost 16 years.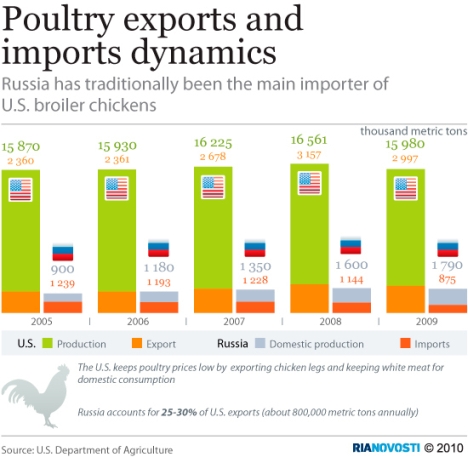 Poultry exports and imports dynamics. Click on the image to enlarge. Source: RIA Novosti


However, at the end of September, Russian Agriculture Minister Yelena Skrynnik said that all issues over Russia resuming poultry imports from the U.S. had been resolved, and two weeks later Medvedev announced that Russia would probably join the WTO in the middle of 2011 as fresh consignments of Bush's Legs began to arrive in Russia.

However, the trade is likely to be short-lived. Deputy Agriculture Minister Alexander Belyaev said in September that Russia hopes to become a net exporter of chicken beginning in 2012. Currently Russian chicken farms produce about 70 percent of the total demand for poultry meat.
Russia has much more work to do to develop pork and beef production and continues to rely on imports from near and far. Brazil has been hardest hit by recent bans on beef imports to Russia, which is one of the South American country's most important markets for steak. But tiny Moldova has also been affected by the beef ban; the country is already in a fight with Russia over wine exports, which have also been declared unsafe. Rosselkhoznadzor has ordered tighter control over beef consignments imported from both countries due to high proportions of anaerobic and facultative anaerobic organisms in the meat.

More surprisingly, Rosselkhoznadzor banned imports from five German firms in the middle of September saying simply that the meat "departed from Russian sanitary rules."

Food producers in Russia say it will take at least four years before beef production begins to rise, as it takes that long to build up a commercial herd of cows.

The state is pushing hard, however, and Prime Minister Vladimir Putin said at the end of September that state-owned bank Vnesheconombank would provide a $800 million loan to Russian agribusiness company Miratorg to set up a large scale beef farm capable of producing 48,000 tons of beef a year.

At the same time, investment bankers in Moscow, disappointed by the underperformance of the stock market, have been buying up large swaths of land in Russia's fertile southern regions and setting up privately owned cattle ranches.

Additionally, Rosselkhoznadzor struck out at Spanish pork producers, banning a total of five Spanish pork producers' imports to Russia.

Rosselkhoznadzor's specialists carried out an inspection at plants producing products of animal origin jointly with representatives of the Veterinary Service of Spain in June and ruled the meat didn't meet Russian standards.

Likewise bans have been imposed on other pork producers in Germany, Holland, France and the U.S. America is also a big player in the pork import market, but exports to Russia fell by almost two-thirds this year due to the bans. Rosselkhoznadzor claimed that it had found "excessive amounts of antibiotics" in the meat. A salmonella egg outbreak in the United States earlier this summer further complicated relations between the two countries.
All rights reserved by Rossiyskaya Gazeta.