From California to Siberia with love and coffee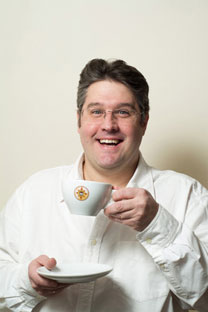 "I have it all here; my heart and my business. And I am likely to stay here for good," said Christopher Tara-Browne, referring to his home in Siberia. Twenty years ago, Tara-Browne could not imagine that he would swap sunny San Francisco for freezing Siberia, build a coffee business in Novosibirsk, marry a Russian girl, obtain Russian citizenship and feel perfectly happy with his life as it is.
His story begins in California. Tara-Browne, born and raised in a suburb near San Francisco, studied to become a music producer. "I worked with eight bands," he said, who at that time believed being a producer was his calling. By 1994, however, he had tired of this line of work. "I had never traveled anywhere outside the United States, except for Mexico. I was yearning to travel, go on an adventure and was looking for an opportunity to see the world," he said. He got that opportunity from his friends in his Bahá'í religious community. Sixteen years ago, they set off for Novosibirsk on a one-month mission trip. A month passed and he decided to stay for three more. He enjoyed the friendly atmosphere and its hospitable and open-hearted people. Soon enough he married Svetlana, a Russian girl.

However, Tara-Browne's savings were drying up. He attempted to start a consulting business, but when that failed to take off, he got the idea to start a coffee business.

"I have always been a coffee fan as I was brought up in a part of San Francisco where coffeehouses and excellent coffee could be found at every corner. Novosibirsk did not have any at all. I was really suffering without good coffee! Once I saw an advertisement for an Irish pub promising to serve 'genuine cappuccino.' I went to the pub, which looked like two apartments bungled together and fitted with a bar counter, and ordered some coffee. The cappuccino was made from a tablet in a Lavazza machine. It was disgusting! I left the pub, took two steps, and it hit me right then and there: Coffee was what I wanted to do!"

His wife supported his idea, but since neither of them had any experience in the business, they decided to spend some time in America. They drove from Los Angeles to Seattle, dropping in along the way at countless coffee places. "We came with cameras and asked: 'May we take some photographs of the interior design? We want to open a coffee shop in Siberia.' The managers looked at us as if we were out of our minds," recalled Tara-Browne. But the coffeeshop managers were supportive of the couple and many allowed them to get behind their counters and learn the business.

Tara-Browne knew an American who ran a pizza place in Novosibirsk and agreed to provide part of its floor space for an espresso bar. "He was looking for an additional feature, a bonus service for his customers, and my espresso bar was just what they were looking for," said Tara-Browne. Novosibirsk's first espresso bar opened on Feb. 24, 2000. Two years later, Tara-Browne opened his first stand-alone shop, Traveler's Coffee. The name was prompted by its owner's passion for travel.

When he opened the first espresso bar in Novosibirsk, Tara-Browne had the market to himself, but today competitors are hot on his heels, including Russian chains Coffee House and Shokoladnitsa, and a late entrant from the United States, Starbucks. How does Tara-Browne keep his competitive edge?

"Ask anyone in Moscow how they like the local coffee, and most cringe in disgust. Price and quality are most important! It is hard to find the right combination of these two things, because only very few coffeehouses can offer the ideal price-quality balance. That is why I started my own roasting operation. Very few companies do their own roasting here, and this is the secret of our success. We have a roasting facility and we can assure the quality of our product all the way from raw beans to a cup of coffee. We are committed to using organic coffee from the best suppliers. Our menu lists coffee from twenty countries," he said.

Starting up a venture in Russia, Tara-Browne could not possibly avoid the notorious Russian bureaucracy. "Like anywhere else, one must play by the rules," he said. "The authorities have their rules and it is very hard to change any of them. For instance, there is this one sanitary standard that was introduced back in the 1950s and has never been amended ever since. It is completely obsolete, but we have to abide by it nonetheless. Another thing I realized in Russia is that the American concept of a "big fish" has its place here, too: If you want to get things moving, find the real boss, the big fish. When you come across a problem, you've got to look for a person who makes the rules. Always find the boss and come to an agreement with him."

Tara-Browne said that the bureaucracy wasn't nearly the challenge to his business that the recent economic downturn has been. "This was not a local, but a global economic crisis," he said. "Something happens in the United States, and then you face problems in Siberia and your future no longer depends on you, but rather on someone else's game."
He feels, however, that Russia has weathered the global financial crisis better than the United States. "When the entire economy collapsed, Americans were in despair. Russians have extensive experience surviving during tough times. There was no despair at all! We successfully renegotiated our contractual terms with 99 per cent of our suppliers", said Tara-Browne.

Given his substantial experience in Russia, Tara-Browne has some useful tips for foreigners who want to set up shop in Russia. "The problem here is that this is an inchoate market. There are plenty of self-styled 'businessmen', who are actually nothing more than swindlers. It is better to keep away from them. Another feature of Russian culture is a chronic lack of planning. They don't plan anything. And a plan is a must. Finally, you shouldn't venture into Russia without a clear understanding of what is happening behind closed doors. If you don't understand how things are done or you don't have a trusted and experienced Russian partner, don't even bother starting a business here."

Now 42, Tara-Browne has been living and working in Russia for 16 years. He is a Russian citizen and is raising his two sons, Daniil and Alex, in Novosibirsk. There are 28 Traveler's Coffees across Russia—14 company-owned and 18 franchises. The business has an annual turnover of 400 million rubles. The chain hopes to expand to 40 shops in the next year; new coffeehouses are being built in Moscow, Saint-Petersburg, Ekateringburg, Yaroslavl, Surgut, Mirnyi. The company operates its own roasting facilities and makes its own pastries.
"You know, I think I stayed because I arrived here in the summer. Summer is not so bad," said Tara-Browne. "But winter is a tough experience, even psychologically. I come from California, and Russian winters give me a hard time, so now I try to get away for at least 90 days a year to recover from the winter."

Local Siberians, however, are now a little warmer thanks to the go-getter Californian who brought good coffee to warm their big hearts.
All rights reserved by Rossiyskaya Gazeta.