Now, no-frills phones for your grandma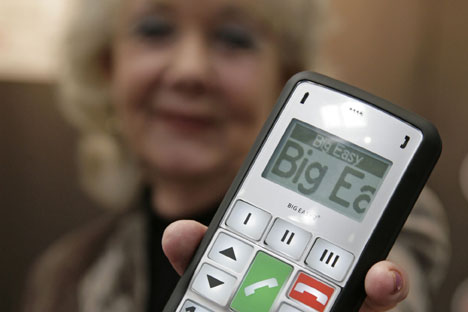 With big keys, they are ideal for the elderly.Source: Ullsteinbild/Vostok
iPhone may be the in-thing, but Russian operators are courting the elderly with cheap, no-frills, easy-to-operate mobile phones.
In the 1990s for a number of reasons, including the secret nature of many technical projects in the former USSR, Russia was not involved in creating the international mobile phone market. And now, Russian manufacturers have had to find original solutions to jump on to a speeding train. Russian manufacturers have begun to make very simple phones, dubbed "babushkaphones."

"Older men and women often find it difficult to get used to modern multi-functional mobile phones with many excessive (in their view) functions. Nor are they happy with the tendency towards smaller size as their eyes are not as good as those of young customers," explains Mikhail Nikolayev, President of Orbita Telecom. For the second year, his company has been marketing its Just5 phone in Russia. The idea is simple: this is a very cheap phone, without any special gadgets or additional functions, with big keys, a large screen. The phone is very easy to use. It is ideal not just for pensioners, but also for the uneducated, children, the disabled, and emergency services personnel as such phones have a powerful speaker, sensitive microphone and an emergency key.

Babushkaphones and iPhones have different target audiences, believes Maksim Nogotkov, President of Svyaznoy Group, one of Russia's leading mobile phone retailers. Those buying iPhones want the image that comes with mobile applications, they want to check their email and go online. And those buying cheap phones just want to call and send text messages.

While babushkaphones currently constitute just 1% of the market, according to Smartmarketing, sales have jumped tenfold over the year. "Since the end of last year, we have already sold several dozen thousand such phones (closer to 100,000). It is enough to say that in the ION mobile phone retailer, with which we entered the market, Just5 sales exceeded Apple iPhone sales, though our brand is certainly weaker than Apple's," Nikolayev said.

Orbita Telecom is not the first mobile operator to come up with the idea. The same strategy has been pursued by Austria's Emporia, which sells its products in Austria, Germany and Central Europe, and the Swedish company Doro. "However, they do not take into account our Russian realities, their phones are not Russified, and they are quite expensive for our average consumer," Nikolayev argues. Among other similar products on the market are Fly mobile phones.

MegaFon, one of Russia's top three mobile operators, joined the game in August 2010, launching a phone with large keys. "Due to its lower radiation levels this phone is compatible with cardiac stimulators and hearing devices. There is a SOS button on the back side of it," says Tatyana Ivanova, a spokeswoman for MegaFon. Thanks to this button, anti-iPhones are also purchased for children. "By pushing this button, the child sends SOS messages to the five previously selected numbers, after which the phone begins to call them automatically, one by one. Once the parent takes the call, the phone automatically switches to a loud mode, allowing the parent to hear what's going on around the child," explains Mikhail Fadeyev, a mobile market analyst. Another advantage is that babushkophones lack any communications functions except for calls and SMS. They don't even have Bluetooth. In other words, the parents can be sure that they won't have to pay huge mobile Internet bills and that the child won't download endless pictures and music.

Orbita Telecom is already selling phones in more than 30 countries in Western Europe, the United States, Canada, and almost all of Latin America. "In countries with an open market and direct distribution, without operators, we make quick progress. For example, we have good sales in Columbia. Our brand is one of the most popular on the market," Nikolayev stressed. The company is currently working on another dozen models. "We will continue to focus on the same style of phones with large keys, but different models will have their different zests, both functional (as in CP11) and designer," Nikolayev added.

Mobile market experts see babushkaphones (anti-iPhones) as a sign of market maturity. Consumers are tired of gadgets, and they don't want to spend their time to come to grips with a phone that functions like a spacecraft. It is for this reason that babushkaphones will be the most in demand on developed markets. As for the developing world, including the BRIC countries, people there are still playing with real iPhones. In such markets, babushkophones will come into fashion in about five years' time.

Meanwhile, cheap phones are not a goal in itself for Russian manufacturers. Last month Sergey Chemezov, Director General of the Russian Technologies State Corporation, presented a new 4G smartphone with a sensor display to Russian President Dmitry Medvedev. Chemezov said the new phones were meant for Yota, which develops WiMax and LTE (4G) networks in Russian cities. The product, which is an entirely Russian solution, will first be assembled in Taiwan, but later the assembly will be transferred to Russia. The new model will become available for purchase in 2011.
All rights reserved by Rossiyskaya Gazeta.