Muscovites want either Sobyanin or Shvetsova as mayor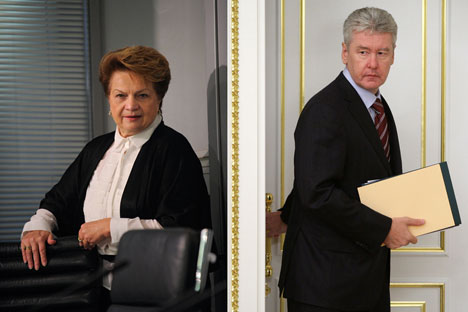 Muscovites say they are split between the desire to see Deputy Prime Minister Sergei Sobyanin and acting Deputy Mayor Lyudmila Shvetsova as the new mayor of the Russian capital if they were asked to choose between the list of candidates put forward by the United Russia Party according to a poll held by the Superjob.ru website among 1,800 Muscovites on Oct. 10.
Sobyanin and Shvetsova each received 11 percent of the vote, the website said.

Former Moscow deputy mayor and Nizhny Novgorod Governor Valery Shantsev came in third with 9 percent of the vote while another 5 percent voted for Transport Minister Igor Levitin.

United Russia submitted a list of four candidates on Oct. 9 for consideration by Russian President Dmitry Medvedev who has the authority to appoint the new mayor after he sacked Yury Luzhkov a week ago.

Thirty-eight percent of those polled rejected all nominations, and 26 percent were undecided.

Dmitry Orlov, Director of the Agency of Political and Economic Communications told Interfax that control of Moscow may be given to both leading candidates - one to control the Moscow city district (a region in its own right) and one to run the municipality.

"Whereas earlier a Moscow ruling tandem was discussed as a possible alternative, now it is clear from the list submitted to the president that this is not just a working idea, but one that is shifting into a practical territory," Orlov told Interfax on Saturday.
All rights reserved by Rossiyskaya Gazeta.