Russians issue record number of bonds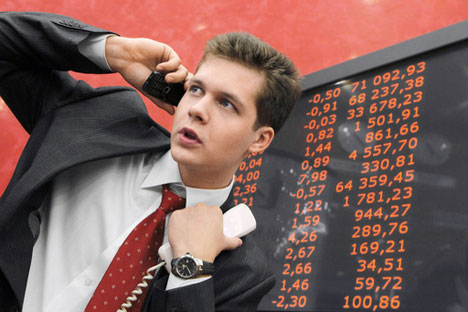 Russian companies are taking advantage of a "buying orgy" for their bonds as yields fall to record lows, and international investors can't get enough to Russian paper.
"The equity market is trading sideways, but the bond market is on fire," said David Longmuir, a trader with Troika Dialog in Moscow.

With the world on the edge of another meltdown, haunted by the specter of a double-dip recession and more recently the start of a currency war, Russia is looking like a haven of stability with its robust fiscal strength and rapidly improving macroeconomic numbers.

Russia's leading blue chip companies, from steelmaker Severstal to state-owned diamond monopolist Alrosa have been tapping in the international debt markets for funds and found willing buyers on all sides.

Alrosa is selling more Eurobonds now than it has ever sold before, while Severstal and ship-builder Sovcomflot are due to meet with bondholders this week to discuss plans to raise another $3 billion.

October has been the best month for issuance by non-financial companies since July 2008, according to data compiled by Bloomberg.

The corporates are following Russia's leading banks into the market, after they stepped up sales last month and sold more debt at lower prices since records were started in 1998.

While sales of foreign-currency bonds by Russian borrowers have dropped 27 percent from 2008, issuance in rubles has jumped 36 percent to a record 524 billion ($17.1 billion), twice the amount of local debt sales in Brazil or Mexico, according to data compiled by Bloomberg, which has been tracking Russian bond issues since the last crisis in 1998.

Russia's strong fundamentals and accelerating economic growth have made yield-hungry investors hot for Russian debt. While the Russian economy contracted by 7 percent in 2009, it is expected to put in growth of over 4 percent this year, which could rise to 5-6 percent next year, depending on oil prices. And the state has gone back to accumulating reserves, which have risen by more than $130 billion over the last year from a crisis low of $340 billion to just under $500 billion as of the start of October, maintaining Russia's position as the third-richest country in the world in terms of cash in the bank.

"The Russian economy is recovering after being hit hard by the global financial crisis," said Ed Parker, head of the European emerging markets section of Fitch Rating's sovereign credit team. "Fitch believes that the decline in inflation, shift to a more flexible exchange rate policy, sizable repayments of private sector external debt, stabilization of the banking sector, and rising foreign exchange reserves should serve to reduce the country's financial vulnerabilities."

Russian corporates have found it easier to borrow after the Russian state issued a landmark $5.5 billion Eurobond in April, its first issue in a decade, with a record low 5.08 percent yield, which has set a low benchmark for everyone else.

Money flows

There has been a lot of talk about capital shifting from the traditional western markets and into the fast growing markets of the east, and Russia's bond market is in the vanguard of this trend as fund managers pour money into Russian bond funds.

The fund tracker EPFR reports that emerging market bond funds had extended their year-to-date record inflows to $32.8 billion, which trounced the previous full-year record inflow of $9.7 billion set in 2005. And Lipper, another fund tracking company, said in a report in September: "Assets have grown at a compound annual growth rate of 30 percent since the end of 2001. The growth rate since the low-point at the end of 2008 is nearly 70 percent."

Leading commercial bank Alfa Bank was a pioneer Russian issuer, tapping the international Eurobond market in the middle of the last decade to raise cheaper, long-term funds that it used to finance its retail lending business. Once again the bank has led its peers back into the international debt markets with two big bonds over the last year. The bank offered a $600 million, five-year Eurobond in March that was well received and a second $1 billion, seven-year Eurobond in September that was three times oversubscribed. Key was the first bond came with a yield of 8.00 percent and the second one was priced at 7.875 percent. Both bonds were cheaper than the 9.00 percent the bank had to pay with its last pre-crisis $500 million bond issued in June 2008, which at the time set a new record low yield for the bank.

Still, the debt markets—both international and domestic—are only mainly open for blue-chip and large state-owned Russian firms. "The capital markets are open for the blue chips and first-tier companies, but remains closed for everything else," said Ed Kaufman, Alfa Bank's CEO. "It will be a long time before we go back to the no-name Russian regional banks raising $100 million-$150 million that we saw before the crisis in the last boom."
All rights reserved by Rossiyskaya Gazeta.