The family left behind, four years later (+video)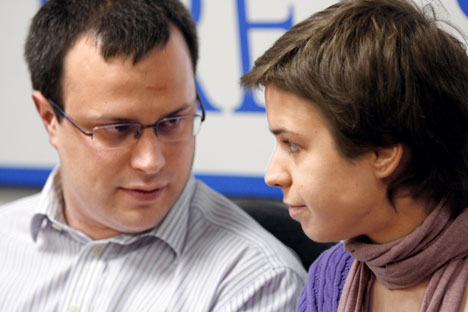 Anna Politkovskaya's children, Vera and Ilya, are committed topromoting democracy in RussiaSource: Svetlana Privalova / Kommersant
Ilya and Vera Politkovskaya carry the uneasy burden of being the adult children of Russia's best-known murdered journalist.
Vera Politkovskaya was pregnant when her mother, Anna Politkovskaya, was murdered on October 7, 2006. Anna had become obsessed with her pregnant daughter's eating habits, according to Vera, and she arrived home with her arms full of groceries. Anna was shot and killed in the lobby of her apartment building.

Five months after her mother was gunned down in the afternoon light, Vera gave birth to a baby girl who is named Anna, after her grandmother.

"As part of preparing for our baby, we were redecorating our flat," Vera Politkovskaya recalled. She had moved in with her mother a week before the murder.

A reporter for Novaya Gazeta, the leading investigative newspaper, Anna Politkovskaya had been planning to wrap up her probes of the Chechen campaign and the 2002 hostage siege at a Moscow theater, for her family's sake. Death threats against her had become commonplace; she had already faced a mock execution. When she died four years ago, friends and colleagues predicted that her murder would follow the usual pattern in Russia: No investigation, no trial and no resolution. So far, this is mostly true; the trial against three men ended with an acquittal.




"The perpetrators still haven't been found," said Anna Politkovskaya's son, Ilya.


Investigations Re-opened
Russia's top investigator has ordered a review of all cases concerning attacks on journalists, Vladimir Markin, his spokesman, said. "[Russian Investigative committee head Alexander] Bastrykin ordered a prompt and thorough analysis of all criminal cases in which journalists are listed as victims," he said. Bastrykin met with members of the Committee to Protect Journalists. The decision to reinvestigate the cases was made after the group presented "new information," Markin added.
Russia has one of the poorest safety records for journalists; at least 35 have been murdered between 2000 and 2009, making it the fifth most dangerous place in the world to be a reporter, according to the International Press Institute.

With the help of sources like her colleague Natalia Estemirova—who was also murdered last year—Anna Politkovskaya wrote of the human rights abuses conducted against Chechens, among other topics, long after the foreign press had left.

"Investigators have been looking for the actual perpetrators, not the people standing behind it. Perhaps, many months or even years will pass before the public finds out the truth," Ilya said.

Vera is also a journalist; Ilya has formed a partnership with a large public relations agency. "Politics? That's not for me, and the same goes for journalism," he said. "I don't want to live my entire life in my parents' shadow."

Vera and Ilya are united by one common desire: To promote democracy in Russia. "So far, I am very pessimistic," Vera admitted.

"All the influence I have I owe to my mother," Ilya said. "That's why I can speak my mind through the media. And yet, we have to understand that the media will only cover events that don't threaten the authorities' hold on power."

Four years after their mother's murder, closure seems anything but inevitable. "We know everyone who figured in her investigative journalism. Mother knew she might be killed. She showed me where in the flat she kept her most important documents 'just in case,' as she said. But I could not have imagined that everything would turn out like this."
---

An interview with Ilya Politkovsky (november, 2008)
All rights reserved by Rossiyskaya Gazeta.