Young designers freshen Moscow's catwalk (+multimedia)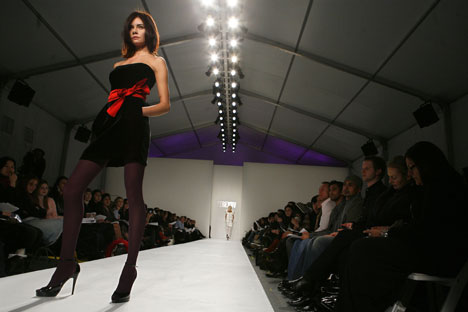 We have selected five up-and-coming designers who are rising to the top, through local praise and international attention. Each has a unique style and a razor-sharp edge.
It might seem crazy to start a fashion brand in Russia these days: The job requires a mad-cap professional, workaholic and self-promoter as well as an artist with a vision. Still, most Russian designers will never sell much, and even less at home. They must find customers outside of Russia before their fellow countrymen will deign to buy them.

Young fashion starlets appearing on the scene face other huge obstacles: The loss of state support and a complete lack of local fashion infrastructure from the lack of quality fabrics and accessories to distribution problems. As a result of this daily struggle, the price per piece often starts at the level of "higher than expected." Without price advantages, promotional budgets and media, they are often left behind at the market.


Russia's Fashion Weeks
Russian fashion weeks hit the town this month, but they are of limited assistance to the young designer. In 2000, the ambitious Russian Fashion Week (RFW) came on the scene to compete with Volvo Moscow Fashion Week, formerly Haute Couture Week. It can be a real "arms race" for famous designers. Both fashion weeks have more to do with show business than professional fashion now. There are a lot of starlets and supporters in the first rows and almost no editors, buyers or stylists. The financial benefit of participating in these trendy events do not often cover the cost of the show.

Despite the long climb to the catwalk, several dozen boutiques specializing in Russian brands have opened in Moscow and other regions in recent years. A few of the most original local talents have caused a stir in the media and on red carpets, and not only in Russia.

We have selected several of the designers who have garnered the most encouragement and attention at home and abroad: Alexander Terekhov, Dmitry Loginov, Vika Gazinskaya, Max Chernitsov and Leonid Alexeev.

In 2009, Style.com recommended the work of young Muscovite Alexander Terekhov. Angelina Jolie, Misha Barton and Dania Minogue have each been spotted in his dresses. These days, the brand is more focused on business development in Russia and former Soviet republics, producing four collections per year. Terekhov describes his work, and his philosophy as "democratic luxury." He focuses on women who appreciate clothing for its femininity, elegance, sexiness and simplicity at the same time.




Dmitry Loginov won the competition for young designers in his hometown of Krasnoyarsk and arrived in Moscow in the early 2000s. He won a trip to London and an internship at L'Officiel Russia.

After some time, he was still a stylist with a tiny salary. A few years ago, Loginov debuted his men's collection under the brand Arsenicum and won praise for his perfectly tailored suits. Then Godfrey Deeny of Fashion Wire Daily called him "the new star of Russian fashion." This year, the designer presented his debut women's collection at the Aurora Fashion Week (St. Petersburg), a classic fantasy on the theme of the little black dress.




Vika Gazinskaya is also well-known on the scene as a Russian stylist and fashionista. Images of her often appear in blogs during the fashion weeks. And if for some time the interest in her style and appearance distracted attention from her work, the last two seasons have shown that Gazinskaya is one of the strongest of Russian designers. The showcase by Vika Gazinskaya appeared this summer in Collette during Haute Couture week in Paris. This stirred up interest in Russian fashion again with a series of articles in the press. Gazinskaya is a workaholic, too, and most of her pieces are made at least partially by hand. She works with only the best fabrics and accessories and spends a lot of time finding the best materials. "I do not have a huge investment and I grow and develop only through [a positive] attitude to work. It's sort of old school," she said.




Max Chernitsov is a rebel even among the most extraordinary Russian fashion designers. The intellectual (he did his thesis in philology at the University of Magnitogorsk) and theorist of contemporary Russian fashion, he creates outrageous statements, such as the sexy suicide bombers with fake explosives and cosmonauts of years past. This year, he mixed up the tradition of pre-revolutionary, Soviet and contemporary cuts, putting them all together in a men's suit. His T-shirts with wacky prints are bought like hotcakes, and local critics nicknamed him "the joker of the Russian fashion."




Of course, we should pay attention to the Russian northern capital with its peculiar, delicate style. St. Petersburg designer Leonid Alexeev brought to Moscow a theme of the fragile, refined but strong femme fatale. He came on the scene with a 2004 show in the Catholic Church, accompanied by a choir dressed in Leonid Alexeev attire. After a series of local successes, the designer suddenly left his small showroom in St. Petersburg and flew to London where he now lives and works. Last year, he was called the designer of the year by GQ Russia.




It is surprising that in the difficult conditions of the Russian fashion industry some designers have become recognizable and successful; of course, it is these difficult conditions that make the designers into strong professionals ready to compete, which makes one positively optimistic about the future of Russian fashion.
All rights reserved by Rossiyskaya Gazeta.