Foreign women have mixed views about Russian beauty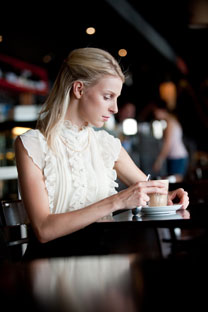 It seems universally accepted that Russian women are beautiful, but what do foreign women living in Russia really think about their Russian counterparts?
Erica Orlandi, 29, Italian, Managing Director of ITALIA. Life as Art magazine
"Four years ago, when I first came to Russia, I was literally stunned by how Russian women look – in a positive sense. Russian women do take care of themselves, but there is a big difference between young and mature women. The latter care much less about their appearance: many older women don't take care of their skin and figure, and they dye hair in strange colors. It Italy, it's vice versa: Women over 40 look much more well-groomed than younger women.

What I don't understand is why women here do not wax their upper lip. Another strange thing is that some of my Russian friends wash their hair every single day, insisting that this is the right thing to do. But this is wrong and even bad for your hair! Then, many Russian women have a weakness for heavy foundation and face powder, which makes their faces look like masks. Russian women also use too much perfume, but we have this problem in Italy, too.

At the same time, Moscow is a paradise for hands! Now I cannot live without Moscow manicures - they are so much better than in Italy. Perhaps, it is because of the climate: It is cold and dirty in Moscow for much of the year, so your hands need constant care. The only thing I can't comprehend is the popularity of fake nails. How do you clean with them? And how do you do any work with your hands in general?"

Carmit Dahan, 38, Israeli, beautician, director of instructors department at SharpLight
"There are two extremes among Russian women: some put all their energy into education and their own development and have little interest in their personal appearance, while others spend too much on their appearance, and they do it quite well at that.

Russians are very well informed in everything cosmetics, make-up and skin care. For an average Israeli woman, it is enough to just put some moisturizer on her face in the morning, while a Russian woman would use an entire range of cosmetic products, including regular facial masks, peeling creams and salon procedures. Russian women also start to use anti-aging creams at an earlier age, which is an advantage. They are also more responsible about their diets.

At the same time, many women wear heavy evening makeup in the morning, as if they are going clubbing. I think this is unnecessary. I would recommend they temper their fervor somewhat."

Patricia Robel, 32, German, economist:
"I came to Russia eight years ago, and my first impression was that there is a competition going on here over men. Most women therefore looked very well groomed to me, elegantly dressed (although sometimes too provocatively), with stylish hair, but too much makeup. The latter, I think, was their main flaw. These days, however, Russian women don't look much different than their European counterparts. Though, sometimes I am surprised to see women wearing mini-skirts and high heels when it's a freezing -20 degrees outside.

What I like about Russian women is their ability to emphasize their strengths; even their fake nails look good. But evening makeup in the morning is annoying - it looks out of place. Russian women also have a weakness for sweet perfume, which is irritating. In other words, I would recommend Russian women to use makeup more sparingly in their desire to seduce someone. Men, after all, appreciate a natural look."

Dora Kiralihidi, 34, Hungarian, business director at LeoBurnett:
"Russian women are very beautiful and look well-groomed. I can always tell a Russian woman abroad: They are always concerned about their makeup and clothes, even when they are going to the beach. The natural look and minimalist makeup is not in vogue here. At the same time, Russian women use heavy foundation creams on their faces, especially in the winter, to protect their skin from cold and icy winds.
Makeup and beauty services are very expensive here, and I am not sure that women with average incomes can fully afford all that. I, therefore, suspect, that many color their hair and do beauty procedures at home.

I have also noticed that Russian women love all things natural, and almost everyone has a recipe for her grandma's homemade cream. And those who can afford beauty salons go there almost every day. Meanwhile, there are very few classical spa salons in Russia, and banya seems to be the only alternative.

It is easy to see that Russians use too much perfume with very bright, strong fragrances, refreshing them throughout the day. You can feel it even at a distance! That's too much for my taste."

And the verdict?
So, the verdict is that Russian women wear makeup that is too bright and heavy, they use strong perfumes, love manicures and don't ever leave beauty salons. But is it really that bad? Perhaps these are just elements of the mysterious Russian soul? What do you think?
All rights reserved by Rossiyskaya Gazeta.