British firm provides vision for the future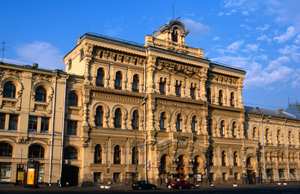 A London design group is to help refurbish one of the cultural landmarks of the Russian capital in a multibillion-rouble project.
Opened in the 1870s, the Moscow Polytechnic Museum was once the most forward-thinking science and technology museum in the world. However, through decades of neglect, what was once an establishment way ahead of its time has fallen behind the times. While other major museums around the world have invested in new ways to pull in the crowds, the Polytechnic has become an anachronism, a dusty old relic of a bygone era.

Now, with the benefit of a 7.5bn-rouble renovation plan initiated by president Dmitry Medvedev, the venerable institution is about to receive a total makeover, covering everything from the fabric of the building to the overall visitor experience.

If all goes well, the rejuvenated Polytechnic should be ready by 2016.

At the forefront of the drive to return the museum to its position of pre-eminence is Event Communications. The London-based exhibition design group, recently emerged as the winner of a global competition – launched in July of this year – to select a concept development provider for the new museum.

Beating off a strong international challenge – the shortlist included Spain's CosmoCaixa, Ralph Appelbaum Associates (US) and the US-Canadian Lord Cultural Resources – Event's proposals were judged to best reflect the ambitions held for the renewed museum. The judging panel, which numbered among others culture minister Alexander Avdeev and presidential aide Arkady Dvorkovich, were impressed with the team's experience of masterminding the successful delivery of more than 160 major global projects.

The immediate task at hand is to redisplay the museum's important and comprehensive collections (912,000 individual exhibits at the last count), making it central to the promotion of innovation in Russia. Alongside the scientific breakthroughs of the past, the museum will also develop new collections dedicated to current endeavours, as well as offering tantalising glimpses of the shape of things to come.

Many of the displays will be interactive, employing Event's trademark blend of multimedia technologies to enhance the visitor experience, while the all-important educational dimension will be reinforced by a programme of lectures and workshops held within the renovated space. "The project represents nothing less than the rebirth of an iconic institution and we are delighted to be able to assist with such an important cultural advance," says Event Communications chairman Celestine Phelan.

"The collections at the Polytechnic demonstrate the significance of the extraordinary achievements of Russian science and technology. Its renewal is an investment in the future of these vital areas of Russian society."
All rights reserved by Rossiyskaya Gazeta.