Formula One races into Russia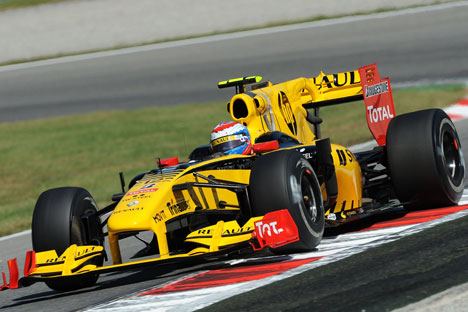 Flat out for success: Renault's young Russian ace Vitaly Petrovin action; below, the man behind the visorSource: IMAGO/Legion media
Sochi adds another sporting jewel to its crown with the 
deal to stage a round of the F1 World Championship.
It must be the longest-running soap opera in F1, but after 28 years of twists and turns, Russia will host a Grand Prix. The sport's svengali, Bernie Ecclestone, signed up Prime Minister Vladimir Putin last week. He first met General Secretary Leonid Brezhnev back in 1982 with the intention of staging the Grand Prix of the Soviet Union. Then, with the venture mired in bureaucracy, Ecclestone sidestepped the issues by persuading Hungary to become the first Soviet bloc country to host a race in 1986. That race has become a regular fixture.

Since then, the subject of a race in Russia has cropped up again and again, but has failed to come to anything. Now the ink is dry on a seven-year contract, we can expect to see the first race in 2014, or perhaps 2015.

The uncertainty is due to the circuit being built next to the new Winter Olympics village at Sochi on the Black Sea coast. They will be sharing some of the same facilities, but if there is a danger of the F1 circuit impeding the Olympic event then, according to deputy prime minister Dmitry Kozak, the race could be delayed for a year.

This new state-of-the art cathedral to motorsport is rumoured to be costing £ 125m and the Russian organisers will be charged £ 25m per race thereafter, making the total cost £ 300m. Will this be money well spent?

As a motor race, it seems to be unlikely. Even at Western ticket prices, the gate would struggle to cover the cost and the deal specifically excludes both television and most of the promotional rights.
But the business model for Grands Prix has long-since transcended the normal commercial type, and is now closer to a World Cup or Olympics. In fact, the events have proved very attractive to emerging economies. This year saw the first Korean Grand Prix and India joins the calendar next season. Like other global sporting events, they are perceived to have great value as a means of showcasing the country and promoting it in a positive light. To this end, national governments have proved willing to wade in with major investment, driving the price of events up to a level that established nations struggle to afford. Ecclestone's view is that those events should receive similar state support in return for the benefits they bring. But this is a view that organisers of the British Grand Prix have failed to sell to any British government.

Having a Grand Prix is of great benefit to a country's own motorsport industry, of which Britain's is a world leader. Can Russia's expect a similar boost from its F1 adventure?

Currently, the whole of Russian motorsport is rudimentary, with mainly saloon-based series for amateur drivers. The premier race series is a saloon car championship, and there are only two permanent race facilities currently in operation (although others are in the pipeline).

Last year, the Russian car manufacturer Lada fielded a team in the World Touring Car Championship. In reality, this was down to the efforts of wealthy Russian businessman Viktor Shapovalov who largely funded the team. They also operated out of Belgium to cope with the logistics of racing in a largely Western European series. Even fielding a team of Russian mechanics called for rotation of members to manage their visas. Racing mainly at the back of the grid, they showed a glimmer of promise, but pulled out before it could be realised.


The numbers
600


 million – global TV audience for each Grand Prix race
£30


 million – the value of Fernando Alonso's 2010 Ferrari contract
The biggest news in Russian motorsport is the country's first Grand Prix driver, Vitaly Petrov. He has enjoyed a modestly respectable rookie year with Renault alongside highly respected Polish driver Robert Kubica. Interestingly, his car has started carrying Lada branding, the Russian manufacturer being partly owned by Renault, and the permutations of brands in a marketing drive for the growing Russian market seem limitless.

However, past experience suggests that Petrov's F1 drive will do more for the enthusiasm for motorsport in Russia than the race ever will. It will also do more for the growth of a domestic industry. Currently, the country has a lot of catching up to do to become a world player. Motorsport is traditionally conducted by wealthy amateurs and large commercial concerns, both of which Russia was particularly short of until two decades ago.

With more teams and drivers spending money, there will be more chance for domestic concerns to pitch for the business. But it seems unlikely that anyone racing outside Russia will be competitive without drawing on non-Russian expertise. Even local hero Petrov, following two seasons of domestic racing, had to build his career in Western Europe in order to be an F1 contender.

So, the Russian GP will be more about promoting Russia than Russian motorsport, but a successful Petrov will inspire a legion of imitators that may well fund a growing domestic motorsport industry. However, the race is finally, definitely happening. Perhaps.
All rights reserved by Rossiyskaya Gazeta.