Indian tea set to reconquer Russia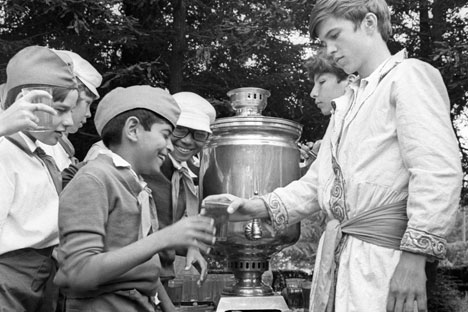 Indian kids drink tea from Russian samovar at a camp at Artekin Soviet Union in 1975. Source: RIA Novosti
Tea is easily Russia's national drink and has a rich and varied history. It was introduced in Russia in the 16th century by the Chinese, but centuries later it is Indian tea, which is set to re-conquer the Russian palate.
Legend has it that tea was first introduced to the Russian tsar in 1567 and was confined mostly to boyars, Russian aristocrats, in the 17th century. The building of the Trans-Siberian Railway in the 19th century was a turning point in the fortunes of tea in Russia. It became cheaper and could be bought on every corner. Tea houses sprang up all over the country; the concept of tea etiquette was created, which included people inviting others over "for tea." The samovar became a centrepiece for Russian social life.

Tea from India and Ceylon appeared in Russia in the mid-19th century. Indian tea was cheaper and lower grade than Chinese tea, although there were some exceptions like highland teas from northern India. Such tea became hugely popular in taverns. You could make it strong with just a few tea leaves; and it was mostly used to "quench one's thirst and warm up."

The Chinese dominated the Russian tea market till the 1970s when ties with China turned sour. From the 1970s on, the USSR started importing tea from Ceylon and India. Domestic supplies from Georgia and the Krasnodar Region, were also used as an additive for cheaper Indian varieties.

Indian tea for Russia was, in a sense, a symbol of the Soviet period when 50% of all tea came from India. During peak years, India exported up to 120,000 tonnes of tea to Russia annually. Different kinds of tea leaves were blended in the USSR and packed in famous recognisable boxes with an elephant on the side. People believed that you can only find good quality tea in a box featuring an elephant with its trunk up in the air.


Russian Tea market
Russia imports 95% of the tea it consumes. Russia's tea market is estimated at 160,000 to 170,000 tonnes a year. The market is considered saturated, stable and highly consolidated. Sales by the world's five largest brands make up almost 80% of the market by volume, and 77% by value, their closest rivals being private labels of retail chains. Leading companies on the Russian tea market include May Company, Orimi Trade and Ahmad Tea. The black tea segment is the largest. According to Кey Accounts Index, black tea sales made up 82.8% by volume in 2009, a far cry from green tea's 12.4%.
India, despite its strong position as the Soviet Union's leading supplier, fell on hard times in Russia in the last decade. With an upsurge in national prosperity, Russians switched from cheap Indian tea to premium-tea. "Indian tea's image from the 1990s is now working against it," said Ramaz Chanturiya, the Director General of the Russian Association of Tea and Coffee Producers (RUSTEACOFFEE.)

"There are good types of tea in India. Russians are used to thinking that Indian tea is of low quality. When people started earning more money, they did not want to drink low-quality tea any more: that's when India began losing its market share."

But after a spell of neglect, things are again looking up for the Indian tea, with burgeoning global demand and a decline in production in leading tea-producing countries. Reduced crop levels and rising Sri Lankan tea prices will also work to India's advantage. India has also launched brand-building campaigns to promote tea exports and reclaim its dominance of the Russian market. Experts are not counting out Tata, a global exporter of tea and coffee, from entering Russia.

In 2009, RUSTEACOFFEE's figures showed Sri Lankan tea's market share in Russia at 29%, while Indian tea made up 25.3%. This is a very small gap, given that in the mid-2000s, Sri Lanka had 40% of the Russian tea market, while India had a meagre 20%.
Today, major Indian players in the Russian market include J.V. Gokal, JFK RUS (a subsidiary of JFK International) and Indu. Other large Indian brands have not yet entered the Russian market, but virtually all the biggest tea producers in Russia, such as OrimiTrade, Unilever, Ahmad and May, use Indian tea leaves. Russia is currently the largest importer of Indian tea.

The turnover is, however, far from what it used to be. Russia imports only 35,000 tonnes out of 200,000 tonnes of tea Indian exports annually. But with shifts in global production and pricing, and supplemented by promotional campaigns of Tea Board, India is poised to rebuild the image of Indian tea and reconquer the Russian market as Moscow braces to source quality Indian orthodox teas in a big way.
All rights reserved by Rossiyskaya Gazeta.