It gets simpler to get to Russia as bureaucratic blocks eased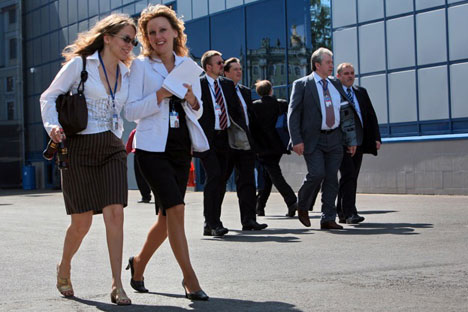 Alexander Petrosyan/FocusPictures
The families of foreign specialists should soon be able to negotiate their way through Russian immigration legislation far more easily.
Russia is continuing to improve conditions for highly qualified specialists. After the visa system for expats was relaxed with effect from July 1, Russia is now simplifying the procedure for admitting members of their families into the country.

Up to this point, the choice that family members of foreign specialists working in Russia had to make was temporary separation from their relatives or seeing a representative of the Russian Migration Service once every four months.

The Russian parliament has drafted new legislation which should make life easier for them.

One of the authors of the bill, Vladimir Pligin, who is also the head of the Duma committee on constitutional legislation and state-building, said that on Oct. 19, the bill to allow the wife of a specialist (who has moved to Russia to work) to receive and extend a working visa for the same period as her husband, passed at its first reading.

The document will have to go through three readings in all.

Moreover, a foreign specialist who changes location within Russia (for no longer than 30 days) or who wants to leave the country (for no longer than 90 days) will not have to go through the migration registration procedures. Pligin believes these developments should make Russia a more attractive country for highly qualified foreign personnel.

The "beneficiaries" have also been exempted from the system of foreign manpower quotas, which are confirmed by government decision on the basis of employers' applications at the beginning of the spring. Companies, therefore, will no longer have to wait until the following year to recruit the specialist they need if they miss the application season, said Maria Istomina, a lawyer with Yukov, Khrenov and Partners.

According to the amended Russian legislation, not only will companies be able to look for specialists, but foreigners themselves will be entitled to apply independently – as a potential highly qualified worker for Russian business. To do this, they can make an appropriate application to the Russian embassy or consulate, including confirmation of their work experience, skills and achievements. This information will be added to a special database, to which potential employers in Russia will be given access.

More information on the new rules can be found at the Russian embassy website (rusemb.org.uk/skilledmigrant).
All rights reserved by Rossiyskaya Gazeta.