Connecting anew with 3G networks, WiMax chips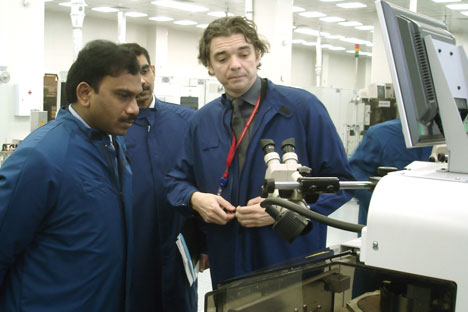 Telecom and IT Minister A.Raja at the Mikron factory.Source: Mikron press-service
The two countries' ministers of communications and information technologies discussed this issue at a meeting in Moscow in mid-October.
"Russia is one of the first countries where commercial mobile WiMax networks have started operating. They are now in operation in Moscow, Saint Petersburg, Sochi and a number of other major cities. We believe that this technology is completely ready for exporting," Russia's IT Minister Igor Shchegolev told his Indian colleague Andimuthu Raja, who has come to Moscow at the invitation of his Russian colleague.

The idea of setting up a joint venture came to Andimuthu Raja after he had visited the Mikron factory, which belongs to the Russian company SITRONICS. This company has partnership links with India – since 2009 one of its sub-divisions has been supplying RUIM cards using an operating system developed by the company. These cards can be used on networks using the CDMA2000 standard, which has characteristics close to those of 3G. "We have a long-standing and close relationship with the Russian Federation, and we are sure that the exchange of experience and initiatives will be extremely useful. We believe that our joint work will help to bring communications to the masses," the Indian official was reported as saying by the Ministry of Communications and Mass Media press office.

SINTRONICS Vice President Irina Lanina noted that foreign investment in micro-electronics would boost the development of the industry. "Micro-electronics needs to attract significant scientific and capital resources, and therefore can exist only in the context of international R&D and investment alliances."

The parties involved are not yet revealing much specific detail about the project – a memorandum of understanding may be signed during a return visit to India by the Russian minister. A highly-placed source in the Russian Ministry of Communications and Mass Media explained to RIR that there may be talk about both importing high-tech equipment for WiMax and also helping India to create a new communications operator and to roll out 3G networks in the country. In the first case it is no accident that Russia was chosen. "Apart from us, the countries with a capacity to produce chips for 3G and WiMax are the USA, China and Korea," the source explained, "but in the case of the USA transferring the technologies may cost India too much, while there are certain political disagreements with China, and the Korean technologies may require additional development."

The source believes that if a decision is taken to set up a joint venture in the field of communications without technology transfer, the Sistema joint stock financial corporation, which is already operating in the Indian market, is most likely to be an active player here on the Russian side.

Meanwhile, a complete production cycle for chips has already been put together in Russia itself. In October the state corporation Rusnano invested more than 35 million dollars in the ELVIS company's 90nm chip design centre. This will be the basis for creating a centre to design microchips with a topology of 90nm and below. According to the Russian agency cnews.ru, there are now 20 to 25 microchip design centres in Russia. But the ELVIS company's project, financed by Rusnano, may be considered unique, since either this total includes no design centres working with topologies of less than 130nm, or they are very closely integrated into their companies and therefore unknown. Both ELVIS and the Mikron production facility are located in the city of Zelenograd, near Moscow, which enables them to avoid logistical complications. According to cnews.ru, Mikron's 90nm production line should be launched as early as 2011.
All rights reserved by Rossiyskaya Gazeta.