Hague did not push the reset button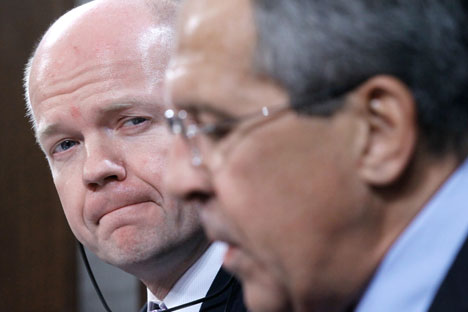 William Hague and his Russian counterpart, Sergei LavrovSource: RIA Novosti
British Foreign Secretary William Hague visited Moscow two weeks ago to test the political waters between the governments.
Can two days in Moscow make a difference? Can it transform an often chilly relationship between Britain and Russia into something close and trusting? Well, not yet close, but a lot less chilly.

William Hague's flying visit was certainly a more cordial one, apparently, than that of his predecessor David Miliband.

But there are still stumbling blocks, most notably over the murder of Alexander Litvinenko and the extradition of Andrei Luguvoi. However, the foreign secretary said, on other matters it seemed that progress was made.

The Litvinenko matter "does not stop us from working together to combat international organised crime, drug trafficking, immigration crime and cyber crime," said Hague, adding, "Clearly there is a lot of progress that we can make in the economic area and the knowledge partnership that we talked about."

That "we" included Hague's Russian counterpart, Sergei Lavrov, who acknowledged the differences regarding Litvinenko but said: "We don't view the remaining problems as an obstacle for other issues."

Lavrov said he felt negotiations had been "very fruitful" with regard to the Middle East, North Korea, Iran's nuclear program and ambitions, and Afghanistan.

While the talks between the two ministers were significant in themselves – this was the first-high profile visit of a senior front bencher from the UK's relatively new coalition government – the fact that Hague met President Dmitry Medvedev carried more weight. Maybe it presages a possible meeting in Russia between Medvdev and the British prime minister, David Cameron, which hopefully would mark the genuine start for the much desired "reset" between the UK and Russia.
All rights reserved by Rossiyskaya Gazeta.