Microsoft blankets NGOs and media with free licences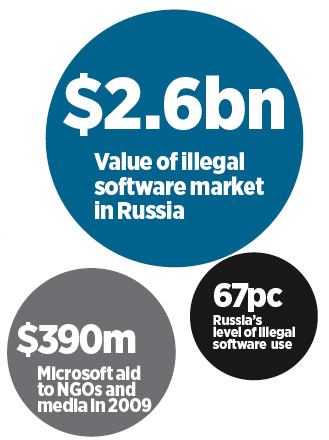 Microsoft has decided to legalise pirated software used by Russian independent media and NGOs in an effort to aid civil society.
Microsoft will issue a "unilateral NGO software licence" that will run automatically until 2012 and cover "the software already installed on their PCs", Microsoft's senior vice president Brad Smith said on his blog . The move will hopefully prevent NGOs from falling victim to "nefarious actions taken in the guise of anti-piracy enforcement", Mr Smith wrote. "Now our information will fully exonerate any qualifying NGO, by showing that it has a valid licence."

In 2012, Microsoft wants to move NGOs to its donation programme, infoDonor, because it helps organisations keep their software up to date. The temporary legalisation of pirated software stems from the fact that some NGOs in a number of countries, including Russia, are unaware of the programme or do not know how to navigate the process, which involves ordering donated software through a Microsoft partner, Mr Smith said.

Last year, the company donated $390m worth of software to 42,000 NGOs around the world.

Mr Smith's statement came as a reaction to an article in the New York Times that said experts working on behalf of Microsoft had helped Russian law enforcement agencies provide copyright violation evidence in court against NGOs, effectively facilitating a government crackdown on dissent.


Software piracy in decrease

In a 2010 report, Business Software Alliance said that despite the financial crisis the level of illegal software use fell across the world, including in Russia.
In one such case, the police accused Alexandra Denisova, an activist of the Ethnica NGO, of using illegal software at her company in Krasnodar in 2009. The case was brought after complaints by a legal anti-piracy expert and a regional Microsoft software distributor.
Police later dropped the charges after the court sent the case back to them for additional investigation in May of this year.

Ms Denisova could have been sentenced to up to six years in prison if convicted.

Microsoft said earlier that the use of illegal computer software in Russia remained rampant. It stated in June last year that it was losing more than $1bn every year because of Russian software piracy.

According to a Microsoft investigation in May, about 22pc of 3,000 randomly checked sales points in 53 Russian cities sold illegal software. The investigation was carried out by Microsoft employees posing as customers.

NGOs only account for a tiny proportion of software users, meaning that anti-piracy efforts will have to continue at full swing, said Alexei Maximov, editor of the Russian edition of PC Week.
All rights reserved by Rossiyskaya Gazeta.