Slaking China's huge energy thirst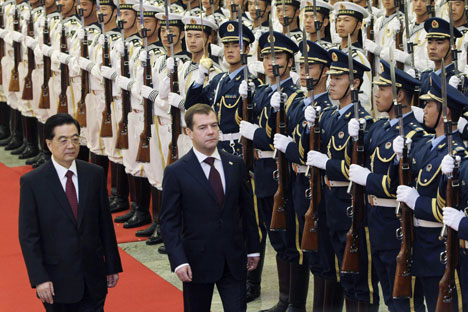 Presidents Hu Jintao and Dmitry Medvedev attended thegroundbreaking ceremony in SeptemberSource: Reuters / Vostock Photo
Russia will become China's third-largest supplier of oil in January via a new Siberian pipeline, which will carry 15 billion tons of oil a year.
Despite the 2,250-mile common border, Russia sends relatively little oil and gas to China. Until now, Europe has been the main customer, but thanks to China's huge cash reserves and growth and Europe's struggling economies, the former's magnetic pull on Moscow is growing, and Russian infrastructure is rapidly turning east. As Kingsmill Bond, chief strategist at investment bank Troika Dialog, puts it: "Since the crisis, the potential for trade between Russia and China has become real."

Last month, Russian President Dmitry Medvedev made a second visit to Beijing in as many years to seal, or speed up, a number of deals, including co-operation in mining, nuclear power, banking and anti
-terrorism. At the forefront however was the commissioning of the Chinese spur of the ESPO oil pipeline – which will start carrying 15 million tons of crude per year in January, and see Russia overtake Iran to become China's third largest supplier, behind Saudi Arabia and Angola.


In his own words
Hu Jintao
''Both sides believe the current strategic partnership between China and Russia stands at a new starting point… The completion of the pipeline project is a milestone for Sino-Russian energy co-operation."
Groundbreaking ceremony; 
September 27
The raft of deals shows how Russia can no longer relegate China below its traditional energy customers to the west. As Prime Minister Putin remarked in January, the ESPO spur "is not just a pipeline [but] a geopolitical project."

Medvedev also oversaw an extension of terms for a long-delayed agreement on gas supplies during his visit. While Russia has spent years failing to agree a gas price, China has also moved into central Asia to build oil and gas pipelines eastwards. However, Mr Medvedev said that the pair "drew more than $60 closer to each other on the price" at his meetings.

Exactly what has changed to bring them towards an agreement is unclear, but it's worth noting that Gazprom is facing demands for lower prices from a gas-glutted Europe. That said, Lev Snykov of investment bank VTB Capital says China is now paying close to the oil equivalent.


ESPO oil pipeline to China


Either way, Moscow's commitment to striking a deal was demonstrated three days after Medvedev's return: Gazprom – currently not exporting to China – said it will accelerate construction of the Altai gas pipeline from Western Siberia to China, to get it online by 2015.

With Russia hoping that China will finance the route – as it did the ESPO spur, as well as the central Asian routes – it's difficult not to wonder how much leverage it will have on the final prices. However, China's huge demand will also have an effect. "China is not necessarily in the driving seat," said Snykov.

Meanwhile, Bond suggests that due to "China's geopolitical risks", Russia can expect a "premium for land-based links". He also points out that China's gas consumption is likely to rocket as it imports more via pipeline. Indeed, such infrastructure does much to plug economies into one another, and in the case of Russia and China is "sure to shape the bilateral ties of the two countries", says Lilit Gevorgyan of IHS Global Insight.


The numbers
$25.5
bn was the volume of trade between Russia and China during the first six months of this year. Russia imports manufactured goods from China, including automobiles, and exports energy supplies and armament.
In tandem with the geographic base of Russia's hydrocarbon reserves moving steadily east, the question some are starting to ask is if China's demand for Russian energy and minerals will eventually cut into Russia's ability to supply Europe.

The Altai pipeline has already jumped ahead of the South Stream project, which is planned to carry gas to southern Europe. Snykov suggests Altai is too small to be a serious drain on the Western Siberian fields that supply Europe, and Bond agrees that for the meantime, there's plenty of oil and gas in Russia to keep everyone happy. However, he adds that "in 10 or 20 years, who knows?"
---
All rights reserved by Rossiyskaya Gazeta.