Russian diamond miner Alrosa faces hard times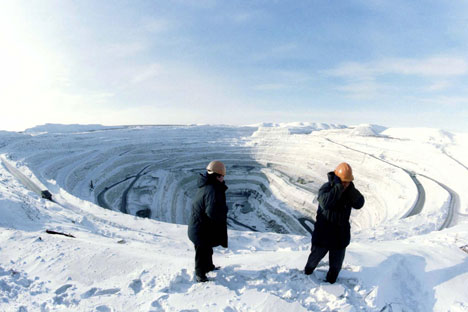 Source Reuters/ Vostock Photo
Alrosa is the world's biggest diamond miner, but production at the Russian company will grind to halt unless it can raise billions of dollars with a partial privatization slated to happen next year.
Aging Soviet mines, a secretive board picking clients for diamond sales behind closed doors, and a massive social welfare program, have left the company in a financial mess.

On Oct. 7, lawmakers in the Republic of Sakha (Yakutia) in remote eastern Siberia, which owns about 40 percent of the diamond monopoly, agreed to allow the closely held company to become public. The company has already changed its legal status in order to sell between 20-25 percent of its shares, possibly next year, to raise funds.

Globally, diamond miners are struggling to keep pace with growing demand in emerging economies as aging mines are depleted, but Alrosa needs investment more than most.

Selling diamonds should be one of the best money-makers imaginable, but as of June, the company had built up debts of $3.7 billion and needs to finance another $1.8 billion in investments between now and 2012, according to analysts.

And the investment price tag is about to soar further. Alrosa operates the Mir mine, a huge open cast pit in the frozen wastes of the Sakha Republic. The pit, which is already more than a mile across, continues to grow deeper, and the sides of the hole will eventually collapse. Given this situation, the mining will have to proceed underground if the company is to get at the rest of the diamonds at the bottom of its Kimberly pipe. That change will send costs through the roof, according Metropol analyst Andrei Lobazov.

The company is already weighed down by massive social costs. Alrosa is responsible for virtually everything in the town surrounding the Mir mine. The entire population of the small city perched on the lip of the pit have been flown in to work in temperatures that typically fall to -76F in the winter.

Production was cut drastically in 2008 as the financial crisis reached even the remotest parts of Russia's tundra, and the company built up a mountain of debt to support its workforce. Alrosa did not fire a single employee, even when diamond sales fell close to zero.

"In the six months from December 2008 to June 2009, Alrosa's debt grew by over $1.5 billion," said Andrei Polyakov, the company's public relations director. In May 2009, the federal government came to the rescue, purchasing $1 billion of Alrosa's diamonds and adding them to the state currency reserves. Now, though, outside funding is desperately needed if Alrosa is to keep going.


Source: www.alrosa.ru


Opening the mine to foreign investors may be politically unpopular in Siberia, but Sergei Goryainov, an analyst at Rough&Polished thinks that Alrosa has no choice.

"Its debt burden is already too high, and the company needs more and more loans. For example, cash is needed for exploring and further developing new diamond deposits. If Alrosa does not find the money, this could impact production, since the company's available deposits are close to exhaustion," Goryainov said.

Some local lawmakers in the Sakha Republic concur.

"The company's financial state no longer allows it to remain, much less grow, as a closed joint-stock company. Neither Russia nor Yakutia can afford to wait until the company's production falls two-to-threefold," said Alexander Morozkin, first deputy speaker of the local parliament.

Alrosa may hold an initial public offering as early as next year to raise funds to invest in underground mines, company spokesman Polyakov told the Russian press in October.

The company may sell a stake of 20 percent to 25 percent to raise $1.5 billion to $2.3 billion, valuing Alrosa at $7.3 billion to $9 billion, according to a report in Russian business daily Vedomosti.

The Sakha Republic's stake in Alrosa will probably remain above 25 percent after a share issue, guaranteeing it a continued blocking vote in the company's affairs, said Metropol's Lobazov. The federal government currently holds about 51 percent.

The company is also trying to build a more stable sales base.

Alrosa accounts for a quarter of world diamond output and expects to sell $3.46 billion of diamonds this year, compared with $2.21 billion in 2009, the company said.

"Before the economic crisis, Alrosa's clients were not very reliable and there were no long-term contracts. The customers could disappear at any time," said Goryainov of Rough&Polished.

In 2010, Alrosa hopes to bring its share of such contract sales to 56 percent of revenue, up from 21 percent in 2009. By doing so, the company hopes to protect itself against fluctuations in demand, Goryainov said.

Alrosa is also currently working to build a pool of loyal customers. In spring 2010, it signed a three-year agreement with India's Rosy Blue, Diamond India Limited, and Ratilal Becharlal and Sons to supply rough diamonds. Alrosa is even considering plans to open an India-based office.

Meanwhile, the company signed long-term contracts with 15 Belgian companies this past summer worth about $500 million and talks are underway with companies in China, Armenia, Belarus, and Israel.


All rights reserved by Rossiyskaya Gazeta.