Russian Newsweek: a predictable failure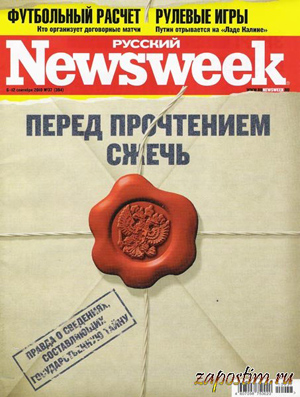 The Russian version of Newsweek magazine has been shut down after six years because its publisher, Axel Springer, was no longer willing to cover its losses. Some critics of the Kremlin hastened to put a political label on it, suggesting that the German publisher was loath to support an opposition magazine.
There may be a point to this, but I have a hunch that the Germans would not have supported a pro-Kremlin publication either, unless it yielded at least indirect benefits. And Newsweek was not all that anti-Kremlin in the first place, certainly less so than The New Times and Novaya Gazeta (which also operate with losses, but are backed by Russians).The long and short of it is that the magazine's demise is all about economics, or rather, the way it is done in Russia.

The fact that the global trends in the development of the media do not favor serious analytical publications is poor consolation. The U.S. edition of Newsweek is also experiencing financial difficulties. Business Week recently changed its owner for the same reasons. Incidentally, I was directly involved in the launching of Business Week's Russian edition as its first head editor for a year, and I have a good idea of the endemic problems of the Russian market for print media.

The circulation of all printed media in the world is plummeting. There are multiple reasons for this, ranging from the spread of the Internet to falling educational standards and people's reluctance to read serious texts. Publishers try to cope with this in various ways and with varying degrees of success. In Russia, things are at the same time simpler and more complex.

They are simpler because the market is far smaller in terms of audience and territory covered. Serious periodicals, whether devoted to business or "general interest," are read by the same people who consider themselves to be middle class, which at best accounts for a mere 10-15 percent of the population. Yet even the "middle class" has in recent years been increasingly apolitical and indifferent to the "serious" social problems that these types of periodicals usually write about. In modern Russia "glamour" reigns supreme: it dictates the news and molds the young generation's values; it holds the attention of the average office worker, preoccupied with mundane matters, for a couple of minutes. Sometimes it is easy to agree with those who say that people have gotten used to being entertained and have forgotten how to think, let alone draw political conclusions from their reflections. The simple truth is that in Russia, with a population of 140 million, no serious publication can boast a circulation of more than 50,000.

Consider the economics of a serious weekly in Russia. No more than 15-20 percent of the press run is distributed by subscription. The reason is primarily the dismal performance of the Russian postal service. When I worked as editor for the weekly Profil, I would hear complaints from subscribers that the journal, which came out on Monday, only reached them on Friday, and this was in Moscow. When I worked for Izvestia, at one time the country's most popular daily newspaper, copies were delivered in stacks once a week, and not even in time for your morning tea. That leaves distribution at retail outlets, but the distributors impose their crippling terms on the publishers. Weeklies at retail usually cost half the production costs and the publisher has to pay a fee for the distribution space. The going rate is about $5,000 and the number of copies sold cannot be less than 300. Under these terms, it's no wonder you can hardly see a serious weekly even in Moscow supermarkets. They have all been ousted by the monthly tabloids. A weekly's main source of revenue comes from advertising. If the publication has a circulation upward of 50,000, major advertisers sign fairly stable annual contracts with them. Advertisers, however, are few and far between, and in Moscow, a dozen or so decent weeklies in Moscow compete for each advertiser. A slight dip in the market, as happened during the 2008-2009 economic crisis, sends advertising revenues plummeting. Advertising usually allows periodicals to just break even or make a small profit, but because of the advertising's small scale, it cannot fuel major expansion, which is only possible for diversified publishing houses in which business publications are propped up by tabloids. One success story is the Sem dney (Seven Days) publishing house, which puts out a trashy weekly tied to television and built around weekly television programming (which yields a circulation of a million copies and hefty advertising profits), plus several highly profitable monthlies. The publisher has only one serious weekly called Itogi.

The aforementioned situation, which is vaguely reminiscent of the free market, is characteristic only for Moscow and several other big Russian cities. The rest of the country has no access to and does not read any of these publications. It is inundated with cheap tabloids and local papers subsidized (and therefore controlled) by the local authorities. To be quite honest, it was unclear from the start how the initiators of Russian Newsweek could imagine that a Russian-language magazine with an American title targeting the mass and at the same time politicized audience would succeed in the country's small and peculiar market. What is surprising is that the publishers had the patience to work at a loss for six long years.

Georgy Bovt is a Moscow-based political commentator.
All rights reserved by Rossiyskaya Gazeta.