Kadyrov takes a stand against bride-napping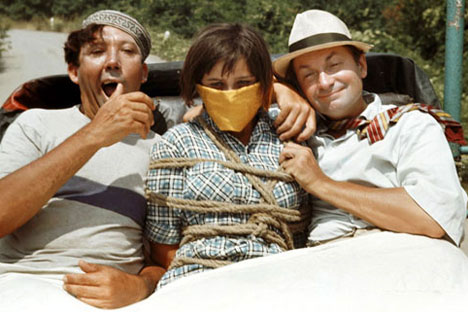 Bride-napping is a centuries-old tradition—just remember the ancient Greek tale of Helen of Troy and Paris or the Indian story of Sita, whom Rama failed to protect from Ravana. In Russia, bride-napping has always been associated with the Caucasus.
Why bride-napping?

According to Lyubov Solovyova, a professor of history and senior research associate at the Institute of Ethnology and Anthropology of the Russian Academy of Sciences, "Historically, bride-napping fell into several categories: abduction, abduction with consent of the bride (elopement) and abduction with consent of both the bride and her parents. Bride-napping today has barely changed at all. Traditionally, the bride is brought to the groom's house, and her relatives are invited as well. Then, relatives on both sides ask the bride if she agrees to marry the groom. If she does, the families start wedding preparations. If she does not, the girl is free to go home."

Maimakhan Aglarov, chief research associate at the ethnography department of the Institute of History and Archaeology of the Dagestan Scientific Center of the Russian Academy of Sciences considers bride-napping is not a tradition, but rather a form of marriage developed in reaction to other local customs. "Usually, a man comes up, proposes and marries a girl. But this form of marriage existed because of certain restraints or circumstances. Men used to kidnap girls or women because a young man could fall in love with a girl from the clan of a higher social status. It was against tradition to marry off daughters to lower ranking families. Another reason has to do with interethnic disputes. Almost all Dagestan ethnic groups traditionally marry off their daughters not only to men belonging to the same ethnic group, but often to natives of their tribal village." Another possible scenario is when a girl wants to get married before her older sister. In such a case, the parents cannot give their consent to the marriage, so the younger daughter is "abducted." After some time, the couple comes to the bride's father to ask for forgiveness, but he "curses" and "banishes" them; he "forgives" the couple only after their first child is born.

"Young men, however, have recently started to abduct girls because of their poor financial state," said Aglarov. In a Caucasian wedding, a young man is expected to pay a bride price; currently the usual bride price is $2,000. Additionally, the groom is expected to provide decent clothes for the bride. The bride's parents, for their part, have to provide the dowry. The wedding ceremony and festivities also constitute a major expense: On average, there are between 500 and 700 guests at a Caucasian wedding, while a the average salary in the region is only slightly over $200. "Things become much simpler when the bride is abducted, because then all you need is reconciliation in order to get the father of the bride's permission to arrange the marriage according to Muslim traditions. Many do not even hold a wedding: Abduction is always an insult for the family, there is nothing to celebrate," added Aglarov.

Looking for Romance

Experts estimate that up to 25 percent of all abductions happen with the bride's consent. It is usually a love story, like that of Romeo and Juliet. For example, ever since childhood, Zarema had dreamed about love, and finally she met her Prince Charming.

"Deni and I had been seeing each other for more than a year," she said. "We were ready to get married, but my mother would not give her consent, because Deni lived too far away from our native village. Then, Deni kidnapped me. We have been together for five years now and my mother has come to terms with the situation. We have two sons already, and are expecting our third child soon. I hope it's a girl."

Padam has been married for 30 years. She smiles when she reminisces of how her would-be husband, Adam, abducted her: "I was so frightened, because abduction during Soviet time was not treated as a heroic deed; men could be prosecuted for it. I remember how my future mother-in-law came up and said 'Stay with us, dear, you won't regret it.' Indeed, I have never regretted a single day I have spent with Adam. We have five sons a daughter and 12 grandchildren. If that's not happiness, I don't know what is."

However, it is not uncommon for abductions to be more criminal than romantic.

"My girlfriend and I had been seeing each other for about two years. We lived in the same village and were supposed to get married," said Idris Absalamov, who is from Dagestan. "But one guy from a nearby village fell for her and he and his friends abducted her. I could not do anything and she had to marry the guy."

Many young men find bride-napping to be a way to augment their authority among their peers and be considered a hero. Some abductors record the process with cell phones and post them, edited with music, on the Internet.


Rule of law

During the Soviet era, the Criminal Code had provisions for prosecuting those who forced women into marriage—not only would the groom-to-be be punished, but so would any of the bride's close relatives who helped the groom carry out the abduction. Before 1995, the parents of a bride who accepted money, cattle or other property for giving away their daughter could be imprisoned for up to one year and the bride price would be confiscated. Paying a bride price was punished by being reprimanded publicly, and in the worst cases, resulted in a sentence of up to a year of community service. The punishment for abducting a bride was two years in prison.

Today, however, there is only a general provision against kidnapping. It states that a kidnapper can be imprisoned for up to 15 years. Due to cultural differences, however, each region applies its own prosecution rules for similar offenses.

"For example, punishment will be very severe in Moscow, St. Petersburg or Krasnoyarsk, while in Ingushetia a criminal might be given probation," said lawyer Artur Pan. If the abductor lets his victim go and does not commit any other crimes, he is cleared of any criminal wrongdoing.

Bride-napping in Chechnya

Until recently, the end of Ramadan and the beginning of autumn marked "bride-napping season" in Chechnya. Even though public surveys show that most Chechens disapprove of bride-napping, the police would turn a blind eye to the process. A poll conducted via text message by a local broadcasting company showed that 99 percent of the 175,000 respondents are against this pseudo-tradition. Nevertheless, brides continued to be abducted.

This year, however, Ramzan Kadyrov, the president of the Republic of Chechnya, decided to take action against the process. In early October, he met with Sultan Mirzayev, the head of the republic's Council of Muftis to discuss such issues blood feuds and bride napping. Kadyrov said that bride-napping conflicts with Islamic law and Chechen traditions, and therefore this practice "should be eradicated from our society."

The next day, the Council of Muftis of Chechnya held an extended conference that included imams and religious judges from across the republic. The clergy declared that from now on, any citizen of the republic guilty of abducting a bride will have to pay a penalty of one million rubles ($33,000) to the family of the abducted, while any clergymen who tried to persuade the parents of the abducted girl to consent to the marriage of their daughter and her abductor would lose his job immediately.

"Under Islamic law, a girl can marry only if she is willing to do so and if her father has given his approval. Being that we still have bride-napping as a custom, the problem is not that it violates the religious canons, but that in many cases there are serious implications that result in feuds between the families, which sometimes lead blood feuds," said a source from the Council of Muftis.

Kadyrov also instructed law enforcement agencies to deal with every such case without waiting for a complaint from the victim. He added that any local police captains attempting to cover up such cases would lose their rank or be dismissed.

This story featured reporting from Novye Izvestia, Islamnews.ru and Vesti.ru
All rights reserved by Rossiyskaya Gazeta.