Ambassador returns as Russia-Japan feud continues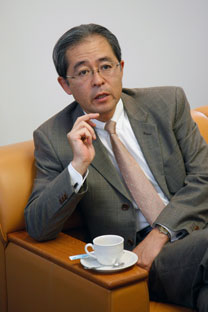 At the beginning of November, Dmitry Medvedev became the first Russian president to set foot on the disputed Kuril Islands. In a jeep tour that lasted several hours, he surveyed Kunashir Island, which has no paved roads and suffers from a harsh climate.
But even this short visit by the Russian head of state sparked a diplomatic row with Japan, where Medvedev is scheduled to take part in the Asia-Pacific Economic Cooperation (APEC) meeting Nov. 13-14.

Russia's ambassador in Tokyo, Mikhail Bely, was summoned to the Japanese Foreign Ministry to receive a note of protest. Japan also recalled its ambassador to Moscow, Masaharu Kono, although he returned to the Russian capital on Nov. 8.

Despite Japan's protest, Moscow made it clear that Russia would not soft-pedal the issue. "We consider Japan's reaction to President Medvedev's visit to the Kurils unacceptable; it is our land, the Russian president visited a Russian territory," said Foreign Minister Sergei Lavrov. "We are not going to take any measures to impede our cooperation with Japan, but the Japanese side should draw conclusions, I will say it again, such protests are unacceptable."

Tokyo's unprecedented reaction to Medvedev's visit reflects the Democratic Party of Japan's desire to show its firmness in defending the country's territorial interests at a time when it faces strong criticism from voters and the opposition for its handling of disputes with China.

Meanwhile, Japan's leading business newspaper, Nihon Keizai Shimbun, pointed out that this year alone Russia and China have held five top-level meetings, but since the Democratic Party of Japan took power, not a single Japanese prime minister has visited Russia. The newspaper warns that this is not the best way to solve the country's territorial problems.

Russian-Japanese political ties, which stagnated even under the pro-Russian (by Japanese standards) Prime Minister Yukio Hatoyama, have been strained further following Hatoyama's resignation in June 2010. There are at least two reasons for the strained relationship.

First, Japan reacted negatively to Russia's introduction of an official day recognizing the end of World War II. This was perceived as a euphemism for the Soviet Union's victory in the war with Japan in 1945. However, the neutral phrasing precluded any formal reaction from Tokyo.

Secondly, Japan's media and politicians criticized a joint Russian-Chinese statement issued during President Dmitry Medvedev's visit to China in September. Among other things, it confirmed the parties' commitment to preventing a revision of World War II history. This was interpreted as joint pressure on Japan over pending territorial conflicts. Yet, responding to a request by the opposition, Prime Minister Naoto Kan said in parliament on Oct. 10 that he did not believe this to be so.

Apart from disputes with Russia and China, Japan has territorial conflicts with South Korea over the Takeshima Island (known as Dokdo or Tokto in Korea) and over the Senkaku Islands with Taiwan, which is in accord with mainland China in this matter. Historically, even the slightest difficulties between Japan and its Asian neighbors, particularly over territorial matters, often leads to serious anti-Japan campaigns in those countries, where dormant anti-Japanese sentiment can explode like gunpowder.

In this respect, Russia is an exception: of all the countries that have territorial disputes with Japan, Russia is the only one ready to consider a compromise. Indeed, it is impossible to imagine any major demonstrations, pogroms, anti-Japanese media campaigns or other anti-Japan feelings in Russia. And yet, Tokyo does not seem to appreciate Moscow's approach, renewing its pressure on Russia, which it sees as the weakest element in the chain of its territorial conflicts with neighbors.
All rights reserved by Rossiyskaya Gazeta.