Domestic demand underpins Russian steelmakers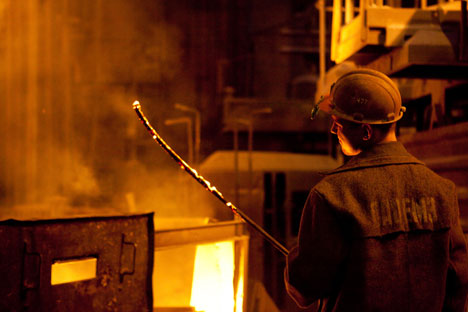 Severstal, Russia's largest steel maker owned by billionaire Alexey Mordashov, jacked up its second quarter revenues by 35 per cent to USD4.245 billion. Mordashov is quite pleased with the rate of growth. "The sound performance in the second quarter is based on the quality and integrated structure of our assets that generated sales growth and captured bonus revenue from higher market prices as the global, and especially Russian, economies began picking up. We are prepared to realize new market opportunities", says Mordashov.

Other industry players are keeping up the pace: the Magnitogorsk Iron and Steel Works (MMK) boosted second quarter revenue by 25 per cent, while Evraz Group S.A., a global mining, steel and vanadium business, grew by 37 per cent over the first half of 2010. The results have impressed the business community: Fitch Ratings has upgraded its forecast for three Russian steel makers, MMK, Severstal and Evraz, which are expected to demonstrate increasing operating and financial performance over the next two or three years. "While most companies in the world operated at 75-80 per cent of their capacity, most Russian steel makers are close to maximum capacity. This reflects both gradual macroeconomic recovery and producer-friendly weakening of the rouble. Recent interim reports suggest strong improvement over the same period in 2009", explains Eldar Agaev, associate director of Fitch Ratings' London-based analytical team, which focuses on the manufacturing industry.

Today the Russian iron and steel market is dominated by Evraz, Severstal, MMK, Novolipetsk Steel (NLMK), and Mechel. Their market shares based on the first half of 2010 data are as follows: Mechel, controlled by Igor Zyuzin, accounts for 16 per cent, Evraz, in which Roman Abramovich, the owner of Chelsea Football Club, is a major shareholder, controls 10 per cent, and MMK and Novolipetsk Steel, owned by Vladimir Lisin, the richest man in Russia, account for 15 per cent each. The remaining 30 per cent belong to smaller players. "At USD550-570 per ton of steel, the Russian market can be estimated at USD41.8-43.32 billion in terms of steel production", says Dmitry Kumanovsky, head of the analytical department at LMS investment company.

Globally, steel is produced by about 80 companies with the largest production facilities located in Japan, South Korea and China. Russia is a major steel exporter, and markets around 60 per cent of its metal products abroad. Before the credit crunch in 2008, exports dropped to 40 per cent on the back of strong growth in domestic demand. In 2009-2010, Russia's export share returned to 50-60 per cent, driven by increasing supplies to China. According to the Russian Ministry of Economic Development, iron and steel exports in the first half of 2010 increased by 28.5 per cent to 28.45 million tons. Steel exports rose by 22.7 per cent, rolled mill products by 2.5 per cent, and iron by 11.1 per cent. The main importers of Russian steel have been Ukraine (12.7%), China (9.5%), Italy (7.6%), Iran (6.3%), Switzerland (5%), Germany (3.5%), South Korea (2.8%), Turkey (2.5%), Denmark (2.2%), and Kazakhstan (2%).

Currently, Russia has no wholesale exchange market for trading iron and steel products like those in developed countries. The three principal production hubs, located in Central Russia, the Urals and Siberia, sell their products through their own trading companies and multiple wholesale intermediaries, or metal traders that account for up to one third of all marketed steel. Part of the output is delivered under direct agreements to industrial consumers, such as automotive and railcar manufacturers for whom steel is a major factor in production costs.

On the domestic market, Russian steel makers have effectively gained oligopolistic control through pricing policies that ward off Chinese and other foreign producers. To operate on the Russian market, international companies have to cover the additional costs of promotion, transportation from the border crossing, etc. The Russian government also helps discourage foreign competition by imposing import quotas and duties. "Therefore the Russian steel industry is a very attractive investment opportunity for foreign investors because it is better protected against global economic turmoil. Plus there is a huge potential for internal demand to recover in construction, industrial engineering and pipeline manufacturing," says Dmitry Kumanovsky. The soaring demand at home in 2007-2008 helped Russian steel makers considerably increase their sales.

Big Russian holdings are also moving outside Russia and seeking to establish international presence. Mechel is negotiating to create a joint venture with Brazilian Cosipar. Severstal is aggressively building up its stake in Intex Resources ASA, a Norwegian mining and exploration company, which operates a large nickel mine in the Philippines, and is also sweeping up iron ore mines in Africa.
Adding another dimension to their growth, Russian steel companies have been intent on diversifying their portfolios. Severstal has increased its share in Crew Gold. According to Evgeny Ryabkov, an analyst with TransCreditBank, the group regards strengthening its gold mining business as a key strategic objective. MMK is currently busy integrating its recent acquisition Belon, a coal mining company, into its operations. Experts believe that vertical integration of Russian iron and steel makers provides a steady foundation for long-term success. Severstal and Evraz have already embraced the principle and are working to build and control the entire value chain.

Another important trend that became apparent in the aftermath of the economic slump is the attempt to increase the share of value-added products, such as coated steel sheets, special steel grades, etc. "The primary motivation is their desire to be competitive on the global market and the availability of new capacity recently commissioned by Severstal and MMK", says Kumanovsky. MMK has launched rolling mill "5000", the biggest in Europe, which can produce thick high-strength sheets for pipes used in the oil and gas industry. In 2013, Severstal plans to bring on line a long-steel production facility with an estimated output of 1 million tons a year, which will manufacture steel products for construction applications.

Experts think that the next year will be even more successful for the Russian steel industry as demand will continue to recover and recent acquisitions will be firmly embedded into business structures, reinforcing their financial performance. According to the Russian Ministry of Industry and Trade, iron and steel companies will invest 160 billion roubles in modernizing their facilities in 2010. They have already attracted 60 billion roubles over the first half of the year. Last year, investment totalled 159 billion roubles. By 2015, the ministry expects the industry to be receiving up to 200 billion roubles.
All rights reserved by Rossiyskaya Gazeta.