From Bangalore to Skolkovo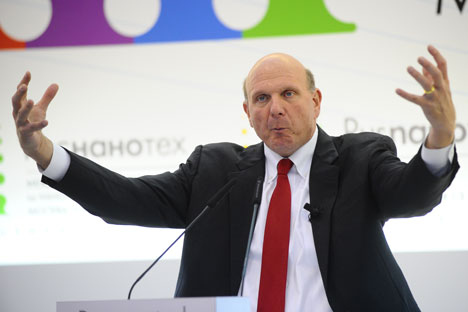 Microsoft CEO Steve Ballmer signed off on a plan to join the SkolkovoCentre, which could bring 'tens of millions of dollars'.Source: ITAR-TASS
In December 2004, when then President Valdimir Putin came on a state visit to India, he stopped off in Bangalore. He was so impressed by 'technoparks' and special economic zones in India's IT city that a month later, he exhorted Russians to achieve a breakthrough in information technology in a speech at a scientific township near Novosibirsk.

The visit also spurred the process of reforming the Russian legislation to provide a viable framework for an innovation-based economy. Five years ago, the State Duma adopted a law on Special Economic Zones (SEZ). It took only several months to pass the bill.

Under the law, residents of Russian SEZs could enjoy privileged taxation. Along with tourist, production and logistic (ports) zones, the law also provided for innovation or technology parks. The latter were modelled after western business incubators; the area of an innovation zone cannot be more than three square kilometers and it can host two companies at most. The original focus was on technology development and commercialisation, but about a year ago, SEZ residents were allowed to have production facilities too, says Aleksandra Vasyukhova, innovation projects team leader at VEGAS LEX law firm. Companies operating in innovation zones are exempted from property, land and transport taxes during the first 5-10 years.

The Law on the Skolkovo Innovation Centre signed by President Dmitry Medvedev in late September has added new tax incentives for the centre's residents. The Russian government looks to attract smaller businesses, says Vladislav Korablin, a lawyer at Yukov, Khrenov and Partners.

Thanks to the Skolkovo project, companies resident in technology commercialisation zones retain the reduced 14% rate of the unified social tax (UST) instead of 26% of salary that non-privileged employers have to pay for each employee. From 2011, the UST will be replaced with insurance contributions totalling 34%.

Unlike Silicon Valley in the US, which relies on a vast workforce of highly qualified immigrants, Russia has more in common with Bangalore and takes advantage of local talent.

However, Russian lawmakers are also taking important steps to attract foreign specialists and hope the new regime will also bring back those Russians who have worked in the IT sector in the US.

From January 1, 2011, the income tax for non-residents will equal the standard 13% rate for Russian citizens instead of the 30% that foreigners have to pay during the first six months of their stint in Russia.

Getting Russian visas will also become less painful. On July 1, 2010, the duration of working visas was extended from 1 to 3 years with multiple renewals, while the issuing process was shortened from 4 months to 14 working days.

Currently, the State Duma is mulling another law that would allow families of qualified foreigners obtain visas on similar terms. When the new regulation becomes operational, they will be able to get a working visa for the same period and renew it in the same way as the specialists without having to re-register at the immigration authority every four months.

"For Russia, Skolkovo is a testing ground for transition to an innovation economy," says Evgeny Fyodorov, chairman of the State Duma Committee for Economic Policy and Entrepreneurship.

The ambitious project forced his committee to revise existing economic legislation. Members of the Russian parliament have identified 113 laws that need to be updated. "Our job is to transform Russian science into an R&D business, create a technology market and establish a legislative framework for a new kind of industry," says Fyodorov, describing priority items on his agenda. He estimates this transition will take six to eight years.

In the short term, initial changes will be introduced in investment-related laws to establish simpler procedures for creating venture funds and start-up companies that rely on their financing, promises Oleg Fomichev, director of Strategic Management and Budgeting Department at the Ministry of Economic Development. The ministry is working together with state corporation Rosnano to draft the necessary amendments to federal laws and the Civil Code that will be submitted for the Russian Cabinet review this month.

Medvedev, a cheerleader of innovation, also emphasised "the work to alleviate the regulatory burden on investment funds" and "liberalisation of export rules for innovative products".
All rights reserved by Rossiyskaya Gazeta.