Indian spices tickle palate, spin money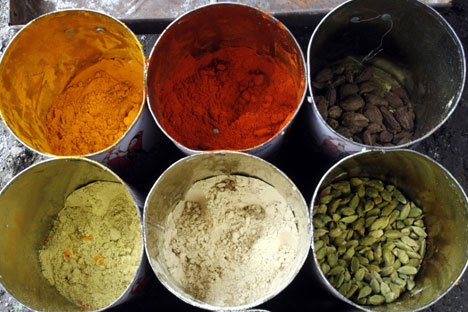 Jeeva Ponnuchamy, who came to study in 1990s,now owns three Indian Spices shops in Moscow.
Indian spices are the new flavour in Moscow. Russians spend $2 mn on spices every month.
When Jeeva Ponnuchamy came to Moscow from Tamil Nadu to study at People's Friendship University of Russia (PFUR) in Moscow in the late 1980s, he wanted to become an agriculturalist. He managed to adjust to the Russian winter and the ways of his new habitat, but his Indian palate had a difficult time liking Russian food. Cooking was just as hard, as there were no familiar cereals and spices in Moscow shops. Curry, turmeric, hot pepper, clove, cardamom, basmati, dal, mung beans, rice flour, Indian pickles, coconut and gingili oil – all these items were missing in Russian shops in the 1990s. Spices from Russia's Caucasus were available, but Indians did not like their quality and composition.

"The only popular spices in Moscow were black pepper and bay leaf, and when some of our friends went to India, we always asked them to bring at least 50-100 grams of spices. That was not enough. When we went ourselves, we would bring enough spices to last for a year," Jeeva recalls.

While Russia's spices market has now been growing 15-20% over the last few years, the consumption of food additives in the country remained very low for centuries. And this was not just because spices were expensive: the culture of spice consumption in Russia, whether home-grown or imported, didn't take root. Why? A study of some 5,000 recipes from almost 100 cook books representing 36 countries showed that the hotter the country's climate, the spicier the food, the more flavourings and spices are used in cooking, since hot sauces and spices have some antibacterial properties. In Russia, with its chilly summer and extremely cold winters, there was no such problem. Spices were a matter of personal whim, not a necessity.


Spice market: Vital stats
Russia's spices market, including in the food industry, is estimated at $110-120 million. In 2009, the market value grew 21.8% compared to 2008, MEMRB Retail Tracking Services calculated. It is expected to grow by 20-25% over the next few years. The structure of Russia's spices market has changed over the past two years, with universal and single-ingredient spices changing its market shares: the universal segment grew by 7.4% in volume in 2009. Packaged dill, parsley and other single-ingredient herbs saw a 13.1% drop in sales. At the same time, s pecial spices edged up 2% by volume. In terms of value, neither segment declined over the last few years. So, universal seasonings and special spices accounted for 27.7% and 20.3%, respectively, while single-ingredient herbs grew 1.3%. Interestingly enough, universal seasonings make up 60.4% in terms of volume.
This was, however, to change at the end of the 20th century. As a result of globalisation and cultural interpenetration, not only did spices become cheaper, but also much more popular. The globalising culinary industry also played its role in whetting Russians' appetite for spices.

Ponnuchamy graduated from PFUR in 1994, but instead of returning to India and continuing the family business of growing sugarcane and cotton, he stayed in Moscow. Using their student cash savings, he and his friends leased a small area in the hall of one of PFUR's buildings, where they set up a kiosk and purchased some food products in the wholesale market to start their small business venture.

Ponnuchamy used his first earnings to go to London to visit his relatives. Walking through an Indian quarter, Ponnuchamy was surprised to see many shops selling authentic Indian products, mostly spices. There was nothing like this in Russia. Even the import of the most popular spices, such as ginger, coriander, caraway, and cardamom was suspended following the collapse of the Soviet Union.

He brought several boxes of spices from his next trip to India, which he began to sell through his kiosk. Little by little, Indian products sidelined everything else and the first shop was opened soon after.

"Of course, we used advertising. First we distributed leaflets; later we began to hand out our ads on the streets and in the metro. Yet, the most effective advertising was through customers themselves," he recalls. When restaurants began to buy his spices, Ponnuchamy realised that "suitcase" trips could not satisfy the growing demand. The first container came from India by sea in 1995. Yet, it could not leave the customs terminal for a long time due to difficulties with product declaration: it was hard to find customs codes for some spices, especially for those that had not been imported to Russia before. Over the next three years, the shop already had a loyal band of customers. Ten years later, not only foreigners but also Russians became Indian Spices' regular patrons. This shop still exists, but it has grown in size. Another three outlets have been opened in Moscow, and there are plans for a shop in St Petersburg too.

Ponnuchamy had to adjust his business to Russia's specific climate: liquid products such as rosewater or coconut oil can't be transported in winter because of low temperatures. Containers could get stuck at interchanging ports, products would freeze, and packaging might burst in extreme cold. Such goods can only be transported in summer for the whole year. In the winter, oils, sauces and other liquid products come from heated storage facilities. "The biggest problem faced by any foreigner planning to open a business in Russia is the language barrier. Knowing English is not enough to run a business; you have to understand what the locals say. The second major problem is legislation and its hidden pitfalls. It is important to have a good knowledge of customs regulations," he says. Another problem is Moscow's high rental, which is so high here that the business does not always pay off.


Foreign brands proliferate
Russia's spices market is currently dominated by foreign brands, including from China, Vietnam, India, Indonesia, Egypt, Nigeria, Brazil, Peru, Mexico and some European countries such as Holland, Poland and Turkey. According to customs figures, most spices come from Vietnam (25%), followed by China (24%), India (9%), Uzbekistan (8%), Indonesia (7%), and Poland (7%).
Over the past two years, the following five companies have kept the lead, retaining their positions, despite slight changes in their market shares: Maggi (Nestle SA, Switzerland); Knorr (Unilever holding company); Vegeta (Croatian company Podravka d.d.); Poland's Cykoria S.A; Gallina Blanca (Spain's Gallina Blanca S.A).
But despite these limitations, Jeeva is optimistic. Russia's spice market has not slowed down despite the economic crisis. One of the main reasons behind the booming growth is high profit margins, verging on 100%.

According to the Business and Marketing company, Muscovites purchase spices worth some $2 million every month. "The culture of spice consumption lost in the early 1990s, is on the rise again, just as people's interest in a healthy diet," says Ekaterina Petrova from Vremya & Co. "More and more people have been choosing a healthy lifestyle recently. With this in mind, we can expect the appearance of specialty shops soon that will be promoting spices and flavourings not just as food additives, but also as medications."

For Jeeva, the thriving business in Moscow has spiced up his life. He travels to India twice a year, mostly for business. and is fond of saying he has "two homes now". Jeeva has come to love some Russian dishes, including borscht (beetroot soup) and pelmeni (boiled dumplings with small portions of ground meat and onion), which he orders whenever he goes to Russian restaurants.

The Indian Spices shop has long outgrown its name, selling products not just from India, but also from China, Japan, Thailand, and Mexico. The product range had to be extended after requests from PFU students. Chinese students wanted to see more noodles of various kinds, and Latin American students asked for their traditional sauces. Students from Arab and African countries are also frequent visitors here, though there are no special offers for them. The customers are growing by the day: some come for tea, some ask for ayurvedic cosmetics and hair dye, and others were taken by the Indian culture, hoping to understand it better through food.
All rights reserved by Rossiyskaya Gazeta.