Polishing a comeback strategy in familiar turf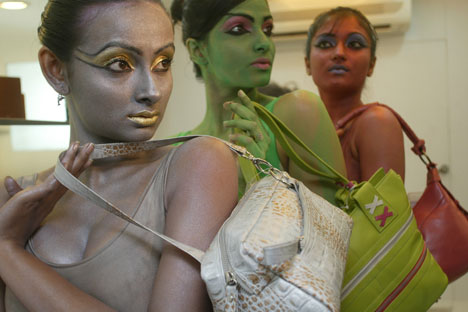 Indian leather manufacturers are determined to recover their lost positionsin Russia. Source: APPHOTO/BIKASDAS
Indian leather exporters, who once shone brightly in the Soviet market, are now crafting a strategy to recover their lost position.
In good old Soviet days, Indian leather goods shone brightly in the Russian market. In the late 1980s, the USSR accounted for about 20% of Indian leather and leather goods exports, but over the years, China has emerged as the leading exporter of shoes to Russia. Over the first six months of this year, shoe exports from China to Russia through the Manzhouli border crossing checkpoint hit a record high of 1.23 million pairs of shoes, which is 46.6% up year on year.

But Indian leather exporters have not been sitting idle. They are determined to recover their lost position in the Russian market. In the liberalising 21st century, the Indian government is promoting leather exports through a slew of initiatives including the implementation of simplified customs procedures and allocation of funds to manufacturers to help streamline technology. The manufacturers are also being encouraged to modernise industrial facilities to develop the infrastructure and ensure environmental safety of manufacturing.

The Council for Leather Exports, supported by the Indian commerce ministry, has thrown its weight fully behind this mission by providing support to companies, which are seeking partners in the Russian market or looking to organise their own distribution business in Russia.

Presently, Germany, Great Britain and Italy are the principal markets for Indian leather manufacturers. Export of leather and leather goods to Russia accounts for less than 1% of Russian imports or approximately $20 million, a meager amount given that Russia is the 11th biggest importer of leather and leather goods in the world. Russia imported leather goods worth $3,296 million in 2008. The growth rates of leather imports are also impressive - 68% annually before the crisis.

The trends in the Russian market have been encouraging. Russian manufacturers have less than 15% of the shoe market, but the business is changing for the better. Over the first eight months of 2010, leather and shoe manufacturing grew by 10.9% and 23.4%, respectively.

India, however, has three interesting offers that will find a ready market in Russia, feels the Russian Union of Leather and Shoe Manufacturers. Says Nelli Myakunova, president of the union: "Russian trade firms supply leather to Russia from India. This leather, called yuft (Russian leather), is used to manufacture special and work shoes. Indian leather is much cheaper than Russian and only an eighth of the price of leather imported into Russia from other countries." According to the union, Russia imported 893 metric tonnes of Indian leather for only $900,000 in the first quarter of 2010. This is not much. Clearly, there is enormous growth potential.

Second, there are supplies of shoe uppers. Deliveries of shoe uppers are already under way and can gradually increase. The customs statistics indicate that 387,000 pairs of shoes worth $900,000 were imported from India to Russia during the first six months of 2010. This accounts for 0.2% of total shoe imports. During the same period, 137.7 metric tonnes of shoe uppers, worth $1.6 million, were imported, accounting for 7.8% of Russian imports of shoe uppers. Finally, Russia could collaborate with India in the same way as the European producers. The leather manufacturers' body says that low production costs in India are increasingly more appealing to Russian shoe manufacturers.



'Our products enjoy greater confidence'

Nidamarti Mallikarjuna Rao of the Council for Leather Exports in Moscow, is upbeat about the Indian leather exhibition.


Are Indian leather producers planning to expand in the Russian market?

Nidamarti M. Rao: Representatives of 33 Indian companies producing leather bags, clothing, footwear and accessories, will be coming to Moscow on November 22. This exhibition is our first experience in Russia. Previously, we used to bring our leather producers to Russia as a part of general exhibitions and fairs. This time we are holding a separate leather exhibition. We sent invitations to 4,500 Russian companies that sell leather items and footwear. We hope they will come. At this point, any effort will be positive. Things will be more certain after the exhibition, when we see who came, what kind of buyers, and whether any contracts are signed.

Do you have any idea which Indian products will be in demand in the Russian market?

Nidamarti M. Rao: Companies are asking what samples to bring. I don't know. On the one hand, people here are not very rich. On the other hand, Russians dress very stylishly, preferring to buy one expensive item rather than a lot of cheap ones. As Indian companies make products for almost all the global brands, I am sure they have relevant experience. Take footwear products: the Russians will be closer to Italy in terms of demand. The British model, for instance, won't work here. British boots can be passed on to your children, whereas, in Italy, fashion changes every six months. Russians, too, love fashion and style.

What are the prospects for Indian producers in Russia? Will there be more competition?

Nidamarti M. Rao: The Soviet Union was the Indian leather industry's biggest partner. After this partnership collapsed, we began to look for other markets.
Our companies had to improve the quality of their products. Today, India is an important player in leather export markets. We supply products to the US, which is our main partner now. It appears that breaking up with the USSR was good for our leather industry. Previously, we just delivered our products and collected payment; now we have to improve the quality. Russia has always worn leather and it always will. We don't have too many rivals. India produces leather for such brands as Pierre Cardin, Tommy Hilfiger, Versace, DKNY, and Hugo Boss. I think Indian products have a small psychological advantage. Russians have more confidence in Indian products and we produce better quality items.
All rights reserved by Rossiyskaya Gazeta.