Obama and Medvedev don't have to share India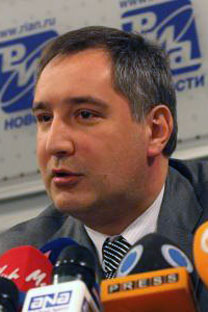 Source: Reuters/Vostock Photo
No doubt, there will be commentators, again, in India, Russia and the United States, who would say that Obama (or Medvedev) won the American-Russian contest for India.
But they will be fundamentally wrong. Certainly, the last two decades since 1990 – a milestone year that ushered in an era of global political changes – have brought much disappointment to those who, at that time already, saw the American-Russian standoff around the globe as a stupid and incredibly expensive folly. Indeed, over this period Moscow and Washington have occasionally slipped back into playing a game of tug-of-war, in one country or another. But on the whole, this game has lost much of its appeal and importance, bringing satisfaction only to those who got used to such entertainment.

Obama and Medvedev don't have to carve India up. The only area where we can see Russia and America truly locking horns is not even arms supplies as such but India's tender to buy modern fighter jets. But is such competition bad for India, the United States or Russia? May the strongest win. May India get the best fighters that meet its requirements.

Another potential bone of contention is India's nuclear power industry. Yet, at a closer look it appears that Russia and the United States are not contesting the same sites for power plant construction. Following the completion of two 1,000 MW reactors in Kudankulam – which could have been built faster, frankly speaking, – Russia will launch several new nuclear power projects, according to the "one thing at a time" principle. The Americans won't get their hands on these projects if the Russians act promptly and well. Accordingly, American sites will remain for the Americans, provided they do their job properly. All in all, there is enough work for everyone.

Are there any other potential sources for Russia and America to battle it out over in India? The answer is no, actually, if we speak of the economy in general. We should not forget that Russian-Indian trade in 2010 is unlikely to reach the previously set target of $10 billion. This means that not just the United States, but also China and many other countries are ahead of Russia on Indian markets. India, too, faces problems on the Russian market: while its pharmaceutical products are in demand, along with some food products, there is little enthusiasm for anything else produced in India.

The thing is that what Russia and India can export does not ensure their success on each other's consumer markets: such are their economic structures. Meanwhile, decade-long efforts to find key areas of Russian-Indian cooperation boil down to one word: technology. Little by little, some progress has been made in joint technological projects; this is where the potential lies. As it seems, President Medvedev's visit to India could have to do with Bangalore and what it symbolises. And yet, this does not mean that Bangalore or any other information technology centres will turn their back on Washington after Medvedev's visit.

So, where else in India can Russia and America cross swords? How about with exporting their films and literature? For all my love for Russian art, making any comparison here is pointless. In theory, Russia's films and literature might compete not just with America, but even, perhaps someday, with European countries, for which I have greater respect.

Going back to global politics, I would like to express hope that pushing the reset button on Russian-US relations will extend beyond the already signed agreements on strategic arms. We can expect an increase in cooperation between Russia and NATO: the results of the forthcoming Lisbon summit could be worth noticing, and Dmitry Medvedev is scheduled to be in attendance. Russia and the West could cooperate in many areas, including missile defense and combating drug trafficking in many places, including Afghanistan; there are many other potential areas for cooperation.

In fact, if anything can strain relations between Moscow and Washington, it is if Obama tries to pit India and China against each other. According to Washington, this is none of Russia's immediate concern, but still, it would create significant problems for Moscow. And yet, the context here is completely different from that during the Cold War, when the United States and the Soviet Union clashed anywhere under the sun, including in Mozambique, Vietnam or Grenada…

Old habits die hard. The bipolar world suited many politicians, who exploited the antagonism between the United States and the Soviet Union for their own ends. There are politicians like this in Europe, Africa and Latin America. Many media observers believe so, too. But I think Indians are too smart to behave in the 21st century as if we were still in the 20th century.
All rights reserved by Rossiyskaya Gazeta.