Preliminary census results show population drop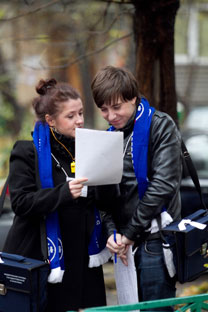 According to preliminary results of this fall's Russian census reported by Bloomberg, the population of Russia could have fallen by as much as 4.8 percent since the collapse of the Soviet Union in 1991.

On Nov. 8, Rossiyskaya Gazeta, citing Alexander Surinov, head of the Federal Statistics Service, reported that early data showed the population at 141.2 million. However, Surinov said that the figure may rise after polling is completed in remote areas and Russians living abroad are included.

According to the All-Russia Center for Public Opinion (VTsIOM), which conducted a poll on experience with the census at the end of October (results here) approximately 11 percent of Russians declined to participate in the count, which takes place at irregular intervals. The last census was conducted in 2002.

Despite the negative trend noted in the census, other data from the Federal Statistics Service shows that Russia's demographic situation is slowing improving. This summer, the agency released numbers showing that the number of births increased 2.3 percent, from 12.1 percent to 12.4 percent while the number of deaths fell from 14.6 percent to 14.4 percent.

These numbers do little to address concerns over the shrinking percentage of the working-age population, though, which will put pressure on Russia's capacity for economic growth. Given this situation, the Kremlin may be inclined to ease migration rules. A simplification of internal migration policies would make it easier for those who can work to move to regions with jobs and simplified visa rules for workers from outside Russia could contribute to the country's demographic growth as well as economic development.

Russia's population peaked at 148.3 million in 1991 but had declined to145.2 million at the time of the 2002 census.
All rights reserved by Rossiyskaya Gazeta.