BRIC and South Africa: Can it become BRICS?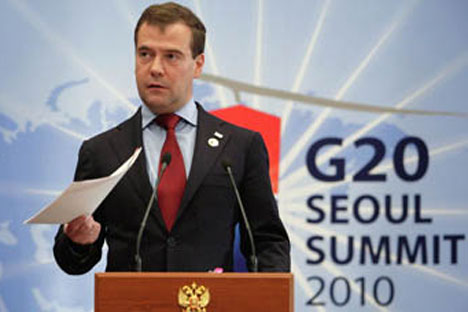 Russian President Dmitry Medvedev.Source: RIA Novosti.
The rapidly developing countries of BRIC (Brazil, Russia, India, China) approve of the idea of South Africa's admission to the forum, Russian President Dmitry Medvedev said during the G20 Summit.

"There are a number of requests from countries to join the BRIC group, including the request from the Republic of South Africa," Medvedev said at a press conference in South Korea.

"We respond positively to these types of requests, and in this case [South Africa's request] today there is a consensus among all the BRIC countries. So, make the conclusions yourselves," he added.

BRIC has "a bright future," Medvedev said, adding that his vision was based on a number of recent decisions, in particular a redistribution of votes at the IMF.

"This redistribution was directly influenced by the activity of BRIC as an informal group of fast growing economies," he said.

"This is why all the four BRIC countries are among the 10 countries that have the largest number of votes, shares at the IMF."
All rights reserved by Rossiyskaya Gazeta.