Reasons to kill a journalist in Russia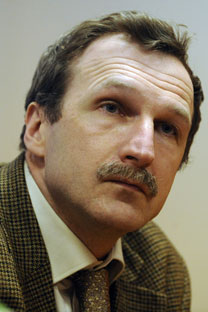 Georgy BovtSource: PhotoXpress
Last week, Oleg Kashin, a reporter for the major Russian daily Kommersant, was beaten half to death near his home in the historic center of Moscow. The same day, a CCTV recording was "leaked" on the web in which you cannot discern the faces of the attackers, but can clearly see that they were beating the reporter not merely to intimidate or "warn" him, but to kill him. It is a miracle that he survived after being clubbed so many times over the head with an iron bar.
This is yet another brutal attack on a journalist in Russia, where eight people have fallen victim to violence this year alone, murdered "for their profession." A total of 40 assaults have been reported.

About the same time, another journalist was assaulted — thankfully with less severe injuries — in the Moscow Region town of Zhukovsky. A writer for a local newspaper, this journalist has been a vocal critic of extensive tree removal in a neighboring forest as part of a road-building project. Two days before Kashin's beating, Konstantin Fetisov, an environmental activist, was savagely battered in Khimki, another town on the outskirts of Moscow. He remains in a coma.

All these attacks have made headlines in both the print and web-based media, but it was the murderous beating of Oleg Kashin that caused a firestorm across the journalistic community. It was covered, uncharacteristically, by all the national television channels. The same day, President Dmitry Medvedev made a public statement offering assurances that the culprits would be punished and that he would personally oversee the investigation. The police have committed huge resources to investigating the crime. Although not a single high-profile attack on a Russian journalist has been successfully investigated (hitmen have occasionally been caught, but police never find those who commissioned the murders), this time the authorities appear resolved to achieve a more impressive result.

Why are journalists beaten and murdered in Russia? Unless it is in the Caucasus, where homicidal score-settling is a common pastime that can be easily provoked by a variety of pretexts, other Russian regions are not so politically vibrant as to make killing of one's opponents worth the risk. As a rule, the real causes lie in commercial interests — often associated with government corruption — that were or could be potentially jeopardized by public revelations. Obviously, pressure campaigns by local environmental groups against road construction like in Khimki is at odds with the aims of certain vested interests, which are commonly intertwined with corrupt local or federal officials who are lining their pockets off big contracts.

The media and a share (although not the majority) of the public not indifferent to such outrages keep wondering who would want Kashin dead, and why. Everyone invariably, almost by reflex, comes up with the worn-out line that the police will probably find the attackers, but there is little chance of getting at those who ordered the killing. Some have also proposed new laws to protect journalists.

Such legislative protection is clearly welcome, but to make such safeguards work, even if passed into law, Russian society must undergo a course of political therapy. There are many countries in the world, including the best-off nations, where journalists are murdered. Still, as a rule, they are in greater danger in societies that have little respect for the Word and for real information.

For Russia, this "therapy" should have the primary objective of making society more open: Put pressure on authorities to publish information. Forbid the arbitrary use of classifying documents "secret," and stop the official-use-only game. Systematically punish those who withhold information and ignore data requests from the press. Finally, adopt a law on freedom of information. All these steps combined will reduce risks for journalists. The more accessible information about government bodies and businesses is, the more ingrained the habit of talking to the press through something more than clenched teeth, the weaker the motivation for killing those who say or write what to some seem a word too much.
All rights reserved by Rossiyskaya Gazeta.