Good news or bright packaging?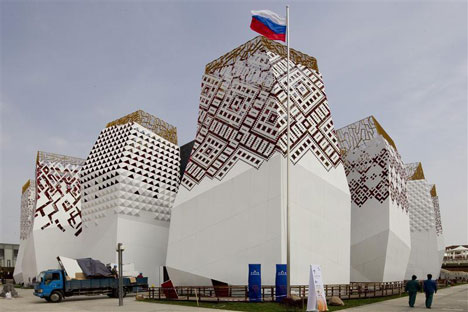 Source Reuters/ Vostock Photo
Konstatin Rykov, a prominent Russian online media producer and public figure, has published an edgy article about something I have been itching to write about myself, but felt shy. Rykov wrote that Russian journalists eagerly pounce on bad news like hungry wolves on exhausted prey, but, regrettably, ignore good news. We are all such information masochists.

As a counterpoint, Rykov has spotted good news and offered it to the Russian public to relish. As the 2010 World Expo closed in Shanghai, Russia was awarded the second prize for its "Better City, Better Life" theme at the exhibition.

Rykov writes:"This is not simply a real victory gained in a tough and open competition. This is a silver medal won at the world championship of modernization ideas and solutions involving 200 nations!"

He continues: "It is simply mind-boggling how much abuse our pavilion had to withstand, from, of all enemies, the Russian media … All I read in our media and blogs about the Russian pavilion at the 2010 World Expo weren't just fibs. That would be way too mild. It is a pack of outrageous lies."

One of the reasons for such "media abuse" against the Russian pavilion was the original choice of its symbol, "Neznayka," a well-known character from Russian children's books. This mischievous and, indeed quite ignorant, but curious and resourceful boy was supposed to symbolize the burgeoning zest for knowledge, but none of the Russian PR team, led by Boris Krasnov, bothered to investigate how the symbol would come across to the Chinese, who translated his name as "a small ignoramus." The only thing that got through to the Chinese people, for whom youth is associated primarily with being immature, was Neznayka's ignorance. To fix the problem, the entire concept of the pavilion had to be urgently reimagined while the international exhibition was in full swing. The emergency re-styling cost Russia 700 million rubles (about $23 million dollars).

But in spite of the messy start, Russia emerged with flying colors and a silver medal, apparently for getting across the spirit of the simple, yet profound, idea "Better City, Better Life." Well, time to rejoice. Forewarned by Rykov, we will be careful not to descend to outrageous lies and stick to the facts as presented on the official Russian 2010 Expo website. If you visit the site, which is in English, you will see that the Russian pavilion hosted displays highlighting a number of Russian regions, boasting local examples of better life in a better environment.

The Yamal-Nenets Autonomous Region, located in the gas-rich Arctic, thanks Gazprom for using highly durable insulated pipes for its gas network and providing passages for reindeer in order to preserve the tundra ecosystem.

The Novosibirsk Region in southern Siberia is portrayed as a unique center of science and technology. In Winter 2008, Novosibirsk experienced disastrous oil spills from the Omsk-Irkutsk pipeline, which were conveniently "cleaned up" by Transneft, the pipeline operator, who covered them over with a layer of earth and reed. Perhaps Gazprom would have done a better job? The regional 2010 Expo display was reticent on the subject; instead, it presented "a unique and environmentally safe UV printer that can print on various surfaces."

Tula, in central Russia, is the home region of Leo Tolstoy. Full stop. According to the organizers, this is the only achievement of which the region can be proud.

Two-thirds of the Amur Region in the Russian Far East is still covered with forest, which is harvested for export mostly to China and other Asian countries. In the long term, of course, Russia plans to process its timber at home. But so far, extensive timber harvesting has been encroaching on the habitat of Amur tigers.

The matryoshka was hyped "as a symbol of the historical heritage of Nizhny Novgorod and quintessence of basic urban values," and also as "an image of Orthodox Russia." The quotes come from the official website. But I know how little Russia cares about the matryoshka—which was originally modeled after a Japanese doll—and how little it means for such a major trading center as Nizhny Novgorod. This "symbol of historical heritage" sounds like a very bad joke.

Moscow's booth showcased ostensibly unfeasible transportation schemes to decongest the crowded roads of the Russian capital.

St. Petersburg, as the Russian concept designers suggest, maintains its glory exclusively due to the preserved integrity of its historic cityscape. This is the cityscape to which Gazprom seeks to add its heritage-shattering skyscraper.

By the time of President Dmitry Medvedev's visit to Shanghai, the Russian pavilion had been reinforced with displays of recent mega-projects, including the Skolkovo innovation center, Sochi 2014 Olympics, APEC summit infrastructure, North Caucasus tourism zone, and Rosatom nuclear technology. It seems that the exhibition, which was supposed to inform the world about Russia's new projects, had one key visitor—the Russian president.

I feel sorry having to write all of this because I fully agree with Rykov's premise. I detest the "information masochism" of the Russian media and would like to see a fairer share of good news. I also have nothing against political promotional campaigns. This time-honored fanning of the peacock's tail has been a proven method of telling the world about a nation's successes. But it really hurts when instead of "good news," someone tries to feed you phoniness.
All rights reserved by Rossiyskaya Gazeta.