My kiosk vendor, my friend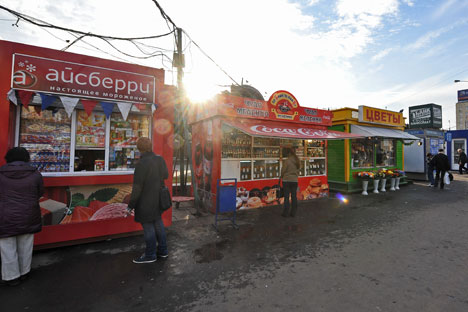 For a long time now, I have followed the changing fortunes of kiosks in Moscow. Their existence has been a precarious one for years, and after every decree that they must be closed, I watched closely the alley behind my metro station, hoping that the promises would be just empty words. And usually they were. Now, however, it seems that the end is near for Moscow kiosk culture. The Moscow Times reports that Mayor Sergei Sobyanin fired the head of my former region, Presnensky, reportedly over kiosk violations. I frantically visited Google Earth to see if it were possible to ascertain if the kiosks behind Krasnopresnenskaya were still standing. (It seemed like they were, but it was also dark).

Buying food from kiosks was a fundamental experience of my life in Moscow. From listening to people in line at the Kroshka Kartoshka, I learned that knowing the right thing to say and knowing the right way to say it are two very different things. From the surly woman who manned the fruit stand, I learned that vendors will be your friend (and less likely to sell you the bruised bananas) if you give them exact change. And the three women—Zhenya, Ira and Lena—who worked at our Teremok were some of my closest friends in Russia. They watched my children grow from toddlers who gnawed on plain blini to little girls who could order their toppings in perfect, unaccented Russian. They are probably the reason my daughter L's first word was "ham"—her blin of choice, ham and cheese. I cried when I told them we were moving away.

Sobyanin has some valid points. He argues that the kiosks are unsanitary, and I'm not sure I would argue that this isn't the case. I'll admit that the blini were slightly better at the stand-alone Teremok by Red Square or the one in the food court at the Evropeisky mall; I never ordered potatoes with any mayonnaise-based salat from Kroshka Kartoshka in the summer; and I've had my share of undercooked shawarma. But even Sobyanin's checks showed fewer than 10 percent of the kiosks actually in violation.

The mayor also says that the kiosks hampers pedestrian traffic headed into metro stations, and this is undoubtedly true, but think about how unhappy those people are going to be if they can't grab a cup of coffee (ok, a beer) before heading into the subway on the way to work.

One of former Mayor Yury Luzhkov's arguments against food kiosks was that civilized countries didn't have them. But on a visa run, I once bought a potato from a stand at Helsinki harbor; New York is known for it's hot dog stands; and in DC, food trucks drive around downtown during the lunch hour, posting their locations on Twitter. I, for one, found greater comfort in knowing exactly where I could buy my blin every day, and who was going to sell it to me.
All rights reserved by Rossiyskaya Gazeta.