Russia-China-India Trilateral: Calibrating a Fine Balance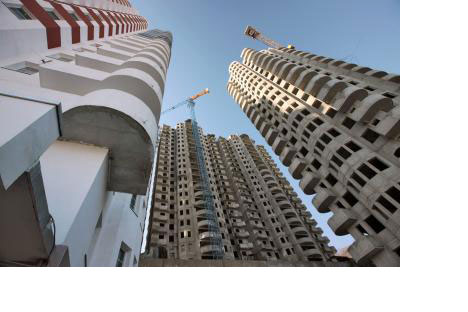 China's Foreign Minister Yang holds hands with his Indiancounterpart Krishna and Russia's Foreign Minister Lavrovat their meeting in Wuhan.Source: euters/Vostock Photo
The Russia-China-India trilateral was held in the Chinese city of Wuhan, November 14-15. India's External Affairs Minister S.M. Krishna, Chinese Foreign Minister Yang Jiechi and Russian Foreign Minister Sergei Lavrov were participating in the meeting.
Prime Minister Dr. Manmohan Singh had met his Chinese counterpart Wen Jiabao on the sidelines of the ASEAN Summit in Hanoi only very recently and had a free and frank exchange of views on issues that have a bearing on the bilateral relationship including the difficult ones. The meeting created a positive atmosphere in the relationship between the two countries, which was somewhat vitiated by unsavoury incidents such as the issue of stapled visas to Indian citizens from Jammu and Kashmir. Earlier, in September, there was also a summit meeting between the Russian President and his Chinese counterpart in Beijing. In addition, there was a summit level meeting between Prime Minister Dr. Manmohan Singh and US President Barack Obama in New Delhi on 8 November. It was followed on November 12 by Chinese President Hu Jintao meeting Barack Obama on the margins of the G-20 meeting in Seoul. All these engagements at the highest level between and among the stakeholders create the perfect connect for the Wuhan trilateral, because this nascent nomenclature was looked at with a degree of suspicion by the US.

International politics is changing so fast that it requires a degree of human ingenuity to grapple with geopolitical dynamics on a continuous and concurrent basis, and regional and sub-regional groupings are required to re-position and address themselves to emerging realities thoughtfully and imaginatively. The India-China-Russia trilateral is still at a nascent stage. The idea was first conceived by former Russian Prime Minister Yevgeny Primakov and was dubbed by the Russian media as 'Primakov's Triangle'. Initially both China and India had reservations at being identified with the grouping, as their relationship with the USA was quite comfortable. The convergence of economic interests and the imperative of mutual cooperation, however, provided the glue to put up the nomenclature in a proper perspective.

It was against this backdrop that an informal luncheon meeting between the Foreign Ministers of India, China, and Russia took place on 14 September 2002 on the margins of the 57th session of the UN General Assembly in New York. The meeting did not have any agenda and it was decided to continue contacts in this format.

The first ever foreign ministers' level meeting of the three countries held in June 2005 in Vladivostok, Russia, had aroused considerable interest among observers, with analysts believing that the dialogue may be acquiring a strategic dimension. Since then, the foreign ministers of the three countries have met ten times on different occasions including exclusively for meetings of the trilateral and exchanged views on issues of common concern.

The last meeting was held in Bangalore on October 25-26, 2009 and was attended by S M Krishna, Sergie Lavrov and Yang Jiechi. In recent times, there has been considerable synergy among the three countries.

The importance of the trilateral initiative can be attributed to the fact that India, Russia and China, as countries with growing international influence, can make substantive contributions to global peace, security and stability. It is increasingly felt that cooperation rather than confrontation should govern approaches to regional and global affairs.

The three countries together encompass approximately 40 per cent of the world's 6.5 billion people. There is no military angle to this tie-up and it is aimed at promoting international harmony and facilitating mutual cooperation in a multi-polar world. As India, China, and Russia enjoy economic growth and development never before seen in their history, they appear to have a lot to contribute to each other's growth and become a force to reckon with on the international scene.

Vladimir Putin, the prime minister of Russia, has been pressing for a multi-polar world. Russia believes that multilateral diplomacy based on international law should manage regional and global relations. In his famous Munich speech, Putin had said that a "unipolar world had failed to materialise and the new international system has not one but several leading actors and their collective leadership is needed to manage global relations." He further said that this multi-polarity encourages a network of diplomacy as the best way for states to achieve their shared objectives.

India is of the view that trilateral cooperation would help in contributing to peace and development in the region and in the world at large. Russia too is of the opinion that as the three countries uphold the concept of a multi-polar world and frequently take similar stands at multilateral bodies, they could utilise the synergy to promote their domestic economic development.

China has been articulating the view that the three countries could join hands in several fields, including trade, energy, and science and technology to broaden strategic ties with each other. In this context, the trilateral meeting assumes significance because the forum of foreign ministers could be useful to chalk out a concrete road map for future cooperation.

The trilateral is not a pipedream or rhetoric. It has the potential to promote and facilitate regional security and stability and also provides a good platform for bilateral meetings on its sidelines. On the issue of terrorism, which afflicts all three countries, they can effectively and meaningfully collaborate and cooperate. They can also work together in disaster mitigation and management. It may be mentioned in this connection that when a massive earthquake occurred in China's Sichuan province in May 2008, India and Russia rose to the occasion to provide the disaster areas with valuable assistance. In a paper presented at the ninth China-India-Russia Academic Trilateral Conference held on 7-9 December 2009, Prof. Ma Jiali of the China Institute of Contemporary International Relations, Beijing placed on record the gesture of the Indian Government for promptly providing aid worth $500 millions through the Indian Air force to disaster areas in Sichuan. Prof. Ma in his paper also recalled that Russia not only sent professional rescue teams for emergency relief work in quake-stricken areas, but also supplied rescue materials and provided invaluable support to help China handle the crisis arising out of the devastating earthquake. Russia had also sent the large transport aircraft IL-76 and several Mi-26 helicopters that executed 30 missions in highly difficult and high-intensity situations.

The context in which the RIC was conceived has changed somewhat. Now there is a churning in international relations, where the buzz-word is engagement and not containment; cooperation, not conflict. In this transformed geo-political context, RIC must re-invent itself and address emergent issues, such as tackling the menace of terrorism, climate-change, world-financial crisis, etc. The margins of its meetings can also be thoughtfully utilized for bilateral engagements between and among the three member-states for regional stability and prosperity.
---

Originally published by Institute for Defence Studies and Analyses at www.idsa.in
All rights reserved by Rossiyskaya Gazeta.