Russian language changes as it goes global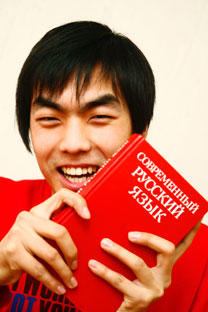 In Soviet times, Russian was a regional language with global ambitions. It was one of the official languages of the UN Security Council, but it was not as widely spoken as French or Spanish. At the same time, it was the lingua franca in socialist countries and in Asian, African and Latin American nations where the Soviet Union was training "builders of socialism." Even in the post-Soviet world, where nationalist ambitions have emphasized the teaching of local languages, Russian remains the common tongue of many. And it is still possible to come across, in the unlikeliest spots on the planet, people who studied Russian for the same reason as renowned Soviet poet Vladimir Mayakovsky, who famously wrote, "I would learn Russian if only because Lenin spoke it."

A Berlin cab driver from Iran who studied Russian in Baku in the 1970s, or an Afghan doctor from Bremen who learned Russian at a medical school in Krivoy Rog in the 1980s are not just fragments of a former empire, but part of a global network of Russian speakers. The Soviet Union has fallen apart, Russia's territory has shrunk, but the Russian language continues its march around the globe. The growing Russian diaspora has created environments that allow Russian-speakers to feel at more at home in Kiev or Tbilisi, New York or Paris, Helsinki or Berlin as they would in Moscow or Voronezh. And Russian-speakers have found an additional home on the Internet. The majority of users of the Russian segment of the web are thought to be outside of Russia. Technology has helped preserve not only a language but also a way of life that might have been lost to these immigrants.

And yet, the language continues to change. The linguistic education of parents and grandparents is supplemented by or even replaced by the turns of phrase brought about by new speakers. Foreigners who see opportunities for a better life in Russia, whether they be taxi drivers from Central Asia or Finnish software engineers hoping to work at Skolkovo, learn and speak the language in their own way. The new global Russian is a far cry from the Russian that was taught to foreigners by university-trained philologists.

Nevertheless, the language of new linguistic trendsetters needs to be studied too. After all, a language only acquires global status when others have to learn it—whether to find a job, communicate with colleagues or investigate crimes. Today those learning Russian are not so much interested in the language of space technology or the poetry of the Silver Age as the jargon of politicians and truckers, pimps and drug pushers, cops and insurgents.

Last summer, an American soldier who speaks excellent Russian admitted that in some regions of Afghanistan, Russian goes down better with the local people than English. "It's better in terms of survival," he said. "Well," I thought, "native speakers too need their language for survival." But I did not say it aloud. I had an answer to the question whether or not Russian today is a global language.
All rights reserved by Rossiyskaya Gazeta.