Good news from the Russian-Indian intergovernmental commission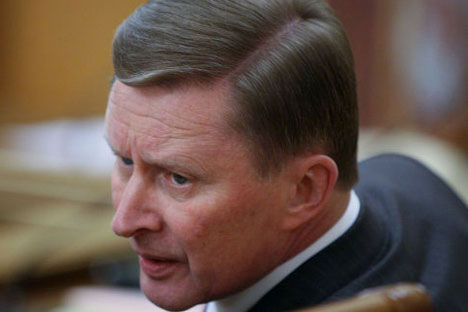 Russian Deputy Prime Minister Sergei Ivanov. Source: RIA Novosti
"According to an expert evaluation, this year trade turnover will total $9.2-9.3 billion, and possibly even more," russian Deputy Prime Minister Sergei Ivanov told journalists after a meeting of the Russian-Indian intergovernmental commission on November, 18.

The projected figure is a threefold increase on the $3 billion trade turnover recorded in 2005.

Ivanov set the task of doubling the figure to $20 billion in the next five years.
"If we have managed to triple trade in the past five years, why can't we double it in the next five?" he asked.

The deputy premier said Russia and India have scope for developing cooperation in the high-tech, space, power, agriculture and pharmacology industries.

Moreover, two countries are highly likely to sign a fifth-generation fighter design contract in December.

Russia's Sukhoi holding and India's Hindustan Aeronautics Limited (HAL) agreed in early 2010 to jointly develop a fifth-generation fighter jet. India confirmed that it had finalized a draft contract at a meeting with Russia in early October.

"If all procedures are completed by the time of our president's visit to India in December, the contract will be ready for signing," Ivanov said.

The new aircraft will be based on Russia's T-50 prototype fifth-generation fighter, which has already made several test flights, and is expected to enter service with the Russian Air Force in 2015.
All rights reserved by Rossiyskaya Gazeta.