110 and going strong: A saga of time-tested friendship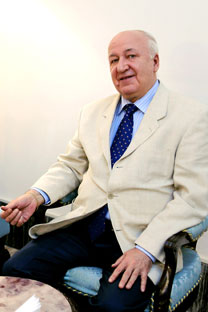 Alexander Kadakin,Russia's Ambassador to India
Russia's first Consul General in India sowed the seeds of Indo-Russian friendship in 1900, which have now blossomed into a thriving multi-faceted partnership.
It was a truly auspicious day when in November 1900 Bombay (now Mumbai) saw the opening of the first Russian diplomatic mission in India, which was then temporarily located in the gorgeous historical building of the iconic Taj Mahal hotel. This event crowned more than three decades of efforts by Russia in opening of its official gateway to the largest country of South Asia.

It is an apposite time to remember today the pioneer of Russian diplomacy in India, Otto (William Oskarovich) von Klemm, his selflessness and dedication which made this arduous task a success. At that time India was not yet an independent nation, but it was in those years that the foundation of Russian-Indian relationship was laid. As many documents testify, British officials acknowledged highly the professional background, intellectual sophistication, vast knowledge and erudition of the Russian diplomat, who by that time had already had wide experience of working in Central Asia – Bukhara, Tashkent, and Ashgabat. However, his skill in forging friendly contacts with representatives of various ranks of Indian society, made the British alert and even frightened. It is obvious from one of the confidential despatches which read that Otto von Klemm "had a real taste for oriental languages and life, it would be difficult to replace him and, in addition it would be a hardship to remove him".

Undoubtedly, von Klemm was a man of mission. Even personal tragedies like the death of his little son did not affect his personal commitment for the diplomatic service.

Although the first Russian diplomatic mission operated in Bombay for quite a short period and after 10 years was shifted to Calcutta, it was instrumental in striking the first Russian-Indian acquaintances and in forging trade and scientific contacts. While colonial authorities viewed von Klemm's activities with great suspicion, the Russian diplomat was esteemed highly by the Bombay elite. It is no secret that Klemm attended rather risky meetings and even forged friendship with iconic freedom fighters like Bal Gangadhar Tilak.

The official visit to India of the Russian Emperor's cousin, Grand Duke Boris Vladimirovich Romanov in 1902, during von Klemm's tenure, was a milestone of sorts. The Grand Duke's trip across the country (besides Bombay, he visited Baroda, Jaipur, Agra, Delhi, Kartarpur, Benares and Calcutta) lasted nearly a month. Thanks to efforts of von Klemm, the Duke's meetings with a cross-section of the Indian people did much to dispel the false image of Russia implanted by the British administration and in creating an objective picture of my country in the eyes of the Indian people.

Von Klemm also launched a unique initiative of public diplomacy, an important component of bilateral ties. An exposition entitled "Bombay – Fishery in India in live forms and figures" was presented at the International Fishing Fair in St. Petersburg in 1902 and was a huge success. None other than von Klemm helped get it as it was he who persuaded brothers Vinayak and Eknath Khate to send their private collection to Russia. The Khate brothers were later awarded a gold medal from the government of the Russian Empire. The consulate was proactive in stimulating interest among the Russian business community towards business opportunities in India. In 1902, with the assistance of von Klemm, two steamship lines were put in operation, which became key arteries for Russian-Indian trade. Branches of Russian trade houses were opened in this country. "Leon Mantashev" supplied kerosene to entire Western India in the beginning of the century, delivering it from Baku through Batumi. According to official British statistics, out of 91.5 million gallons of kerosene exported to India in 1900-1901 84.5 million gallons came from Russia. Russian tea-traders such as "Gubkin & Kouznetsov Copartnership" also made large purchases of Indian tea. Before World War I Russia was one of the largest buyers of Indian tea, being second only to Britain. Promoting humanitarian and cultural exchanges also got a boost.

The current work of the Consulate General in Mumbai shows a continuity of traditions laid down by von Klemm at the dawn of the 20th century. The activities of the Russian diplomatic mission in the western part of India are aimed at safeguarding Russia's interests in the states of Maharashtra, Gujarat, Madhya Pradesh and Goa as well as promoting Russian-Indian cooperation in economic, scientific, technological and cultural spheres. This cooperation is acquiring new forms every passing day. The Tata group, for example, is involved in establishing the Skolkovo International Center of Innovative Technologies near Moscow.

The Mumbai consulate also helps to strengthen links with many research centers and business entities which are involved in implementing major Russian-Indian projects, including the Nuclear Power Corporation of India which is engaged in the construction of the Kudankulam nuclear power plant with assistance of Russia's "Atomstroyexport" company. Mumbai, India's thriving metropolis and a byword for optimism and resilience, is a brother-city of St. Petersburg with which it has excellent links in trade, economic, cultural and other spheres.

As India observes the second anniversary of the deadly terrorist carnage and remembers those who died on Nov 26, 2008 in Mumbai, Russia fully supports India in this relentless fight against terrorism. Incidentally, the Taj hotel is the very historic building where von Klemm, the first Russian diplomat in India, embarked on his voyage of deepening India-Russia friendship. And this voyage continues.

As the twenty-first century unfolds, the two great nations are infusing new energy and vitality into their time-tested relationship, based on the principles of constructive cooperation and innovative strategic partnership. Russia is determined to strengthen and develop bilateral relations with India in the years to come and rejoices at the growth of international authority and influence of our staunch ally, the rise of this global power-in-the making.

The forthcoming visit of the Russian President, Dmitry Medvedev, to India next December will surely open new vistas of mutually beneficial interaction in the field of innovations and help promote effective solution to the tasks of accelerated economic and social development of the two countries.

Vivat Mumbai!

All rights reserved by Rossiyskaya Gazeta.