Russia welcomes Indian participation in projects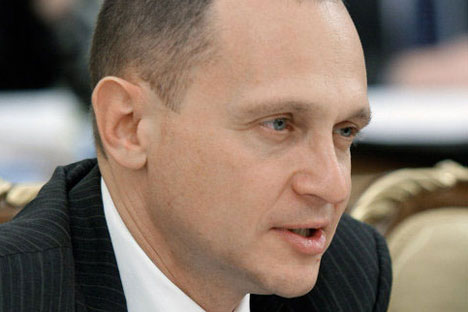 Sergei Kirienko. Source: RIA Novosti
In the spring, Russia and India agreed on a roadmap for nuclear cooperation, including the construction of nuclear power plants in India – Russia's largest nuclear project abroad – and cooperation in the area of mechanical engineering and uranium production.

In an interview with Intefax, Rosatom General Director Sergei Kirienko elaborated on Russian-India negotiations regarding nuclear projects, including the last meeting of the intergovernmental commission on trade and economic cooperation.


Russia is currently completing the first stage of the Kudankulam Nuclear Power Plant, which includes two reactors with a capacity of 1,000 MW each. When will the first and second units be launched?

Sergei Kirienko: All construction work at the first unit of the Kudandulam Nuclear Power Plant in the South Indins state of Tamil Nadu is to be completed by the middle of January. The second unit is also close to completion, and this is good experience to support work on subsequent units.. Currently, we are completing contract work on the third and fourth units, with the fifth and sixth to follow at the same complex.

The experience we've gained while building the first two power units at Kudankulam will ensure that subsequent work is more efficient. Moreover, we are moving toward a serial construction model, which will help us build power units quicker and at lower cost.

I won't discuss the scheduled launch date, but I will say that work is going according to plan.

It was reported earlier that India is prepared to allocate at least one more site to Russia, at Haripur, to build another power plant. However, there have been protests among the local population. According to some reports, Russia and India are now discussing another location. Is this true? If so, what is the alternative location? When will the matter be settled

Sergei Kirienko: We did not ask for another site. It is up to India's state authorities to make the decision on whether to build a power plant at Haripur. There are two options: eitherthe problem will be settled, and we will begin construction in Haripur, or the Indian government will decide to give us another site – we cannot and should not interfere in this process. Work is already underway at Haripur, but at this point it is being done by the Indian government and the state administration.

What's more, the Indian government could also give us a third site: no decision has yet been made, but the issue is being considered. Experts are looking at locations in different states across India. Not only do we need to find a site that will technically allow for construction of a power plant, but a site that will ensure there is demand for power on plant completion. Power lines need to be connected, and there are many other tasks to be completed. Work is underway, including at Haripur.

We expect the Indian government to announce the allocation of a third construction site to Russia for another nuclear power plant.

Rosatom announced its readiness to localise some of its production projects, including in the fields of mechanical engineering and nuclear fuel, if India makes a large order. How are negotiations going in this respect? Is there understanding on certain projects?

Sergei Kirienko: Active negotiations are in process, with respect to the roadmap agreement signed during Russian Prime Minister Vladimir Putin's visit to India earlier this year. We are cooperating with a number of Indian machine building companies, discussing the possibility of localisation. Now we have to find partners, and we are in discussions with 3-4 large Indian corporations. We are negotiating this year, and the decision will be taken next year, after which we will launch our localisation projects.

We are discussing mechanical engineering, and we are building nuclear power plants there. This is a big programme, and we have to produce equipment for our power plants. Our solid roadmap envisages at least three sites, where at least six power units will be built. Two (at the Kudankulam power plant) have already been completed, so we are considering another 16 provided that we organise effective cooperation with our Indian partners. Such a large-scale programme allows us to go ahead with localisation. Therefore, we plan to localise our mechanical engineering production to produce a wide range of component parts and equipment.

There are good companies in India. Over the past few months, Russian experts have visited many of them, meaning that we are not just conducting meetings, but doing real work at production sites. Our specialists are visiting Indian plants, examining equipment, work organisation and quality control to decide on whether to localise production there.

In the spring, there was also talk of probable cooperation with India on uranium projects. Has any progress been made?

Sergei Kirienko: The initiative came from India, they asked us about it and we said we were ready to cooperate. In the comprehensive framework of the intergovernmental agreement signed during Vladimir Putin's last visit to India, we expanded the areas of cooperation, including uranium projects. Today, negotiations are underway between India's UCIL and Russia's Atomredmetzoloto.

We suggested various scenarios to our Indian colleagues. We are also prepared to cooperate in third countries as India is not very rich in uranium, though it has sufficient thorium. Moreover, as part of the strategic partnership between Russia and India, we invited our partners to buy a stake in one of Russia's uranium deposits. Indeed, we have given them an opportunity to become investors, buying shares in one of Russia's largest uranium deposits, Elkon, and launching joint production there. UCIL is now considering our proposals, all materials have been transferred, and the ball is now in India's court.

Potentially, an Indian partner could own up to 49% of a Russian project as we are leaving a controlling interest for ourselves. In third countries, there are no such restrictions for the acquisition of shares. As a rule, partners are not interested in buying less than a blocking stake, or 25 per cent plus one share.

Following our latest acquisitions, we have enough uranium now, and don't need to buy more. However, given the comprehensive nature of our cooperation with India, we are open to their proposals, and, if they are interested, we are happy to welcome them to participate in our projects.
All rights reserved by Rossiyskaya Gazeta.