Putin: Full-fledged partnership with Europe impossible while visa regime still remains in place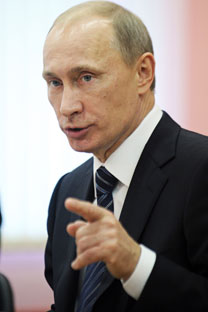 Russian Prime Minister Vladimir Putin has commented on the outlook for cooperation between Russia and Europe. In an article published in the German newspaper Süddeutsche Zeitung, the prime minister elaborated on opportunities for joint efforts in education, customs regulations and visa regimes.

Putin called on the European Union to set a firm deadline for abolishing the visa regime. He wrote that genuine partnership on the European continent is impossible while barriers to human and business contacts continue to exist. Following a recent Russia-EU summit, President Dmitry Medvedev declared that Russia would have no problem abolishing visa requirements for EU citizens "as soon as tomorrow." A response from the European Union could be received as early as at the next EU-Russia summit, scheduled for Dec. 7 in Brussels.

According to Putin, Russia and the EU could also work together on the lack of engineers on the continent, which, as the prime minister sees it, could cause a number of manufacturing companies to shut down.

"Many fewer talented young people in both the EU and Russia are pursuing a technical education right now. They see little future for themselves as engineers or skilled workers. They are choosing other occupations that sometimes require a lower skill level. That's why the concern is that design bureaus and engineering companies might start fleeing our continent, following in factories' footsteps," Putin said.

He also pointed out that Russia and the EU should maintain expanded student, professor and teacher exchanges, as well as contacts between young researchers and professionals. Russia in turn is ready to invite European researchers to work at its universities. He noted that, in exchange, Russia expects contributions to its science and innovation infrastructure.

As Putin raised the issue of Russia's accession to the World Trade Organisation (WTO), Putin called on the EU to resolve all its objections to Russia's membership, and proposed a harmonization of legislation and customs procedures.

"We will create a common continental market worth trillions of euros. It is clear that, for starters, the remaining obstacles to Russia's joining the WTO must be removed. Then legislation and customs procedures, as well as technical regulations, should be harmonized. Projects aimed at removing bottlenecks in the European transport infrastructure should be implemented," Putin wrote in his article.

The article, entitled "Russia and Europe: from learning lessons from the crisis to a new partnership agenda," coincided with Putin's participation in the Fourth Annual Economic Forum of chief executives and top managers of leading German companies on Nov. 25-26, sponsored by Süddeutsche Zeitung.
All rights reserved by Rossiyskaya Gazeta.