Russian social network games a booming business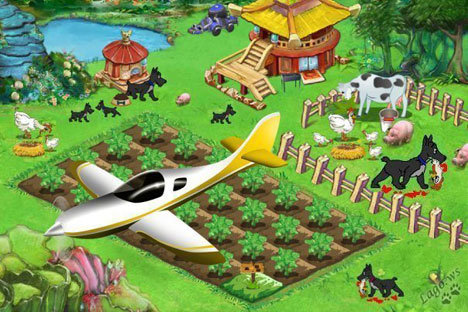 "He was sitting there for days and nights on end, growing something and stealing some fruit from others," said Georgy's mother, describing her son's obsession with the social networking game Happy Farmer. She believed that the game was free, but in fact, her son was spending 200-300 rubles ($8-10) a month to buy items to help him in the game. In fact, all his friends and classmates were also playing, competing with each other for better results.
Happy Farmer is Russia's most successful social networking game, with over 8 million registered users. At the height of its popularity, the number of daily players reached 2 million people. The game has earned almost $20 million for its developers.

Chinese seed
Yekaterinburg-based I-Jet Media, the game's creator, was founded by Alexei Kostarev and Dmitry Shubin in 2005 and began to produce games at once, but they did not exactly strike it rich. Following a financial fiasco, Alexei Kostarev took off for Silicon Valley and stayed there for a year. It was there that he heeded the advice of one venture capitalist and joined Facebook in 2007, where he found new special games, very simple and intended for active interaction with "friends. Each game had one goal: for example, growing a garden, defeating the mafia or ransacking a city. The games themselves were free, but players were asked to pay a dollar or two to advance to a new level faster or buy some virtual seeds or diamond tools that are certain to kill. This was the "freemium" business model, which has since spread widely throughout the Internet: the core service is free, but anything more than the most basic functionality costs money.

At that time, there were no such games on Vkontakte and Odnoklassniki, Russia's emerging social networks, but they were gathering momentum in China. When Vkontakte created a platform for social games at the beginning of 2009, there was little to fill it in with. At this critical point, Kostarev approached Chinese firms and suggested they create a Russian game. Chinese programmers responded to the call, developing Russia's first great social game, Happy Farmer – a copy of the Chinese product by Elex Company. I-Jet Media received a license for its production in Russia using a profit-sharing model. Several months later, the successful Chinese idea was also used by the U.S.-based social gaming leader Zynga, with its Farmville variation attracting more than 30 million daily users at the height of its popularity.

Happy Farmer became popular in no time. "There used to be nothing like it. It was so colourful," said ninth-grader Georgy. "We made bets on who would rise to the next level faster. I played for about half a year, and my entire garden was planted. I was selling and earning. I played two or three times a day for 10-15 minutes each."

Explanations of the game's popularity varies, depending on whom you ask. "If people get involved in social games, the same thing happens as in role playing games: psychologically, players begin to treat their farm as a real one, just as they identify themselves with their heroes in role playing games. Unlike ordinary computer games, social games are very simple, allowing players to get involved immediately," said Sergei, an adult analyst who was an active player in World of Warcraft.

"Another advantage, I think, is that you can attain results quickly," said Yekaterina Cherkasova of Mail.ru. "You planted carrots in the evening, and you've got an excellent crop in the morning."

"People are lazy by nature. They register on a network, but they have nothing to talk about, while social games give them reasons to communicate with others: You log on and see that someone has stolen your carrots," said Kostarev. He also thinks the level of commitment involved is important. These kinds of games should not take too much time: "If the session exceeds 5-10 minutes, people will stop playing in a week's time. Regular sessions are very important here. The main thing – having your garden grow – happens without you having to do anything," he said.

Happy Farmer's launch in April 2009 was an unprecedented success: it registered a million users in the first two weeks. Ten percent of Vkontakte's 8 million users pay to play it. The average monthly income per player in Russia is 150 rubles ($5). "Each player pays a little bit of money, but our costs are low, too," Kostarev said in an interview with Expert TV magazine. In comparison, the average income per player in Europe is 10 euros ($13).

But the popularity of individual social networking games is often short-lived. "I played for six months and got bored. I am no longer interested in these kinds of games; I've got no time for them," said Georgy. Kostarev agreed that a good product lasts for six months, provided it continues to be developed with new gadgets appearing every week. Today, the once-popular Happy Farmer earns Vkontakte just $13,000 a month.

Given this situation, I-Jet Media began to launch more and more new games, first copying Chinese products and then switching to other ideas, focusing on the effective player base created by Happy Farmer. Within this community, new games could be promoted for free. One of the most popular products was Farm Frenzy, developed by Novosibirsk-based Alawar Entertainment. This game involved raising animals rather than a garden.

I-Jet Media currently has 60 games in its arsenal, only seven of which were developed by the company itself. To create games, I-Jet uses the services of about 40 developer teams, from Alawar, Akella and Drimmi to minor firms employing several people, plus China's Elex, which developed Happy Farmer.

Now, I-Jet Media's owners want to sell part of their business, which they value at $100 million. The company is looking for an investor to buy a 25 percent stake and is holding talks with Almaz Capital Partners, DST/Mail.ru Group, Finam and foreign investment funds. Seventy percent of the money will be used to finance new projects.
All rights reserved by Rossiyskaya Gazeta.